Boston Red Sox Win 8th World Series, Defeat St. Louis Cardinals 6-1 In Game Six; David Ortiz Named MVP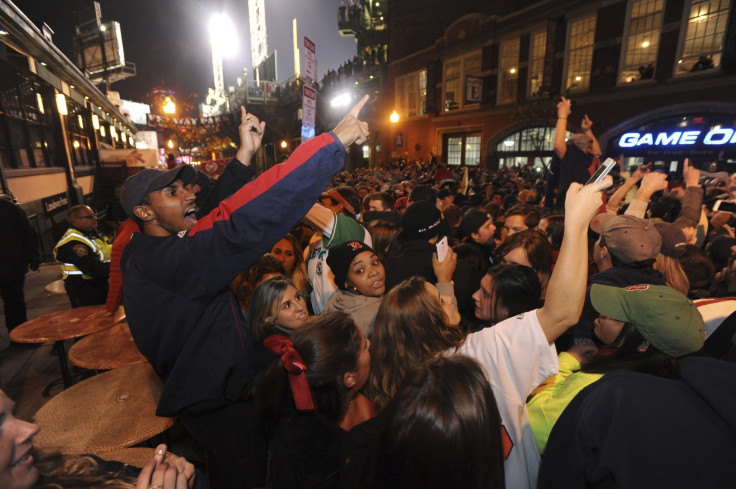 The Boston Red Sox completed an improbable worst-to-first run at Fenway tonight, to win Game 6 against the St. Louis Cardinals and become World Series champions.
It is the first time since 1918 that Boston fans will be able to celebrate their team winning the World Series on home ground at the iconic Fenway Park.
The bearded sensations of the MLB, the Red Sox, capped their turnaround by defeating the Cardinals 6-1 in the sixth game to take the series 4 games to 2. It's the Red Sox's third World Series championship in 10 seasons.
Returning from an aching back, outfielder Shane Victorino got the Sox moving in the winning direction by blasting a three-run double off of the Green Monster against rookie pitcher Michael Wacha.
The Red Sox's John Lackey ended up becoming the first pitcher to start and end victorious in a Series clincher for two different teams. He allowed one run over six 2-3 innings Wednesday -- 11 years after his seventh-game win as a 2002 Angels rookie.
Standing, shouting and celebrating its slugger-filled team, the Fenway crowd was pumped, yet anxious, all night long. The game actually seemed a done deal by the time Victorino yelled, while pounding his chest, as he rounded the bases following his crushing double off the freakishly high outfield wall.
Wacha had allowed only three runs in his previous 29 innings during 2013's postseason. But on Wednesday, he ended up getting removed from the battle in the middle of the fourth. In the third and fourth innings, David Ortiz, who had a downright Ruthian postseason, was intentionally walked, but he scored. (Ortiz was named Series MVP.)
Finally, reliever Koji Uehara was enlisted to pitch in the ninth for Boston. For the first two adrenaline-filled outs, Uehara, throwing considerable heat, got Jon Jay and Daniel Descalso to fly out to Jonny Gomes in left field.
With the screaming Fenway crowd on its feet, chanting "Koji, Koji," he struck out second baseman Matt Carpenter to end the game.
© Copyright IBTimes 2023. All rights reserved.