Brad Pitt Gives Shocking Response When Asked If Jennifer Aniston Is His Oscars Date
KEY POINTS
Brad Pitt doesn't have a date to the Oscars
Brad Pitt's cheeks turned red when asked about Jennifer Aniston
Brad Pitt and Jennifer Aniston are friends
Brad Pitt just gave a shocking response when asked if Jennifer Aniston will be his date to this year's Oscars.
While at the Santa Barbara International Film Festival this week, an interviewer asked the award-winning actor what his plans are for next month's awards show. Pitt revealed that he doesn't have a date.
But it wasn't really his answer that surprised Pitt and Aniston shippers. Rather, it was the fact that the "Ad Astra" star's cheeks turned red and he laughed nervously at the mention of his ex-wife's name.
After reuniting at the SAG Awards, Pitt and Aniston sparked rumors that they have rekindled their romance. In fact, some tabloids went as far as saying that the former couple has decided to tie the knot again.
While speaking with Entertainment Tonight, the "Once Upon A Time In Hollywood" star admitted that he has not read headlines pertaining to his and Aniston's rumored relationship.
"I don't know. I'm blissfully naïve and I'm gonna stay that way," he said.
The "Friends" star also had the opportunity to talk to the publication, where she called all the buzz surrounding her relationship with Pitt hysterical. Aniston also acknowledged the fact that if not for their rumored relationship, fans would have nothing else to talk about.
Pitt and Aniston dated for a few years before they tied the knot in 2000. However, their marriage ended just five years later.
During her interview with Vanity Fair, "The Morning Show" star revealed that there was no bad blood between her and Pitt even though their relationship didn't last.
In fact, Aniston even said that she's grateful to have met her ex-husband because everything that she knows now was because of Pitt.
"I love Brad; I really love him. I will love him for the rest of my life. He's a fantastic man. I don't regret any of it, and I'm not going to beat myself about it," she said.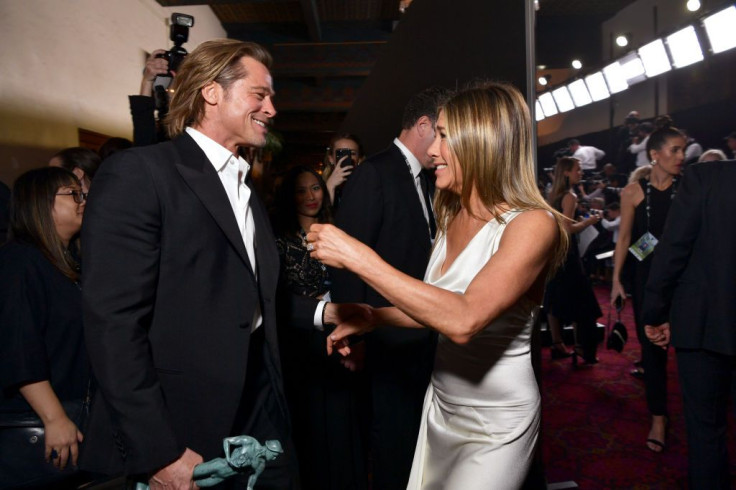 © Copyright IBTimes 2023. All rights reserved.