Brazil Carnival 2012: Bigger, Brighter, and More Important than Ever [PHOTOS]
The 2012 Brazil Carnival is bigger and brighter than ever as the nation aims to shows the world that it's ready to host the 2014 World Cup and 2016 Rio Olympics.
Flanked by samba queens and doused in confetti, Rio de Janeiro's mayor symbolically handed control of the city over to the Carnival King on Friday to kick off the five-day event.
I am giving over a city at the height of its rebirth, Mayor Eduardo Paes said as he relinquished control to Milton Junior, this year's King Momo. Serving as King Momo, Junior will act as a mythical jester reigning over the city streets full of roving bands, dancing teams, and drinking revelers.
Some 400 street parties were scheduled for the 2012 Rio Carnival with this weekend's Cordao da Bola Petra parade attracting a record 2.3 million revelers, according to police figures. The seven-hour Bola Petra dates back to 1918 and is known as the most traditional event of the celebration.
Carnival's roots lie in last-minute carousal before the austere Catholic season of Lent. Festivities in Brazil began on Friday and continue through Ash Wednesday.
Rio's Carnival attendees are expected to spend $640 million and generate roughly 250,000 temporary jobs, mostly in the tourism sector.
In the weeks leading up to the big event, Rio officials predicted that this year's Carnival would be an even bigger blowout than usual, with 20 percent more tourists expected than in 2011. Brazil's federal aviation authority estimated three million people would shuttle in and out of airports during the week of Carnival, 13 percent more than last year. Thirty percent more federal police were also on hand to handle last-minute questions at the airports.
Recent police strikes in Rio and the northeastern city of Salvador raised fears that crime and violence would blemish the party. In addition to potentially disrupting the high point of the annual tourism agenda, the troubles heightened doubts about security and preparedness in a country gearing up to host two major sporting events.
With increased global attention, Rio took extra precautions this year to keep the chaos under control, adding more traffic guards, paramedics, and portable toilets, as well as a new central command center to monitor it all. Officials dispatched 15,000 toilets, 1,000 traffic guards, and 80 mobile medical emergency units.
While the city's central command center has been operational since November, Carnival will be its first major test. The center will help plot the routes of Rio's 400 street parties and take feeds from over 5000 cameras across the city.
Rio also launched its first smartphone app -- free for iPhones and Androids -- that tells visitors in Portuguese, Spanish, and English where to find blocos, the traveling samba bands that attract millions of revelers. The app also guides visitors to public transportation, restaurants, and museums.
There's big money involved in creating these roving dance parades, as well as big money to be made. The city relies heavily on attractive showings to draw people from all around the world. In fact, it relies on them so much that a portion of the funding for each of the samba schools comes from government grants and subsidies.
The Brazilian press reported that each of the special-group samba schools was given one million reals ($582,000) by the Rio city council this year and a further 400,000 reals ($233,000) from the state government to ensure the best showing possible. The money is used to fund the creation of costumes and floats, as well as pay the salaries of the dancers involved.
The contest between Rio's samba schools for the title of Carnival champion is watched with the same fervor as championship sports matches in this soccer-mad nation.
Press Start for a look at Rio's samba schools and the Carnival celebrations in Brazil so far.
READ ALSO:
Carnival Season around the World: Rio, Venice, Trinidad & More
Mardi Gras 2012: New Orleans Krewes & Troupes Prepare for Fat Tuesday
Mardi Gras Icons, 610 Stompers Prepare for 'World Domination through Dance'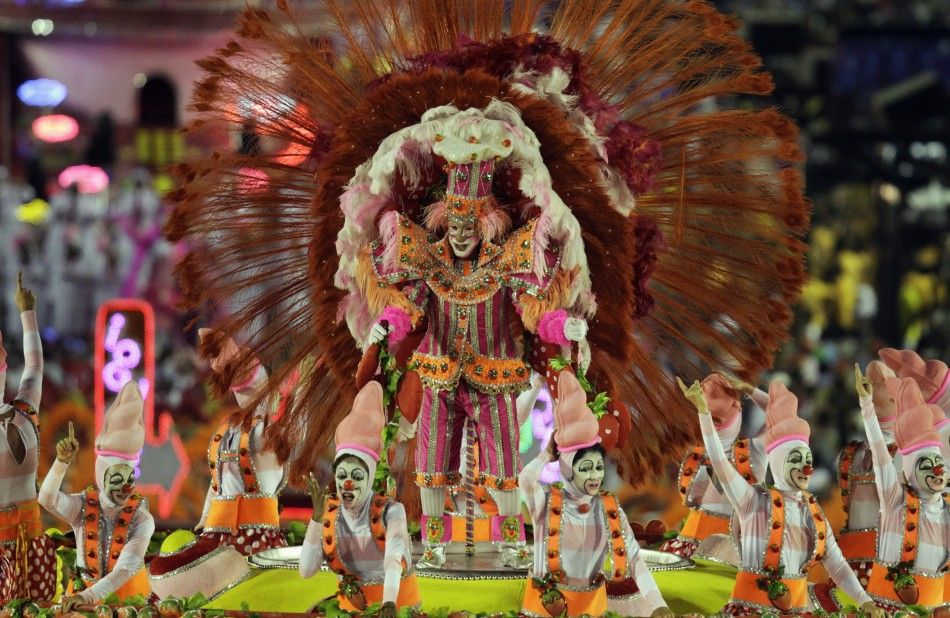 © Copyright IBTimes 2023. All rights reserved.