Brazil Soccer Club Shooting: 8 Members Of Corinthians Fan Club Killed By 3 Gunmen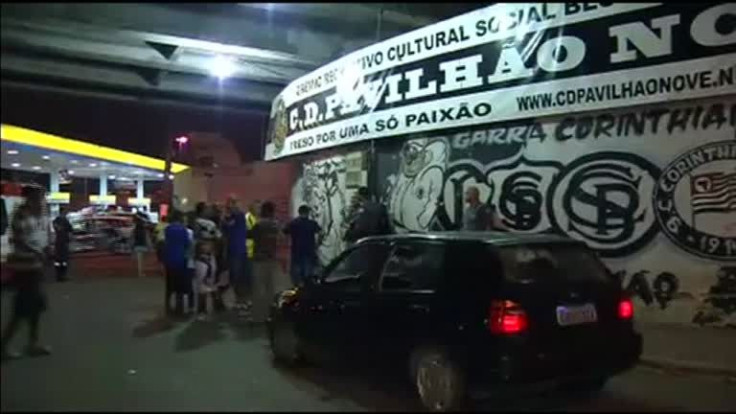 Eight men were killed by armed gunmen late Saturday night at a soccer fan club in Sao Paulo, Brazil. Witnesses told police that three gunmen stormed the Pavilhao Nove, a fan club for the Corinthians soccer team, around midnight and attacked the makeshift club beneath an overpass where the fans had gathered, Reuters reported.
The attackers reportedly ordered seven fans to lie down before shooting them, while the eighth man was shot as he fled; he later died at a hospital. The victims were having a barbecue and making banners in support of their team at the time of the attack.
Detective Arlindo Jose Negrao said the incident was not a fight between rival soccer fan groups, but could not comment on a possible motive for the attack.
''Through witnesses, we are already exploring a line of investigation, which is not leading us to believe it was caused by fan rivalry,'' Negrao said at a press conference, the Associated Press reported. ''We even have possible suspects.''
Police believe that the incident is related to a turf war between rival drug dealers, according to local media. Pavilhao Nove was founded by a group of Corinthians' fans who played with inmates of Brazil's notorious Carandiru prison, where 111 people were killed in a massacre prior to its closure in 2002.
The Corinthians team reportedly did not comment, but posted the word "mourning" against a black background on its official Facebook page. Former team president and current Brazilian lawmaker Andres Sanchez said he was ''deeply saddened to learn of what had happened at Pavilhao Nove, with which I had a strong bond since I was a kid," according to News.com.au.
Brazil has a long history of organized soccer-related violence. A 2013 match saw gruesome violence when a player was stabbed by the referee, who was then dismembered and had his head displayed on a stick. Soccer-related violence in the country has been on the rise; from 1999 to 2008, there were 42 soccer-related deaths, but in 2012 alone there were 29 deaths.
© Copyright IBTimes 2023. All rights reserved.