'Breaking Bad' Becomes Unlikely Boon For Albuquerque, New Mexico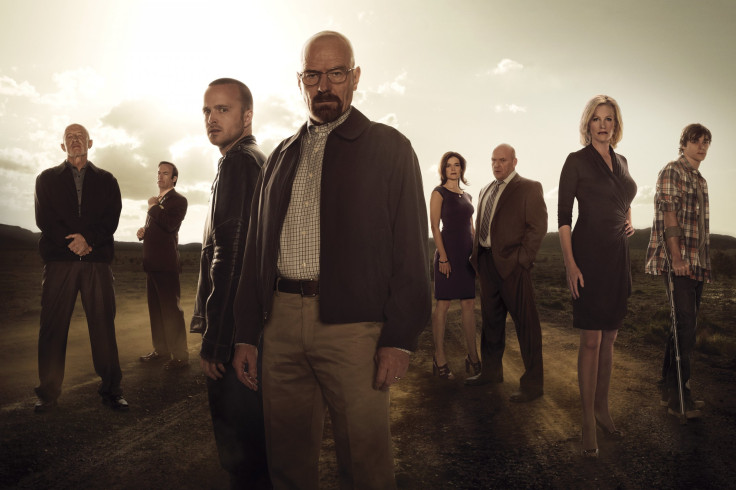 It's already responsible for a line of bath salts, a brand of candy, two beers and a popular trolley tour, and as "Breaking Bad" season five, part two, gets under way Sunday, the city of Albuquerque, N.M., is bracing for yet another round of AMC-inspired tourism.
"Breaking Bad" is hardly a show that one would have tapped as a tourism booster when it premiered on AMC five years ago. For the uninitiated, the series is centered on a chemistry teacher-turned-methamphetamine kingpin, wallows in drugs and violence, features mundane locations like a fast-food joint, a car wash, a factory and a suburban home, and has few characters who are genuinely likable. But, because it is one of the most popular and critically lauded television series of the last decade, all this is rendered irrelevant.
Bryan Cranston, who plays the main character Walter White, said in a recent radio interview that he believed Albuquerque itself had become a character in the show. "It gave ['Breaking Bad'] a justifiable location. A sound, solid place that not many people have related to. They've seen Los Angeles, they've seen New York, but that haven't really seen Albuquerque and New Mexico," he said. Both Cranston and fellow star Aaron Paul (who plays Jesse Pinkman) purchased homes and lived in Albuquerque during filming, and they have become two of the city's biggest cheerleaders.
"Breaking Bad" single-handedly put Albuquerque on the global tourist map, where it had previously been known for one-offs such as the annual International Balloon Fiesta. "We are reaching a new potential visitor audience that may not have considered Albuquerque for vacation in the past," said Dale Lockett, CEO and president of the Albuquerque Convention & Visitors Bureau. "People want to come here and see the actual locations where the filming is taking place."
Lockett was quoted in the past saying that when "Breaking Bad" began being televised in 2008, the city was "less than thrilled by the subject matter." In fact, Albuquerque did not actively promote "Breaking Bad" on its visitor website until the first part of season 5 was shown last year -- when it became abundantly clear that the city was missing out on a major marketing opportunity.
Tourism statewide in New Mexico is in the midst of a three-year growth trend, with spending up 7 percent last year to $5.9 billion and visitors up by 2.6 percent to 32 million. Many point to "Breaking Bad" as a major contributor, given its burgeoning popularity worldwide.
Unlike some television series that make their debuts to record audiences and then fizzle into oblivion, "Breaking Bad's" five-season run has been a slow burn. Audience numbers have mushroomed season after season, and analysts expect record figures for Sunday night's premiere, which heralds the beginning of the end.
Local entrepreneurs are scrambling to capitalize on what could be one of the last big booms the show brings to town. The ABQ Trolley Co. is offering a weekly 3.5-hour "Bad Tour" of filming locations, from Walter White's house to Tuco's headquarters to the fast-food haven of Los Pollos Hermanos (a real-life South Valley burrito franchise called Twisters). Meanwhile, Routes Bicycle Rentals & Tours offers "Biking Bad Tours" where guests can get a "first-hand experience of diverse locations, characters, and moments" from the Emmy award-winning series.
Beyond the tours, several local businesses are capitalizing on the series as well. Albuquerque's Marble Brewer just introduced two new beers this week in honor of the show's final run: Walt's White Lie and Heisenberg's Dark Ale. In Old Town, Debbie Ball (aka The Candy Lady) offers Breaking Bad Candy based on the props she created for the show. Ball now ships her products around the word.
Albuquerque also boasts a donut chain with crystal meth-inspired "Blue Sky Donuts," a line of bath salts called Bathing Bad (which you can "cook" yourself during scheduled classes) and a spice line inspired by Los Pollos Hermanos (including seasonings and a new fried chicken batter mix).
Albuquerque hopes that new fans will find "Breaking Bad" on Netflix or in its syndication on the Sundance Channel, ensuring that the end of the show does not mean the end of the tourism boom. Even if it does, the series helped establish New Mexico as a key hub for the entertainment industry, bringing blockbusters such as "The Avengers" and "The Lone Ranger" to town, in addition to two undisclosed TV series now in preproduction. As the "Breaking Bad" allure fades in the coming years, perhaps the city will find itself a prominent character in yet another fictional world.
© Copyright IBTimes 2023. All rights reserved.