Breastfeeding Advocates Push to Eliminate Formula Giveaways at Hospitals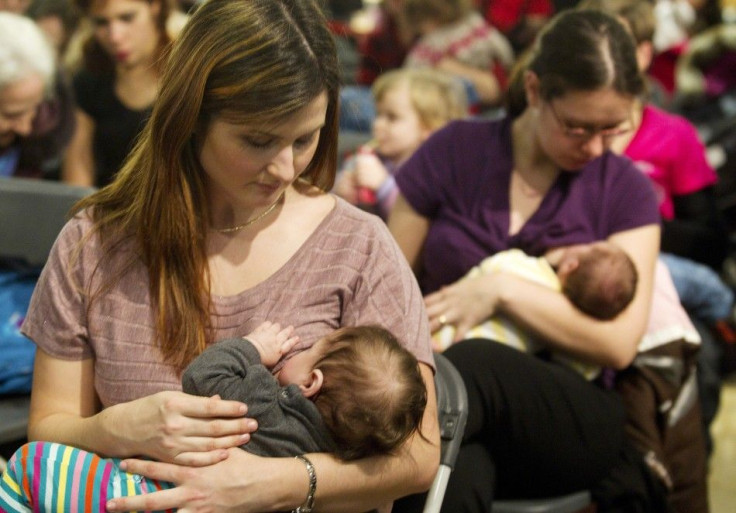 The Centers for Disease Control and Prevention is on the side of die-heard breastfeeding advocates to curb the practice of hospitals giving away free formula samples to new mothers. These samples are commonly promotional items donated by companies that manufacture formula, and some believe the access to free formula may be discouraging mothers from breastfeeding.
The CDC released a report last month showing that less than five percent of U.S. infants are born in baby-friendly hospitals (those that promote breastfeeding), and that one in four infants receive formula within hours of birth.
Hospitals need to greatly improve practices to support mothers who want to breast-feed, Dr. Thomas Frieden, Director of the CDC, said in a statement accompanying the report's release. The CDC is currently working to reduce the number of hospitals who give away free samples, in some cases by incentivizing them with free supplies for special needs infants, the Associated Press reported.
Anne Merewood, associate professor of pediatrics at Boston University School of Medicine, authored a study evaluating the practice of giving away promotional formula samples for the Journal of Lactation. The two-part study found that fewer hospitals were providing the formula in 2010 than 2007.
Things are getting better, but still not that great, Merewood, told . The hospital should not be used as a marketing tool by the formula company.
But hospitals that continue to provide formula samples may be sending the wrong message to mothers about the best way to feed their babies.
If a hospital gives it out... the patient thinks it's the best thing for the baby, Merewood told the Associated Press. The bottom line is that the hospitals are marketing for the formula industry.
Jennifer Ewald, 32, of Oakbrook Terrace, Ill., is the daughter of a breast-feeding activist who fought to get goody bags with formula samples out of hospitals, but received one of her own when she gave birth earlier this year -- with free formula and coupons for more formula.
We gave it away the moment we came home because I said I'm not having that in our house, Ewald told AP.
Not everyone agrees that formula feeding should be demonized.
I think it's fine to offer freebies to any mom, especially those who are undecided or have already made up their mind not to breast-feed. We are always free to refuse, Rev. Camille Lebron Powell, an associate Presbyterian pastor in Little Rock, Ark., told AP>
Lebron Powell, who breastfed her own children, agrees that mothers should be free to choose how to feed their newborns.
Breast-feeding is free. It's good for the baby and it's good for the mom. But it's hard and if you work and the employer doesn't support your pumping needs, you are in trouble, she told AP.
Haley Stevens, a scientific affairs specialist for the International Formula Council trade group, believes that formula samples should be mandatory.
New moms should have formula available, along with information on how to use it so they don't water it down or make other mistakes that could endanger their babies' health, Stevens told AP.
We agree breast-feeding is the best, when you can do it, Stevens continued. There's no question. But if one size doesn't fit all, it's good to have a backup.
But it's the murky ethics of hospitals promoting formula that particularly bothers Merewood. I don't think hospitals are the right place to market anything and I don't think hospitals should be marketing a product that is nutritionally inferior to breast milk, she said.
© Copyright IBTimes 2023. All rights reserved.