BTS Jimin Earns A Guinness World Record For Most Streamed Track On SoundCloud With 'Promise'
KEY POINTS
Jimin's "Promise" is SoundCloud's most popular track ever
J-Hope gifted Jimin with a one-of-a-kind "Promise" CD during a "Run BTS" episode in 2019
Jimin also holds the title for the fastest male K-pop solo artist to reach 1 billion streams on Spotify
BTS member Jimin has earned a Guinness World Record with his song "Promise."
The 27-year-old international superstar now holds the Guinness World Record for the most streamed track ever on SoundCloud with his first solo single, "Promise," which was released on the platform on Dec. 30, 2018.
After becoming the music streaming service's most streamed track in the first 24 hours with 8.5 million plays, "Promise" went on to become SoundCloud's most popular track ever, with 327 million streams as of January.
Jimin previously revealed that "Promise" is the first song he ever composed and that he wrote the entire melody by himself.
During a 2019 V Live broadcast following BTS' concert in Singapore, the idol shared that "Promise" was not originally an uplifting song.
"It was originally a song in which I told myself off. When I first began writing it, I intended it to be a dark song," he said at the time, according to Soompi.
"But because my feelings and thoughts were so dark and gloomy at the time, I only had dark music in mind," he added. "Everything I wrote ended up being in that same vein. So my lyrics were all kind of saying, 'Why are you like this?' I was basically one step away from cursing at myself [in the lyrics]. Those were the kinds of lyrics that sprang to mind back then."
But Jimin shared that after "things got better," he was no longer able to "stir up the same feelings" that he had when he first began writing the track.
During a "Run BTS" episode in 2019, J-Hope gifted Jimin with a one-of-a-kind single CD of "Promise." His well-thought-out gift even came with jacket photos and a personalized message for the younger BTS member.
Jimin was so touched by J-Hope's present that he nearly cried after receiving the gift. J-Hope also prepared six more copies so all the members of BTS would have a copy.
"Thanks so much. Seriously... I almost cried. I really had to hold it in," said Jimin.
Jimin currently holds two Guinness World Records under his name.
On May 26, Jimin earned his first solo Guinness World Record when he became the fastest male K-pop solo artist to reach 1 billion streams on Spotify in just 393 days.
The record was previously held by Jimin's BTS bandmate Jungkook, who achieved 1 billion streams in 409 days.
The majority of Jimin's streams came from his six-track debut studio album, "Face," which features the title track "Like Crazy" and pre-release track "Set Me Free Pt. 2." It also included "Face-off," "Interlude: Dive," "Alone" and the English version of "Like Crazy."
Other songs that contributed to this feat were the singles "With You," "Vibe," "Angel Pt. 1," and the official releases of "Promise" and "Christmas Love," which had only been available to stream on SoundCloud previously.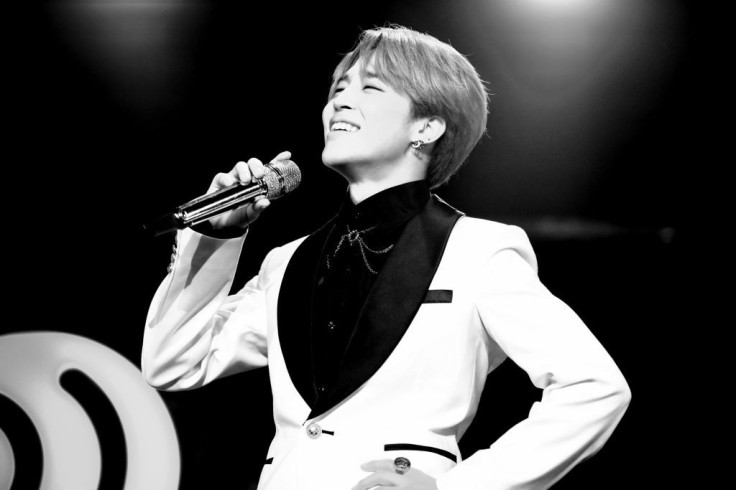 © Copyright IBTimes 2023. All rights reserved.