BTS 10th Anniversary: Look Back At Their Tweets 10 Years Ago On Their Debut
KEY POINTS
BTS made their debut performance on M Countdown on June 13, 2013
Fans looked back at BTS' tweets on their debut as the group celebrates its 10th anniversary
BTS turned Seoul purple for the band's 10th anniversary celebration
As BTS celebrates its 10-year anniversary, fans are looking back at what the members had to say on social media when they made their debut a decade ago.
On June 12, 2013, the South Korean boy group released its debut single, "No More Dream." The song served as the title track for the group's debut single album, "2 Cool 4 Skool," and was described as "a fresh new take on '90s hip-hop" with the bold message of "What is your dream?"
The then-rookies performed "No More Dream" and "We Are Bulletproof Pt. 2" on their debut stage on M Countdown on June 13, 2013.
Take a trip down memory lane and check out the tweets of the BTS members during their debut 10 years ago below.
RM
RM revealed that he was the first member to join BTS and vowed to do his "best" ahead of the group's first official performance.
"I'm Rap Monster Kim Namjoon. It's D-Day, everyone. I started as the first candidate for BTS and finally did something after [three] years. It feels new. I'll do my best! BTS fighting," BTS' leader, then 18, tweeted at the time, according to a translation via Papago.
"I love you all. Let's do our best. Leader Kim will also do well. Fighting to us for existing," he wrote in another tweet.
Jin
Jin expressed his gratitude to all the fans who attended BTS' debut showcase.
"Hello~Jin. Thank you so much for coming today. Thanks to our fans, we had a great showcase. It's late. Good night. See you again next time," BTS' oldest member, who was 20 going on 21 at the time, wrote.
J-Hope
J-Hope also thanked their fans and promised to continue working hard on their music and performances.
"Everyone, thank you so much for coming today. We will become a more hardworking BTS in the future. J-Hope is sad sad," the rapper, then 19, tweeted.
Suga
Suga, meanwhile, uploaded a selfie and promised to share a new photo of Jimin if BTS' official Twitter account reached 10,000 followers before the group would make its debut stage.
"Eungkyakya (means a cute way of laughing)! Thanks a lot! Sobs," the then-20-year-old rapper tweeted.
"Hello, this is Suga. We have more than 8,200 followers. Clap clap clap. If we can reach 10,000 followers before our first M Countdown performance tomorrow, I will use Jimin's abs to do the laundry and post a picture of it on our fan café. Eungkyakya," he said in another tweet.
Overnight, BTS' Twitter account gained the additional followers needed for Suga to keep his promise. So on June 19, 2013, the second oldest member of the group posted a photo of him using Jimin's abs as a washboard on BTS' fan café.
He even added star stickers on the photo before uploading it online.
Jimin
Jimin, for his part, showed off an item with his name on it that he said was a gift from fans.
"Hehe. The fans gave it to me as a gift! The members were taking pictures too so I'm going to secretly upload them first. Thank you! Hah! I've never received anything like this before. It's the best!" the singer, then 17, tweeted.
V
V shared a selfie of him rocking a white T-shirt with large printed words and thanked fans who attended their debut showcase.
"Thanks a lot to all the people who came to the showcase today. ⊙д⊙ Really. It's the best. It was fun. V," the then-17-year-old singer tweeted.
Jungkook
Jungkook, then 15, also posted a photo of himself in his stage outfit as he expressed his gratitude to fans who supported them.
"I'm Jungkook. Thanks a lot to all the fans who came to our showcase today. It was really fun. It's all thanks to the fans. It feels like I've finally debuted. I hope you all had a great time," BTS' youngest member wrote on Twitter.
Several landmarks in South Korea's capital city of Seoul lit up in bright hues of purple Monday to celebrate BTS' 10th anniversary.
The Seoul Tourism Organization also produced a Seoul BTS tour map for overseas fans who visit the country during the two-week "2023 BTS Festa," KBS News reported.
The map contains places the members of BTS visited when they were trainees or areas the group had stopped by to film, the city government said.
It includes a total of 13 attraction spots in Seoul: Sungnyemun Gate, Hybe's headquarters building in Yongsan, the Geunjeongjeon Grand Residence and Gyeonghoeru Pavilion in Gyeongbokgung Palace, Yeouido Han River Park, Eulijro, National Museum of Korea, Jamsil Sports Complex, World Cup Bridge, Nodeul Island, Achasan Mountain, Oil Tank Culture Park and Hakdong Park, according to The Korea Herald.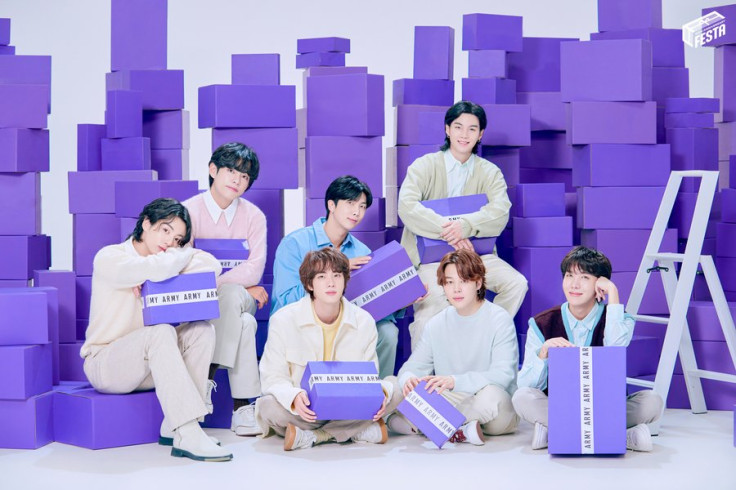 © Copyright IBTimes 2023. All rights reserved.