BTS' Jungkook, Ariana Grande Collaborating On A Song? Fans Think So
KEY POINTS
Rumors of BTS' Jungkook collaborating with Ariana Grande intensified after he recorded himself singing in the studio
Grande earlier posted a snippet of a song that sounded similar to the clip of Jungkook singing
A side-by-side comparison of the snippets has fans believing that a collaboration may be in the works
BTS and Ariana Grande's fans think a collaboration between Jungkook and the "Thank U, Next" singer could be in the works.
Rumors of the two teaming up for a song have been making the rounds since last year after Jungkook and Grande met backstage during her "Sweetener" tour in Los Angeles in May. But speculations were reignited on Sept. 19 after Jungkook recorded an unannounced song in the studio during a live stream.
Although the majority of the audio was muted, Jungkook can be heard singing "yeah" repeatedly. Later on, he asks if the "yeah" was the main part of the song, to which someone in the background replies, "No, it's not. That's Seokjin's part," referring to Jungkook's BTS co-member, Jin.
A few days earlier, Grande also shared a snippet of a song on Twitter. A side-by-side comparison of the two clips had fans believing that Jungkook and Grande may be partnering up for an upcoming release as the melody and sound appeared extremely similar.
Jungkook playing Grande's music in the background of his YouTube live stream, along with the fact that BTS and the "Rain On Me" singer have shown each other love via social media in past years, only fueled the speculations.
Fans immediately took to social media to hype up the possible collaboration.
There is no confirmation yet regarding a possible team-up between the K-pop star and Grande. But rumors of them working together saw Jungkook becoming one of the searches for Ariana Grande-related topics on Google on the same day, Allkpop noted.
Jungkook recently revealed that his mixtape is in the works, and a section of fans believe that Grande could be featured in it.
Last year, Grande took to her Instagram to thank Jungkook for coming to her concert.
"Screaming. _ thank u soooooo much for coming to my show, Jungkook. it meant so much. love u sm," she captioned a photo of them posing together backstage.
Jungkook also praised Grande on Twitter, writing, "I felt and learned a lot after seeing her stage. I am really challenged by her stage and will try harder!#ArianaGrande."
In January, RM revealed that they caught up with Grande while practicing for their 2020 Grammys performances.
"Ariana's practicing next to our big studio and she said she wanted to see our rehearsal and what we're doing, and we showed her...and we saw hers, so we know what she's doing tonight and it's the greatest," the rapper told Entertainment Tonight.
RM also once revealed in an interview with Billboard that they would like to collaborate with her as she is "one of the best."
BTS is currently gearing up for the release of its new album, which is expected to drop within the next few months.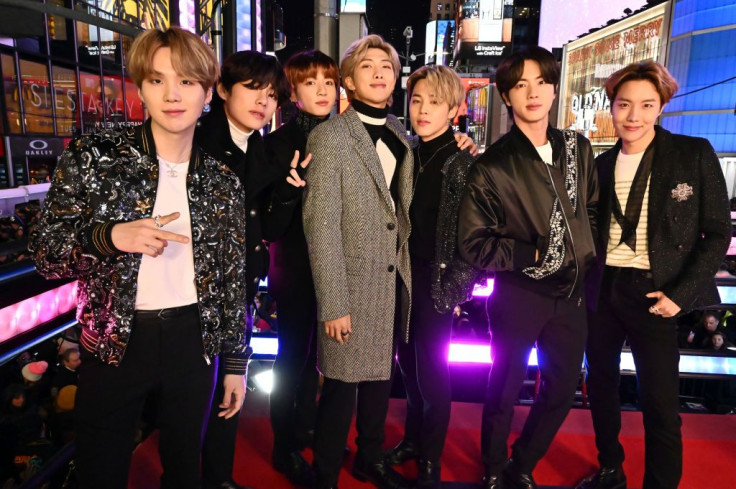 © Copyright IBTimes 2023. All rights reserved.