BTS Spotted Filming Musical Segment At Los Angeles Intersection [Watch]
BTS was spotted filming a "traffic-stopping" musical segment at an intersection in Los Angeles ahead of the group's highly anticipated appearance on "The Late Late Show With James Corden" Tuesday night.
The flash mob-style dance number, which featured the boyband members grooving to their chart-topping track "Dynamite," temporarily stopped the flow of vehicles and pedestrians at the intersection of Genesse and Beverly Hills, just right outside CBS' Television City.
As the music blasted, the septet was seen dancing passionately in their colorful outfits. Behind them was a machine that emitted pink smoke. James Corden was also seen at the intersection, and he appeared to be directing the number.
A sign that read "Butter" was then ushered in by the staff, and the septet, now wearing a different set of outfits, danced to "Butter."
The official Twitter page of the famous talk show posted a snippet of the segment and wrote, "Before tonight's #LateLateShow with @bts_twt, here's a little peek at the incredible Crosswalk Concert they filmed today that will air in an upcoming episode!"
Another fan tweeted a clip of the group's "Butter" performance, noting, "BTS pre-recording the Butter performance at #LateLateShow."
A clip showing the group's youngest member, Jungkook, slipping at the end of the dance routine was one of the most retweeted and well-liked uploads from the night. As seen in a video posted by a fan, Corden later carried Jungkook on his back as he ran away from the intersection.
Another ARMY tweeted a clip of the septet dancing to "Permission to Dance." "Why? Why? i wasn't born in los angeles @BTS_twt #LateLateShow," the fan wrote.
Corden earned the ire of many ARMY members back in September after calling BTS members "unusual visitors" to the United Nations General Assembly and referring to the group's fans as "15-year-old girls" in one of his episodes.
A clip of the segment was posted on the show's official Twitter page, but it was later taken down, the South China Morning Post reported.
Some BTS fans were able to create copies of the controversial clip and post them on social media.
In it, Corden could be heard saying, "The United Nations General Assembly kicked off this morning in New York City, and it started with some pretty unusual visitors: BTS. It actually marks the first time 15-year-old girls everywhere found themselves wishing that they were Secretary-General António Guterres."
In the same month, the viewer ratings for "The Late Late Show" reportedly on Google dipped after the host upset the boyband's fans.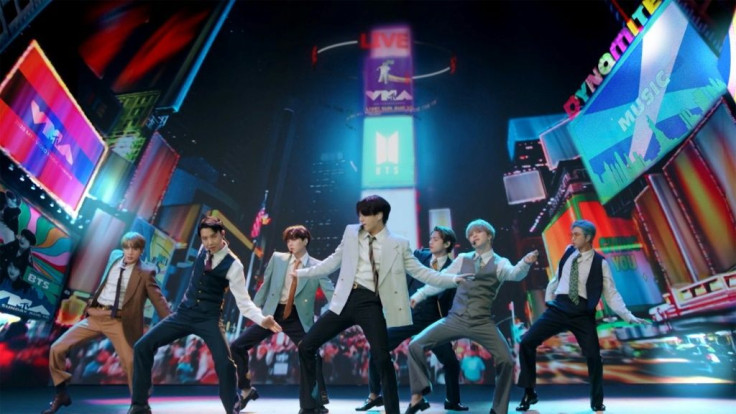 © Copyright IBTimes 2023. All rights reserved.