BTS' V Attacked At Celine Event In Tokyo; ARMYs Raise Concerns After Fan Pulls His Hair
KEY POINTS
BTS' V flew to Tokyo, Japan, for an event with the luxury French fashion brand Celine
Fans lined up outside Celine stores in Tokyo after the news of V's arrival
He appeared at the grand reopening event of the Celine store at Omotesandō
A woman pulled BTS V's hair while he was walking back to his vehicle after appearing at the reopening event of the Celine store on Omotesandō Street in Tokyo, Japan.
In a clip shared on Twitter, V smiled while making his way toward his van after the event. Although his bodyguards were protecting him as he entered the vehicle, a woman was seen trying to reach the 27-year-old K-Pop idol and global ambassador but ended up pulling his hair.
Because of this, the action of the unidentified woman angered ARMYs – BTS fans. Aside from reminding fans how they should act around their idols, ARMYs also hoped the security around the BTS members would be even tighter.
"[P]lease don't do this ever again. Trying to grab [T]aehyung's hair is never okay. You can tell he is so happy seeing his fans, but keep it respectful," one fan tweeted.
"To whoever did that, I hope you never obtain BTS concert tickets and never get to see the members again. This also goes for anyone who mobs Tannies at airports. If you don't understand the meaning of respect and privacy, then don't call yourselves ARMY," commented another fan.
"Oh, oh OHHHHHKAAYYYY LISTEN. This is not what we do as ARMY. We do NOT do this. This is assault, at the least. Legal assault. This is felony-level b—s— and as ARMY, we need to make it VERY CLEAR that this is unacceptable. WE DON'T TREAT OUR GUYS THIS WAY!!!" a third fan reminded the BTS fandom.
"[W]hen you have the chance to see [T]aehyung in real life, you DON'T automatically have the permission to touch his arms, his hands, or his hair. [H]e's the sweetest man ever, and if he can, he will be the one to come near and greet you, shake your hand, or whatever," stated another fan.
Although ARMYs have always been thankful for BTS bodyguards doing their jobs, some shared their suggestions on how they could tighten the security around BTS members even more.
"[O]h hell no. I need their bodyguards to start bodyslamming people, I mean it," said one fan.
Another commented, "Some people just have no limits or respect for idols, and it shows. There is no reason or need to grab his hair. This is disgusting behavior. Idols also deserve personal space and respect, this is never okay. (Petition for BTS bodyguard to start pushing and shoving people again).
"...They need proper safety protocols in place. Again, dogs lol. If I was a bodyguard to BTS and I saw how close people get to them, I'd petition dogs. Or tasers. Or something more than just my bare body [be]cause I'm one person up against hundreds of not thousands," suggested another fan.
V – real name Kim Tae-hyung – departed Seoul via Gimpo International Airport Tuesday for a Celine event. He is the luxury brand's global ambassador.
Although no official announcement was made about V's appearance at Celine's reopening event at Ometesandō, the news of his arrival in Japan spread like wildfire. This led to long lines and massive crowds outside Celine shops in Tokyo, per Allkpop.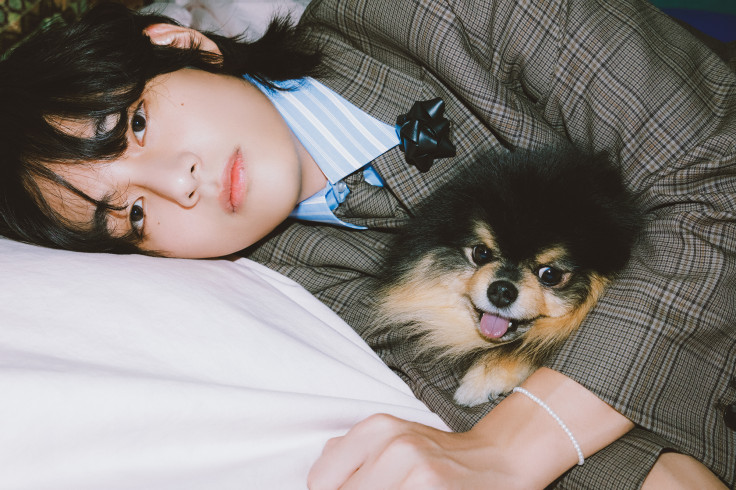 © Copyright IBTimes 2023. All rights reserved.