Bull Bison Gores Man At Yellowstone National Park In Second Attack This Year
A 34-year-old man has been injured after being gored by a bull bison at the Yellowstone National Park.
He is the second park visitor to become a victim of such an incident at the said national park this year.
The man, from Colorado Springs, Colorado, was walking with family members on a boardwalk near Giant Geyser at Old Faithful Monday when the bull bison charged toward them. His family members were still around when the attack took place, NBC News reported.
"Family members did not leave the area, and the bull bison continued to charge and gored the male," the park wrote in a statement. "The male sustained an injury to his arm and was transported by ambulance to the Eastern Idaho Regional Medical Center."
Park officials said the incident still remains under investigation.
A video of the attack, which has been posted on social media, shows the bison a few feet away from three adults and one child. The animal repeatedly charges at them and nearly strikes the kid. The 34-year-old man then saves the child by quickly moving them out of the bison's way.
The park took the chance to warn people about approaching animals and said visitors must maintain a 25-yard distance from them.
"Wildlife in Yellowstone National Park are wild and can be dangerous when approached," it noted in its statement. "When an animal is near a campsite, trail, boardwalk, parking lot, or in a developed area, give it space. Stay more than 25 yards (23 m) away from all large animals — bison, elk, bighorn sheep, deer, moose, and coyotes — and at least 100 yards (91 m) away from bears and wolves. If need be, turn around and go the other way to avoid interacting with a wild animal in proximity."
The park also noted that bisons, which can run three times faster than humans, can be unpredictable.
Another person was gored by a bison during a visit to the Yellowstone National Park last month. A statement released by the park said the victim, a 25-year-old woman, approached the animal and was within 10 feet of it before the incident. The bison reportedly flung the woman about 10 feet into the air during the attack.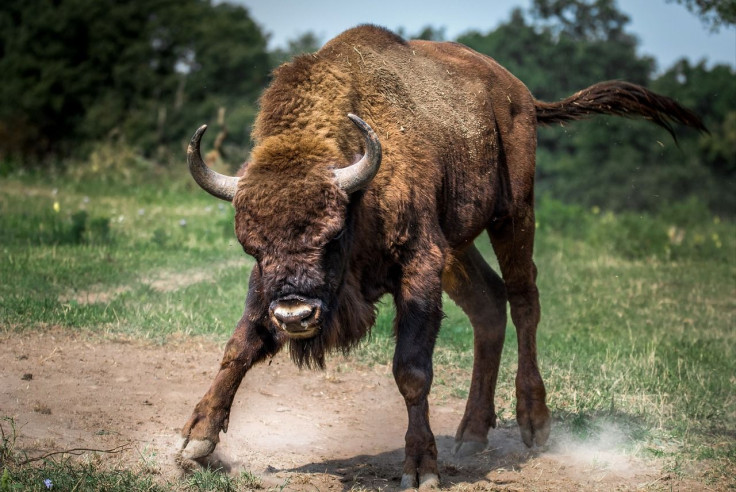 FOLLOW MORE IBT NEWS ON THE BELOW CHANNELS