California Man Flings Pet Dog Over Tall Fence With Razor Wire [Video]
KEY POINTS
The man who abandoned the dog is believed to be its owner
Microchip data led animal services to determine owner's details
He no longer lives on the address mentioned, and the number has blocked incoming calls
A dog miraculously evaded injuries after being flung over a dangerous surface by a man, who abandoned it at a cell phone tower in California.
The shocking incident has been caught on video. According to a news release issued Wednesday by Riverside County Animal Services (RCAS) in California, animal services will be filing a declaration this week in support of an arrest warrant for the man, who was believed to be its owner.
Video footage showed the man standing next to the dog before the horrendous act. He was seen "picking up a dog and hurling it over a tall fence topped with razor wire," before walking away. The dog later walked to the front of the fence he was hurled over and watched the man leave. The incident took place on Dec. 15 in the Winchester area of Riverside County.
Maintenance workers at the cell tower contacted RCAS after finding the disowned dog. While officials arrived, workers cared for the dog, who was believed to have been at the tower for less than two hours. They told the responding animal services' officer that the dog was parched and they gave it three bottles of water, KTLA reported.
According to data retrieved from its microchip, officers determined that the pit bull mix was an 8-year-old male dog named KO. They were also able to identify the owner and other details, including the phone number and residential address.
The owner, Robert Ruiz Jr., no longer lives at the address and the number on the chip doesn't allow incoming calls, officials said.
"We're now moving forward with seeking the arrest warrant because this person needs to be held accountable for such a horrible act of willful abandonment," Animal Services Commander Josh Sisler said, according to RSAS' news release. "We are confident the man in the video is the owner of the dog. It is just shocking to see this act. It's a small miracle the dog did not suffer serious injuries from the razor wire or from such a high drop."
The dog currently remains at Riverside County's Western Riverside County/City Animal Shelter in Jurupa Valley. His right eye was treated for mucoid discharge and his left eye exhibited discharge too. He has now been renamed Ken and is available for adoption.
In a similar incident, a husky puppy was flung from the second floor to the concrete ground by his owner in Houston in Nov. 2021. He was caught on video walking back to his apartment, while the puppy "wailed in pain." The suspect identified as 66-year-old Dwight Paul Hankins was arrested on felony animal cruelty to a non-livestock animal, causing unjustifiable/unreasonable pain and suffering. Hankins could face up to two years in jail and a $10,000 fine. As for the puppy, it is recuperating at a foster home.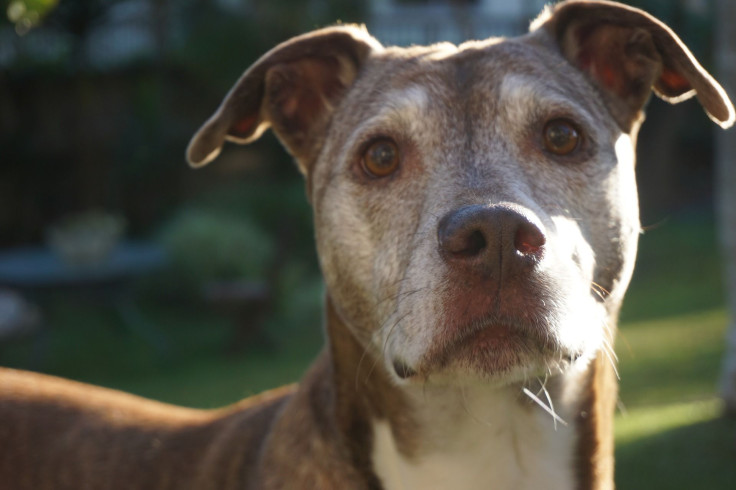 © Copyright IBTimes 2023. All rights reserved.