California Student Facing Grand Theft Charge For Removing Senior's MAGA Hat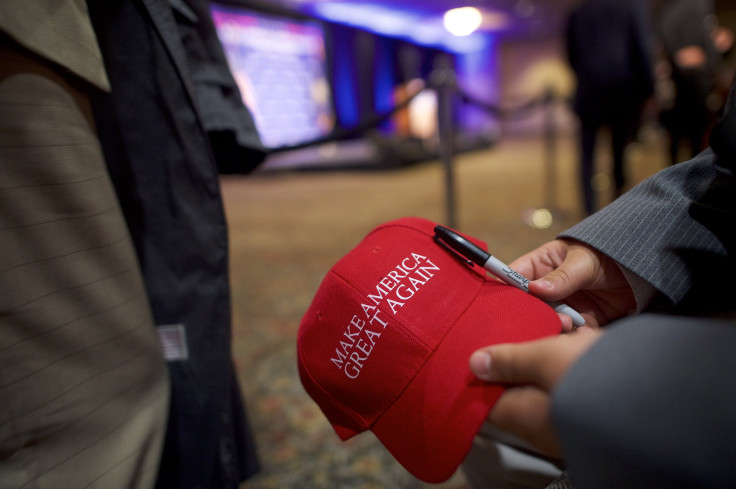 University of California, Riverside, student named Edith Macias became quite infamous after she was involved in an ugly incident in September this year where she grabbed a Make America Great Again hat from her senior's head and verbally attacked him with profanity-filled accusations of promoting "genocide."
On Tuesday, according to Professor Jonathan Turley's blog, Macias is looking at a charge of misdemeanor grand theft with the possibility of jail time. Turley is a nationally recognized legal scholar, writer lawyer and commentator in broadcast and print journalism.
As seen in the now-viral video of the September incident, Macias ripped the hat off the head of student Matthew Vitale and then spouted profanities in a college office. She is seen asking the staffers in a fit of rage that Vitale should not be allowed to wear the hat. Macias tore the hat off Vitale's head on campus.
Earlier in September, Vitale had signed an order charging her of petty theft.
According to the declaration in support of an arrest warrant, the woman told the officer, who responded to the incident in September that the reason she ripped off the hat was because it represented "genocide of a bunch of people."
"She stated she wanted to burn the hat because of what it represented," the declaration stated, according to Turley.
In the video, Macias is seen storming into a student services office with the hat and declaring: "UCR is letting people wear this s--- on campus? Make American Great Again, really? There were lynching and genocide and mass deportations. … I f------ hate this country. … And I am not leaving. … We need to get rid of all ya'll."
Then Vitale is heard reasonably asking for his hat back and also defends his right to free speech, Macias then declares "F--- your freedom of speech boy, your freedom of speech is literally killing a lot of people out there, your hats like these that promote laws and legislation that literally kill and murder people of color."
The video of the young woman's actions against another, a senior majoring in economics, attracted heavy coverage by conservative media outlets, which portrayed it as another assault on the free speech rights of right-leaning college students.
Initially, Vitale had said he did not have plans to press charges against Macias, but his decision changed when a campus police officer told him that her own bizarre video could be evidence of a felony, since it showed her taking the hat directly off of a person, the Los Angeles Times reported.
"Honestly, this isn't me trying to get revenge on her" Vitale said in an interview with Fox News, revealing his intent to press charges.
"This is me just trying to say: 'Look, behavior like this is not tolerated in this country,'" he added.
As stated under the Penal Code of crimes and punishment part 1, that includes crimes against property, Grand theft is theft committed in any of the following cases:
(a) When the money, labor, or real or personal property taken is of a value exceeding nine hundred fifty dollars ($950), except as provided in subdivision (b).
(b) Notwithstanding subdivision (a), grand theft is committed in any of the following cases:
(c) When the property is taken from the person of another.
(d) When the property taken is any of the following:
(1) An automobile.
(2) A firearm, according to California Legislative information website.
© Copyright IBTimes 2023. All rights reserved.