'Call Of The Night' Episode 6 Live Stream Details, Spoilers, Release Date
KEY POINTS
"Call of the Night" Episode 6 is airing Thursday
The episode will be out on Hidive
The anime is based on Kotoyama's original work
Yamori is bored of doing the same thing every night in "Call of the Night" Episode 6. The new episode is titled "It's Better to Have Fun."
The official Twitter account of the anime has tweeted spoiler stills and a brief summary for the upcoming episode.
Yamori wants to break out of the monotony, so he and Nazuna decide to do something else in Episode 6.
In the last episode titled "Well, That's a Problem," Nazuna visited a bathhouse and instructed the clerk to tell her if her wristband starts beeping.
She rushed out of the bath when she was alerted, and met with Yamori, who was wearing a long jacket. Meanwhile, after taking bath, Yamori started experiencing weird feelings because of Nazuna's new look.
Nazuna drank Yamori's blood and after that, they decided to take some rest. However, they ended up in a love hotel.
"Wracked by insomnia and wanderlust, Ko Yamori is driven onto the moonlit streets every night in an aimless search for something he can't seem to name. His nightly ritual is marked by purposeless introspection — until he meets Nazuna, who might just be a vampire! Ko's new companion could offer him dark gifts and a vampire's immortality," reads the official "Call of the Night" anime synopsis, as per Sentai.
"But there are conditions that must be met before Ko can sink his teeth into vampirism, and he'll have to discover just how far he's willing to go to satisfy his desires before he can heed the Call of the Night!" it continues.
"Call of the Night," directed by Tetsuya Miyanishi, is based on the original work by Kotoyama. Its music is composed by Yoshiaki Dewa, while the sound direction is by Eriko Kimura.
The opening theme song of the anime, titled "Datenshi" (Fallen Angel), is performed by Creepy Nuts. The ending theme song, "Yofukashi no Uta," is by Creepy Nuts.
"Call of the Night" Episode 6 is scheduled to broadcast this Thursday. Fans in the U.S. can watch the episode online on Hidive. The episode will live stream in Japanese with English subtitles.
The anime is titled "Yofukashi no Uta" in Japanese.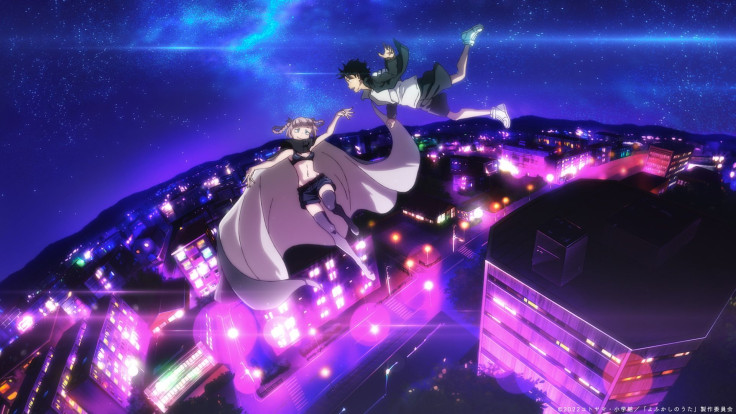 © Copyright IBTimes 2023. All rights reserved.