Can an Online MBA Give You What You Need to Succeed In The Corporate World?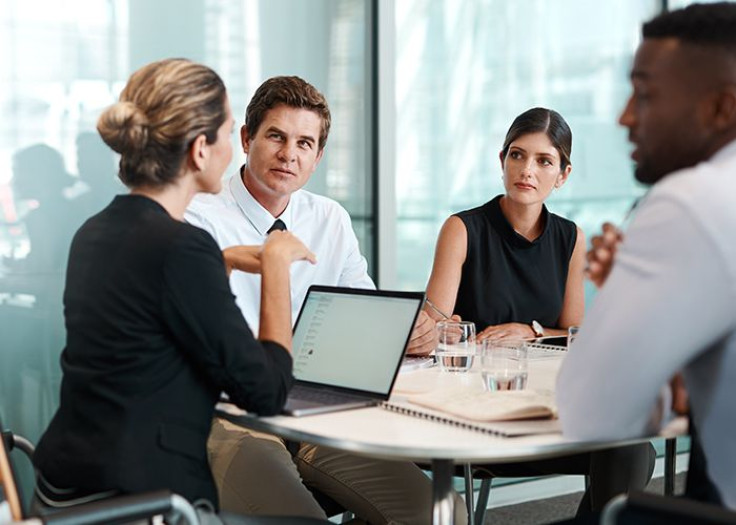 The job market is a place of intense competition, where candidates are evaluated on a vast matrix of pros and cons. And if you're looking to advance in your current company, you need to continually increase your value to them. That value can take many forms, from increased efficiency to better relationships with other co-workers.
That said, education has historically been one of the most reliable methods of improving your profile as an employee. A diploma and the skills you gain acquiring it serve as a kind of shorthand to your ability and potential, especially in business.
Beginning in the early 20th century, the industrialization of the Western world brought the rise of what was called "scientific management" to the workplace. The creation of a managerial class, one that was not drawn from the rank and file but rather recruited, demanded a suite of skills including economics, strategy, communication and human resources. That suite coalesced around the Master of Business Administration degree.
The first MBA program was based upon the then-new theories of Frederick Winslow Taylor, which were taking the corporate world by storm. The program grew rapidly, and other colleges soon followed suit.
According to the U.S. Department of Education, the MBA has become the most popular post-graduate degree in the country, with nearly 200,000 diplomas being awarded annually. But with the rise of the internship pipeline and other methods of getting people in the job market earlier, taking an extra two years after college isn't an option for many.
That's disappointing because it's undeniable that having a MBA can definitely give you a leg up in the workplace. A study of compensation projections by the National Association of Colleges and Employers predicts that the average starting salary for employees with an MBA is over $20,000 greater than a graduate with only a bachelor's in business. That's an immediate return on investment, not to mention the pathways to advancement it opens up after hiring.
One of many ways that technology has leveled the playing field is in access to education, and MBA programs are an excellent example. Many of the world's top-tier universities now offer online paths to their degrees, with the same expert instructors and materials that students access in person.
The first online MBA program was pioneered in 1987. Much like the boom at the beginning of the century, the end of the 20th century saw a similar increase in other colleges debuting distance learning. While at first it was seen as a novelty, numerous elite business schools soon joined the field with their own online programs.
But are online MBA programs actually equivalent to taking classes at a physical location? Increasingly, the answer is yes. In the early days of these programs, there was some stigma attached in the hiring and promoting process, with executives used to the old ways prejudiced against graduates of online programs. However, as more prestigious schools entered the marketplace and these graduates proved themselves equivalent, the prejudice is much rarer. In 2020, there is little to no difference in the actual education you receive.
Online MBA programs are definitely advantageous when it comes to cost. While the base tuition is typically on par or slightly less than what you'd pay for in-person education, there are numerous additional costs that studying from home does not incur. You won't be expected to pay relocation costs to attend a university in a far-off city, pay for transportation to and from class or the myriad other hidden fees that accompany college life.
Another advantage to getting your MBA online is flexibility. Distance learning programs are designed for students to work at their own pace, in the time they have available in between other responsibilities. People with few other things on the calendar can get a degree in as little as 18 months, but more heavily scheduled people can take their time, slotting in classwork during when they're free.
Finally, many companies are realizing the loyalty and productivity benefits that come with employer-sponsored education and offering financial assistance to employees seeking professional development.
There are certainly some cons to pursuing your MBA online. Some employers are still not convinced of the reliability of these programs, but that is changing rapidly. The reputation of the college and its accreditation remain the most important factors, whether classes were taken in person or remotely.
One of the biggest challenges that many face with any sort of distance learning is the lack of support from your peers. At a traditional college, students are surrounded by their fellows who are all working towards the same goal. They can study together, provide moral support and make the process of getting a degree easier.
Pursuing an MBA online requires significantly more self-sufficiency, which may not be a good fit for every style of learner. Many programs do offer additional resources to support distance learning, from expanded office hours to online support groups.
In addition, one of the largest advantages to traditional colleges is the opportunity for networking. Your MBA program peers are the executives and founders of the future, and having a college connection can serve as a helpful icebreaker. Many recruiters from major companies visit college campuses to recruit the best and brightest of their graduating class. That said, if you're pursuing an online MBA the chances are good that you are already employed and looking to advance in your current organization.
Online MBA programs aren't novelties anymore — they are robust, effective ways to get a degree that can help you advance in your chosen career, whether in your current workplace or a new opportunity.
To see an example of a well-formed online MBA, have a look at Emmanuel College's two-year course. With asynchronous learning delivered by an experienced, diverse group of professionals, this Boston-area college has 100 years of expertise to bring to bear.