Can Trump Pull A Eugene Debs In 2024 After Indictment In Classified Documents Case?
KEY POINTS
Trump said he's innocent and accused the Biden administration of "weaponizing" the DOJ
Trump has been indicted on seven criminal charges
Socialist leader Eugene Debs ran for president from prison in 1920
Former President Donald Trump on Thursday admitted he has been indicted on multiple federal criminal charges for allegedly retaining and mishandling classified government documents after leaving the White House. He claimed he was innocent and accused the Biden administration of "weaponizing" the Justice Department.
But will this dampen his presidential hopes? The latest developments are drawing comparisons to the presidential bid of socialist leader Eugene Debs. In a worst-case scenario, Trump could still follow in the footsteps of Debs, who ran for president even from prison in 1920.
Trump reportedly faces seven charges in the criminal case, brought by the U.S. Department of Justice. One source clarified to NBC News that seven charges don't necessarily mean they will result in seven counts as there could be multiple counts associated with every charge, including false statements.
In a series of posts on his Truth Social platform Thursday, the Republican 2024 frontrunner said he was summoned to appear in a Miami federal court on June 13. He wrote it was the "corrupt Biden Administration" that informed his attorneys about the indictment, "seemingly over the Boxes Hoax."
He accused the Biden administration of "weaponizing" the Justice Department "I am an innocent man," he said in a video posted on his campaign team's Twitter page.
He went on to accuse President Joe Biden of having "1850 Boxes" stashed at the University of Delaware.
"I never thought it possible that such a thing could happen to a former President of the United States, who received far more votes than any sitting President in the History of our Country, and is currently leading, by far, all Candidates, both Democrat and Republican, in Polls of the 2024 Presidential Election," he wrote.
Trump said it was a "dark day" for the U.S. and alleged the move against him was "election interference and a continuation of the greatest witch hunt of all time."
Jim Trusty, Trump's attorney, said his client was facing a charge under the Espionage Act, CNN reported. He noted the charge was "ludicrous."
The indictment remains under seal. Trump's legal team has received a summons from the Justice Department but they have not yet seen what it says.
This isn't the first time a politician running for president has been indicted.
Socialist leader Debs spoke against U.S. involvement in World War I in 1918 – the same year the Espionage Act of 1917 was amended into the Sedition Act.
The Sedition Act of 1918, which was repealed in 1920, sought to make anti-war statements treasonous.
"In all the history of the world you, the people, have never had a voice in declaring war, and strange as it certainly appears, no war by any nation in any age has ever been declared by the people," Debs said in 1918 at a Canton, Ohio, park. He also criticized the government for detaining anti-war activists, as per The Washington Post.
He was arrested weeks later, and many American newspapers at the time dubbed the socialist a traitor or a dictator. During his trial, Debs said he believes "in free speech, in war as well as in peace. If the Espionage Law stands, then the Constitution of the United States is dead." He was sentenced to 10 years in prison and reportedly refused to accept or ask for special treatment.
While in prison, Debs launched his "from the jail house to the White House" campaign in 1920 after previously running for president in 1904, 1908 and 1912 as the Socialist Party of America nominee.
During the 1912 presidential election, he garnered "an impressive 6% of the popular vote," which accounted for 901,551 votes.
Even behind bars, he still became the Socialist Party's 1920 presidential nominee and managed to gain about 3.4% of the popular vote in the election or an estimated nearly one million votes. The Ohio State University describes him as "the nation's most widely known and eloquent exponent of a socialist alternative to American capitalism."
In the case of Trump, some critics say the ex-POTUS' legal troubles may boost his re-election bid instead of pulling down his poll numbers.
The former POTUS already faces a criminal case in New York in connection with a hush money payment to porn star Stormy Daniels.
Fin Gómez, CBS News political director, said while Trump's lead in hypothetical polls appear to not have been affected by the hush money case, the latest case "is a little more serious" as it is at the federal level and could "wound" the former president "to the point that it could potentially knock him off that podium" as the frontrunner.
Legal experts are expecting a trial in the Stormy Daniels case to come at a minimum of over a year away or even after the 2024 presidential campaign.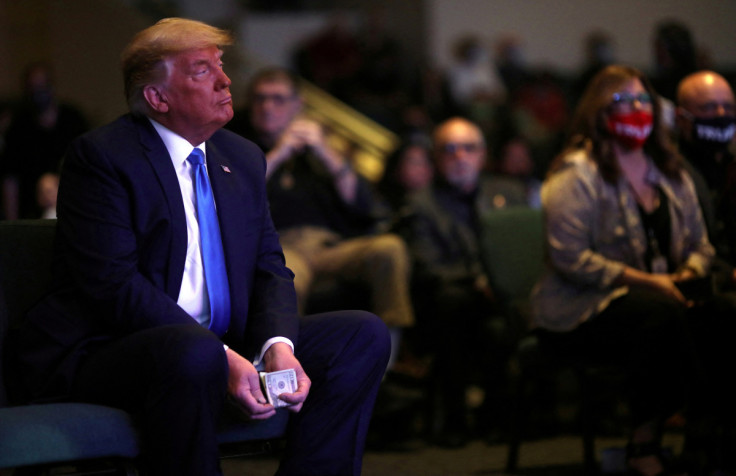 © Copyright IBTimes 2023. All rights reserved.