Are LE SSERAFIM's Kim Chae-won, TXT's Beomgyu Dating? Fans Show Possible Proof They're Together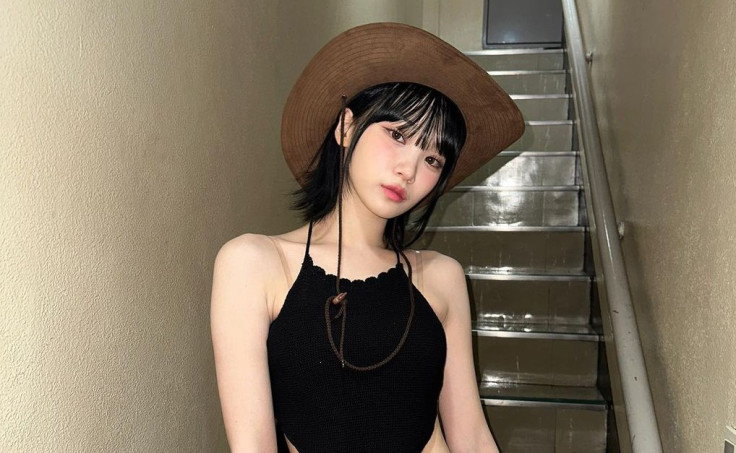 KEY POINTS
Fans speculate that Chae-won and TXT's Beomgyu could be dating
Chae-won once sang a line from TXT's "Blue Hour" song during a V Live
Both parties have yet to respond to the fan theories about their relationship
A dating rumor between LE SSERAFIM's Kim Chae-Won and Tomorrow X Together (TXT)'s Beomgyu has become a hot topic in a South Korean online community after a Chae-won merchandise was spotted by an eagle-eyed fan in TXT's dorm.
On Saturday, a fan account, @BBOSONGEEEEE, tweeted a photo of a TXT member in the dorm alongside a zoomed-in screenshot of what seemed to be a small standee of Chae-won on top of the group's refrigerator.
The fan captioned the tweet, "Why is Chae-won's merch in TXT's dorm?"
The viral tweet was picked up by netizens and shared on an online community in South Korea with the caption, "Are LE SSERAFIM's Chae-won and TXT's Beomgyu dating?"
The poster also added a reaction video of Chae-won while watching TXT's "Good Boy, Gone Bad" performance at Melon Music Awards last November. In the video, Chae-won allegedly appeared concerned when Beomgyu raised a lighter and the open flame pyrotechnics erupted on the stage.
Other fans shared other possible proof that the two idols could be together. "When IZ*ONE disbanded, Beomgyu went missing on V-app," one fan commented.
"It's famous among fans," another one commented with a screenshot of a previous dating rumor involving the two idols.
Another fan mentioned that Chae-won once sang a line from TXT's "Blue Hour" during a V Live with her former group, IZ*ONE. After realizing what she sang, she stopped and covered her mouth as other IZ*ONE members smiled.
Meanwhile, the viral tweet reposted on the online community received mostly negative reactions and raised eyebrows from fans.
"It's their living room shared with the company's staff. [T]hey have mentioned it before," commented one fan on the viral tweet.
"[T]his dorm is crazy. [H]air gel and a can of bug spray [are] next to each other on the kitchen table. [S]omeone's credit card [is] in full view of the camera. [There are] more boxes than a [UPS] distribution center. [S]omeone help them," another fan quipped.
"So why in a shared dorm is [Beomgyu] the one 'dating' her? [You] all need psychological help and a day job," said another fan.
"Their dormitory is not only for members but also for other staff. Stop blaming all these problems on Hueningkai. He just showed up in this pic[ture]," tweeted a different fan.
"It's not a big deal to have goods from the same family. You have pork belly at home, too. Sick," a fifth fan said, while a sixth fan claimed that the poster only wants Twitter interactions, "That's not even [Chae-won]. [T]he position of the arm and the color of the shirt are different. [Y]ou just made this up for interactions, so let's move on and leave my sister out of it."
Both artists have not responded to the fan speculations about their alleged relationship.
© Copyright IBTimes 2023. All rights reserved.