Cardi B Pregnant: Rapper's Team Reportedly Worried Offset's Baby Will Ruin Career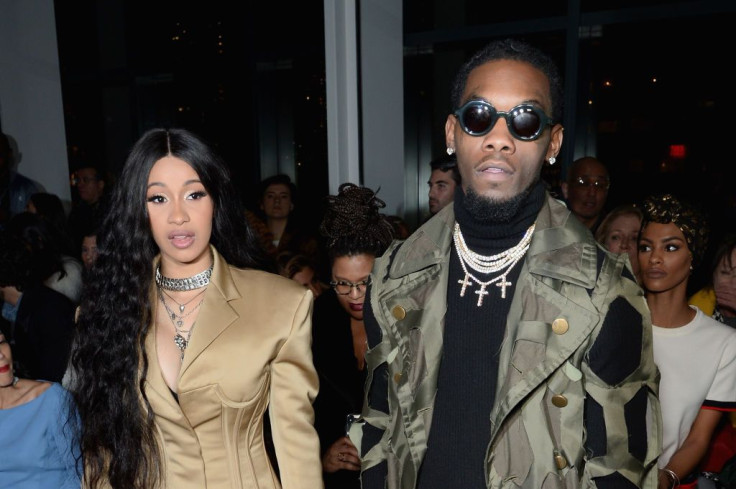 Cardi B appears to be at the peak of her career but those close to her fear it will all come crashing down due to her rumored pregnancy. The rapper's team is reportedly concerned a baby will ruin the star's net worth and slow down her ongoing cash flow.
Cardi began dating Migos rapper, Offset, in the beginning of 2017 and by October of the same year, the two were engaged.
While the couple has not been shy about expressing their love for one another, insiders revealed their passionate relationship has led to an unexpected pregnancy that could affect the "Bodak Yellow" rapper's career.
Sources told TMZ Cardi is between three to four months pregnant, which could put her upcoming business deals at risk and cost her a lot of money because she won't be able to work as much with a growing baby bump.
The rapper's team was reportedly hoping she would release a new album before the end of the summer and join Bruno Mars on a two-month tour in September.
However, if she is indeed pregnant, Cardi would be in her third trimester by August and may just give birth, which means she would most likely not be eager to going on tour so soon after her delivery.
Cardi's rumored pregnancy could affect her scheduled performance at Coachella in April. Festival fans may recall Beyoncé pulled out of her performance due to her high-risk pregnancy with her twins and was replaced by Lady Gaga.
Following a successful Super Bowl LII commercial, the Bronx rapper has also been peppered with huge commercial deals and asked to collaborate with big-name musicians.
In all, her team believes the pregnancy will interrupt her steady paychecks. TMZ reported the rapper currently banks $100,000 per show and $60,000 for nightclub appearances.
Despite the chatter, Cardi has denied reports she is expecting and has told fans she is "just getting fat."
On Wednesday, the star commented on a report alleging she opted for non-alcoholic beverages while attending a Super Bowl party. The star hinted she was scheduled for a performance after the party and wanted to be sober on stage.
Although the rapper has attempted to slam reports she is expecting, Cardi seemingly fueled pregnancy rumors when she arrived at Marc Jacobs' show during New York Fashion Week on Valentine's Day. The "No Limit" artist wore a printed dress which featured a giant bow tied around her stomach.
While members of the star's team continue to allege she is pregnant, it seems Cardi is adamant that she is not carrying her first child. Only time will tell which side is actually telling the truth.
© Copyright IBTimes 2023. All rights reserved.