Is Cardi B Trying To Hide Her Baby Bump Amid Rumored Pregnancy?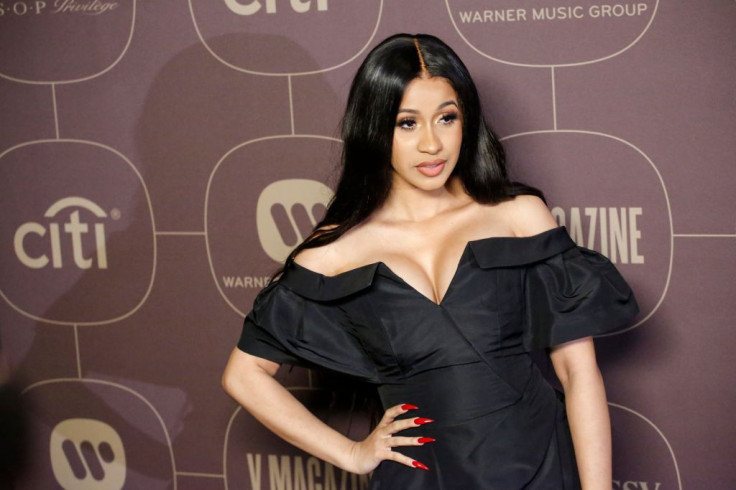 Cardi B has not confirmed whether she is pregnant with her first child but the star continued to fuel pregnancy rumors during a night out in New York City.
Cardi, who has been at the center of pregnancy rumors since Super Bowl LII, initially shot down claims she and her fiancé, Offset, were expecting a baby, but she has since taken a break from denying the rumors.
On Thursday, TMZ caught Cardi heading into the London Hotel in NYC where her entourage went above and beyond to hide her from the cameras. In the video, five people from the "Bodak Yellow" rapper's team surrounded the entrance of the building before the artist stepped out of the car.
The group then blocked any visibility of Cardi's body and cameras were only able to capture her face. The videographer asked the former VH1 star if she planned to announce her pregnancy during her performance on "Saturday Night Live" this weekend, but she remained silent on the matter.
Although Cardi initially told fans she simply gained weight and was not pregnant, during a recent interview with Beats 1's Ebro Darden on Apple Music, she revealed that there are some things she prefers to keep to herself. She then suggested people listen to her debut album, "Invasion of Privacy," to learn more.
"I feel like people just got to tune in a little bit on my album and they will know a little bit more because I can't address all the rumors and everything," the "Bartier Cardi" rapper explained.
"I have been so open to people about myself. People cannot expect me to be open about everything. Certain things to me, it has to be private. You cannot invade my privacy," she continued.
Cardi, who rose to fame following her stint on "Love & Hip Hop: New York," admitted she is no longer interested in sharing every detail of her life with the world.
"I'm not a damn animal at the zoo that you just could see everything, no. People will just find out more," she stated.
Cardi insisted fans will just have to wait and see whether she is actually pregnant or if she was just the subject of another Hollywood rumor.
© Copyright IBTimes 2023. All rights reserved.