Carole Baskin Featured On Justin Bieber's 'Stuck With U' Teaser; Ariana Grande Disapproves
KEY POINTS
Ariana Grande revealed that she disagrees with "Tiger King" star Carole Baskin appearing in her and Justin Bieber's "Stuck With U" music video
Bieber took to Twitter to share a clip of Baskin dancing alongside her second husband as a teaser for the said music video
Grande said that she "did not allow" for Baskin to be included in their new music video
Ariana Grande apparently disapproves of "Tiger King" star Carole Baskin appearing in her and Justin Bieber's new music video.
Upon discovering that Baskin was to play a cameo in her and Bieber's "Stuck With U" music video, Grande reportedly did not seem pleased with it at all. In fact, the pop songstress revealed Thursday (May 7) that she "did not allow" the controversial star of Netflix's "Tiger King" to be featured in the video and included footage that fans sent in, E! News reported.
Grande, 26, was dismissive of Baskin and expressed her contempt when Bieber shared a clip on his Twitter account showing the "Tiger King" star and her second husband dressed in animal print kaftans while dancing together. The post was captioned: "Tonight. #stuckwithu. He ain't going nowhere."
The clip that Bieber shared was supposedly a teaser for the upcoming music video. But apparently, Grande was not happy about it.
"For the record, I did not allow or approve this clip to be in the actual video. but. nonetheless. it exists and that's.....unique. anyway, 7.5 hours!" the pop singer quickly told her followers on Twitter.
The "7 rings" singer's post immediately sparked a surge of responses from netizens.
Most of the netizens' reactions were also amusing. The songstress even replied to an individual's tweet, saying, "I am very glad someone is laughing. the f--king heart attacks i had over this."
The recording of the video was accomplished at home during the coronavirus lockdown, and it showcased Bieber singing a part of the song to his wife, Hailey Bieber. Meanwhile, Grande's part shows the singer serenading her dog. She is also surprised by her boyfriend, Dalton Gomez, who makes a brief appearance towards the very end of the video.
For those unaware, Netflix's "Tiger King: Murder, Mayhem and Madness" is a true crime documentary miniseries about the life of a zookeeper Joe Exotic. The show was released on Netflix on March 20 and eventually became a hit.
As for the show's disputed star, Baskin, the Oklahoma-based zookeeper is featured in this sellout docuseries which follows both her and Exotic's feuds with the world of exotic animals in private zoos. Baskin, 58, escalated to popularity when she suddenly became the internet's subject of memes and conspiracy theories linking her to the disappearance of her second husband, Don Lewis.
And though it is still uncertain whether or not Baskin has already seen the pop songstress' reaction, the "Tiger King" star recently shared in a statement with E! News that she and her husband are "happy" to participate in Grande and Bieber's "Stuck With U" music video.
"Since we are certainly all in this pandemic together, we were happy to dress up in one of our old Fur Ball gala outfits and dance with our cat, Pearlie, when we were asked to participate," Baskin said. "I hope the song does well and has a unifying effect for the greater good in this time of self-imposed isolation."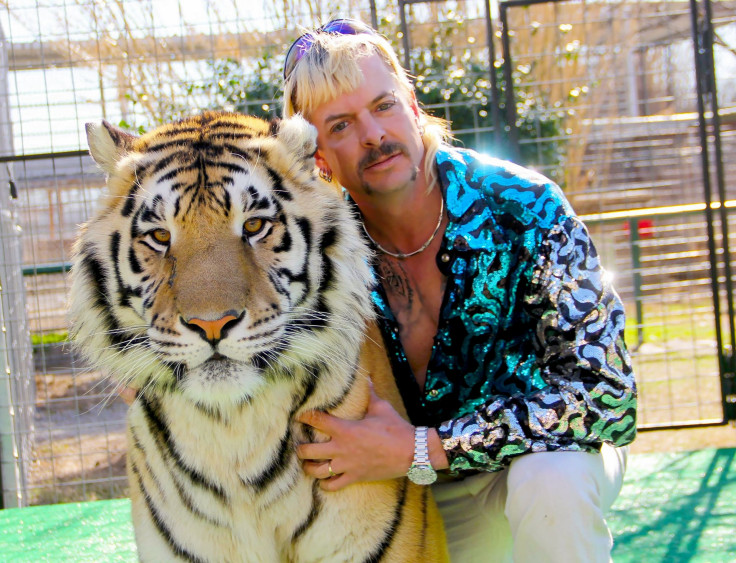 © Copyright IBTimes 2023. All rights reserved.