Casey Anthony Freed: What Will She do Next? Marry Tim Allen? Have More Babies?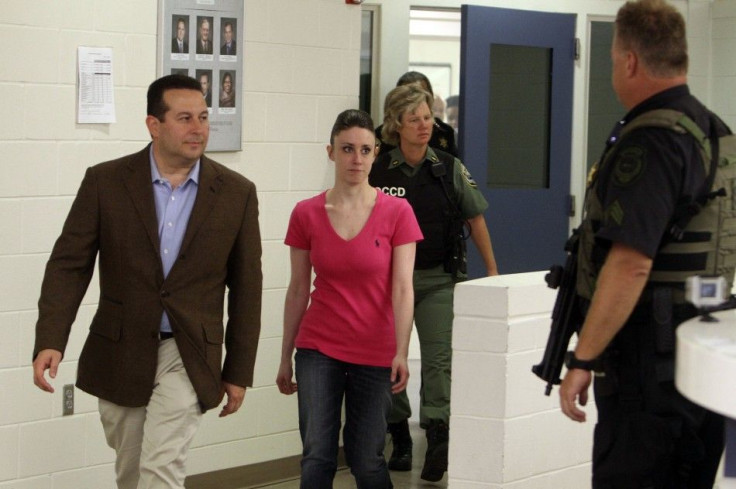 Casey Anthony freed from the Orange County Jail on early Sunday morning, 12 days after a 12-member jury handed a not guilty verdict in her favor, acquitting her of the charges of murdering her 2-year-old daughter Caylee.
Casey was whisked away to an unknown location amidst tight security and was chased by hundreds of protestors, who shouted Killer!
Casey is free now and even though she has many enemies (Casey's attorneys claim she had received death threats after the not guilty verdict), she also has many friends and admirers.
Casey's commissary account had swelled from mid-$200 to over $500 at the time of her release with her supporters sending checks and money orders as donation to her account in the Orange County Jail.
One of her admirers is Tim Allen, 24, who is hopelessly in love with Casey.
Allen claims he is serious about marrying with Casey and had followed her trial closely.
On Saturday night, Allen stood outside the jail with a sign that read: Casey Will You Marry Me.
He had carried a similar sign outside the courthouse where Casey was being tried.
Allen, who works at an Orlando pizzeria, said he loves Casey because she's beautiful...has very unique features...is pretty (and)...has a nice body. He is hoping Casey will respond to his declaration of love and if she visits his Facebook profile, she'll know how to contact me.
However, Casey won't be marrying anybody anytime soon as she'll be needing some time to adjust to her newfound freedom.
According to Terence Lenamon, a South Florida criminal-defense attorney, Casey will need to take a step out of the limelight and heal some of the wounds developed over years within herself and her family.
My advice to her would be to go underground and get away from everything, Lenamon said.
Agrees Lori Booker, CEO and founder of CBR Public Relations and an expert in crisis communications. The smart ones surround themselves with security. The smart ones don't tweet and don't say where they're going to be next, Booker said.
Meanwhile, there is a high possibility that the story of Casey's life will be made into a movie and it won't be surprising to find her selling the story to the highest bidder.
However, Gloria Allred, a California-based attorney who has represented high-profile clients, feels Casey should wait for some time before cashing in. I think she needs to take a lot of time to really come to terms with herself, with what happened, Allred said. This case was so high-profile that I don't think she necessarily has to make a deal right now.
And even as Allred feels Casey's in an extremely unusual and dangerous situation and needs long-term counseling, TV psychologist Dr. Keith Ablow thinks the first thing Casey will do is find a sexual partner.
Ms. Anthony has a history of using sex as an anesthetic, distancing herself from traumatic memories, emotional suffering and a range of other feelings-including guilt. Upon her release, she may well put romance at the top of her list, Ablow said in an article he wrote for FOX News.
Will Casey marry Tim Allen? Will she have another baby? Will she lead the life of a recluse? Will she strike a deal with a Hollywood studio about making a movie on her life? Who knows? But one thing's for sure - the life of Casey Anthony will never be the same again.
Must Read: Casey Anthony Freed: Who Killed Caylee Then?
© Copyright IBTimes 2023. All rights reserved.