Catholic GOP Presidential Candidates Distance Themselves From Pope Francis In Tricky Political Line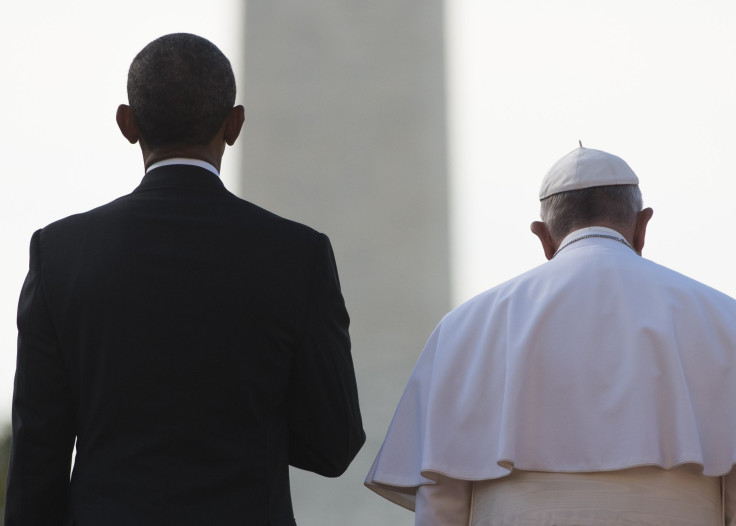 When John F. Kennedy ran for president in 1960, the Democratic senator from Massachusetts delivered a searing address on the separation of church and state. The speech was part of a broader effort to stave off allegations from political opponents that, as the country's first Catholic president, Kennedy would "take orders from the pope."
In the race for 2016, there are no fewer than six Republican presidential candidates who profess the Catholic faith: Jeb Bush, Chris Christie, Bobby Jindal, George Pataki, Marco Rubio and Rick Santorum. But none of them could be mistaken for taking his political cues from Pope Francis, who has spent much of his papacy sounding a clarion call for traditionally liberal issues like economic inequality, environmentalism and immigration. For the first time in decades, Catholic GOP politicians are faced with the decision of either aligning with the leader of the Catholic Church or appealing to their far-right base. And most of them have have made their choice clear: The pope, they say, is a fine leader on spiritual issues, but they don't look to him for leadership in the political sphere.
"I just think the pope is wrong," said New Jersey Gov. Chris Christie during a Sunday appearance on CNN. "The fact is that his infallibility is on religious matters, not on political ones." Christie was referring to Francis' role in re-establishing diplomatic ties between the United States and Cuba.
Of course, Cuba is not the only area that has Republicans smarting, and Christie isn't alone in dismissing the pope's views. Former Sen. Rick Santorum of Pennsylvania, who describes himself as a devout Catholic, criticized the pope for sticking his nose into issues of science when he delivered an encyclical on the environment this summer.
"The church has gotten it wrong a few times on science, and I think we probably are better off leaving science to the scientists and focus on what we're really good at, which is theology and morality," Santorum said.
Breaking The Mold
While the Catholic Church has traditionally proved fertile ground for conservatives seeking to bolster their views on social issues like homosexuality and abortion with a powerful moral authority, it's clear this pope does not fall neatly into American political divides.
"There are a lot of conservative leaders, especially Catholics, who wanted the Catholic Church and evangelicals to be the Republican Party at prayer. They only wanted the church to talk about abortion, gay marriage -- issues where the Catholic Church was aligned with Republicans," said Thomas Reese, a senior analyst at the National Catholic Reporter. "They don't want the church to talk about the poor, or immigration or the environment, because those are issues where the church is closer to Democrats."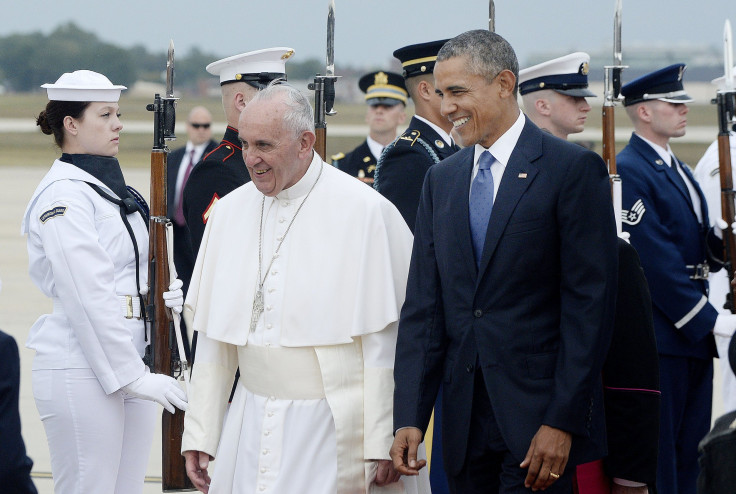 And while it's true that Pope Francis has not changed church doctrine on either homosexuality or abortion, which are still considered sins by the church, he has shifted the church's tone considerably, a shift that has made many conservatives uneasy. In fact, one Catholic lawmaker has said he plans to boycott the pope's historic address to a joint session of Congress on Thursday.
"If the Pope stuck to standard Christian theology, I would be the first in line," U.S. Rep. Paul Gosar, R-Ariz., wrote in a lengthy column at conservative website TownHall.com. "But when the Pope chooses to act and talk like a leftist politician, then he can expect to be treated like one."
Getting Through Iowa
While not all Republicans have taken such an extreme stance, it's difficult to deny many Republicans are probably approaching the pope's address Thursday with unease.
"If the pope says in his speech that we ought to welcome the immigrant, take care of the poor, protect the environment, are Democrats going to jump up down and applaud like they do during State of the Union speeches?" said Reese. "What will the Republicans do? Sit on their hands and frown? And if they do get up and applaud the pope, the Tea Party faction of the party will go crazy."
It's that faction of the party that many Republican presidential candidates are worried about. (International Business Times requested comment from each of the six Catholic Republican presidential candidates, but did not receive a response.)
"The far right of the Republican party certainly hasn't caught up with the pope," said Alex Patton, a Republican political strategist and pollster. "So Republican candidates are trying to straddle that line -- preach all you want, but stay out of politics. It's probably a poll-tested way to respond."
Patton added that most candidates have their eyes on the Iowa caucus in February -- the hurdle candidates have to clear in order to secure a party nomination.
"When you put it in the context of Iowa, there are not a lot of Catholics there. There are a lot of evangelicals, the Republican base. And there's a sliver of evangelicals who don't like Catholics," said Patton, who thinks former Florida Gov. Jeb Bush is the presidential candidate most likely to have a softer approach toward the pope.
"Bush has a continued focus on Hispanics, and he's playing a longer game. He doesn't need Iowa in the same way. He's got money, he can take a longer view," said Patton.
Bush has straddled the line carefully. In an op-ed published by CNN on Tuesday, he highlighted the pope's conservative bona fides by mentioning his advocacy for the unborn and then elevated him beyond the mortal and sometimes uncouth sphere of politics.
"The pundits would like to make him out to be a politician, but his charge is much greater than that: He is the spiritual leader to the largest group of Christians on Earth and an inspiration to all people of goodwill," wrote Bush, who converted to Catholicism more than two decades ago.
But even Bush assured his supporters earlier this summer that he didn't get his policy from "priests or bishops," carefully sidestepping the pope's more forceful calls advocating liberal issues. "I think religions ought to be about making us better as people and less about things in the political realm."
© Copyright IBTimes 2023. All rights reserved.