Cavs vs. Warriors Game 4: Start Time, TV Channel, Live Stream Info, Prediction For 2015 NBA Finals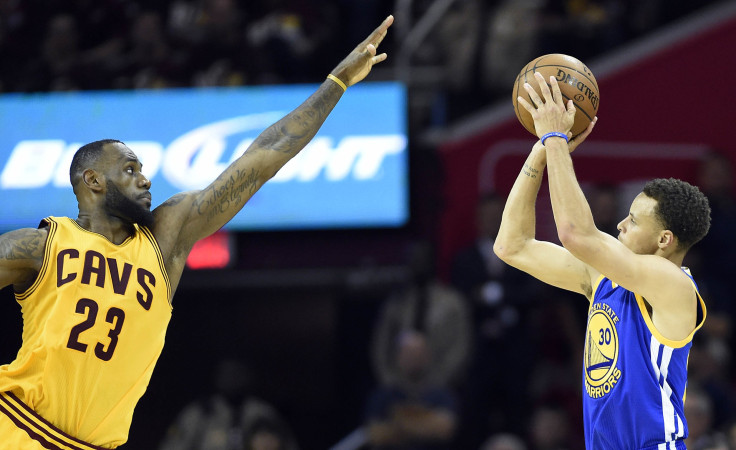 Injuries seemed to be the main reason why the Cleveland Cavaliers were supposed to falter against the Golden State Warriors, with Kevin Love and Kyrie Irving both lost due to serious injuries during Cleveland's run to these NBA Finals.
Instead fatigue and a lack of depth, along with a plethora of bodies Golden State can send out, might be the deciding factor as Thursday night's Game 4 at Quicken Loans Arena looms.
Leading the Cavs in nearly every major stat and in line to set a new scoring record in the Finals, forward LeBron James has played 142 out of a possible 154 minutes, including the two overtimes in the first two games of the series. Largely the result of Love and Irving forced to sit out, James appeared exhausted in the closing minutes of Game 3's tense 96-91 victory.
James hasn't put Cleveland up 2-1 in this series by himself, but the Cavs lack of depth is certainly taking a toll. Guard Matthew Dellavedova, tabbed to fill in for Irving, rose to legendary status with his 20 points, numerous dives for loose balls, and stellar defense against Warriors MVP Stephen Curry over 39 minutes, but had to be hospitalized due to severe cramping.
"I've felt like I've pushed the limit a few times, but that's probably the tiredest I've been," Dellavedova told reporters. "I'm feeling good now, though, so it's good we don't have to play back-to-backs."
Sticking with an eight-man rotation in the first three games, head coach David Blatt is unlikely to move his chess pieces much even with starting shooting guard Iman Shumpert enduring a bruised left shoulder. The former Knick underwent a MRI and it showed no structural damage with Shumpert stating the injury would have to be very serious for him to sit out any game in the Finals.
That kind of determination and toughness lies specifically on the defensive end, with Cleveland holding the hot-shooting Warriors to 40 percent overall from the floor in Game 3 and to under 100 points for two straight for only the second time in these playoffs.
Golden State's troubles on offense begin and end with Curry, who admitted he has to be better in the series. The smoother shooter finished Game 3 with 27 points, but most of them came late in the fourth quarter when the Warriors needed to climb out of a 20-point lead.
"I have to play better and play more consistent and do more to help our team win, so that's all I'm really worried about," Curry said. "It doesn't matter who I'm matched up against or what the narrative is or what's being said outside of our locker room."
Recent history suggests Golden State and Curry can respond in Game 4. The Warriors faced a 2-1 hole in the second round against Memphis, and ripped off three straight wins with Curry hitting 18 of 35 three-point attempts. The pressure is also ratcheted up with no team, 32 in total, ever coming back from a 3-1 deficit in Finals history.
More minutes form power forward David Lee, who racked up 11 points and four rebounds over 13 minutes in Game 3, should also be expected with Cleveland big men Timofey Mozgov and Tristan Thompson largely dominating Warriors center Andrew Bogut and forwards Draymond Green and Harrison Barnes. Barnes and Green went a combined 2-for-18 for seven points in Game 3.
Golden State will also ask for more from veteran guards Shaun Livingston and Leandro Barbosa, who totaled eight points on 4-for-11 shooting, with Andrew Iguodala joining Lee as the lone bright spot off the bench with 15 points, five rebounds, and five assists.
Start Time: 9 p.m. ET
TV Channel: ABC
Live Stream: WatchESPN
Point Spread: Warriors by 3 points
Over/Under: 194 points
Prediction: Golden State over Cleveland, 105-94
© Copyright IBTimes 2023. All rights reserved.