Cayman Islands Elections Put New Party In Power, Shaking Up Hedge Fund Haven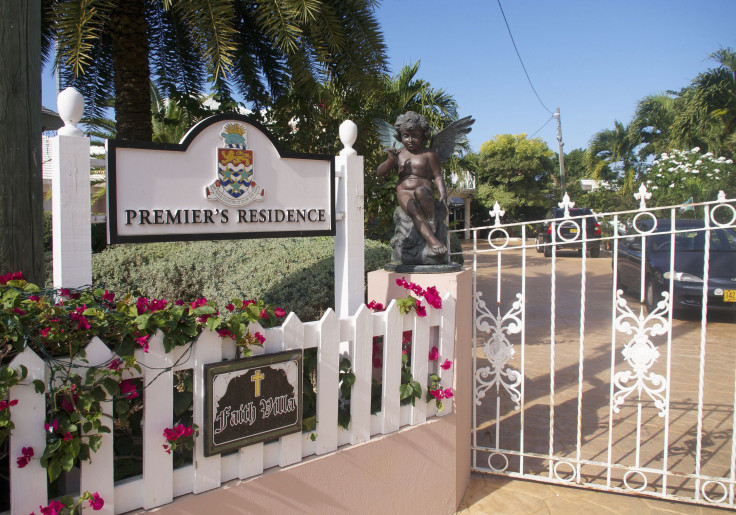 The People's Progressive Movement has emerged the winner of elections on the Cayman Islands, according to results announced Thursday. Leader Alden McLaughlin is likely to become premier of the small but highly influential group of islands in the Caribbean Sea, but the global elite who use it a financial haven need not worry.
The Caymans, while a tropical vacation destination, are best known as a hub for the financial services industry. The territory is a tax haven, which makes it useful to hedge fund investors seeking to cut costs. More than 9,000 hedge funds are headquartered in the tiny territory.
But the Cayman Islands are also where 57,000 people live and work. And although it is technically a British Overseas Territory, the population is largely autonomous when it comes to governance.
The use of offshore tax havens is controversial. Hedge fund managers argue that the practice is legal, but critics say it empowers the super-wealthy by sapping governments around the world of much-needed revenue. On Tuesday, Oxfam released data suggesting that tax revenues lost to offshore havens total $156 billion ever year -- enough, it said, to end world poverty two times over.
The Cayman Islands in particular enjoyed a GDP of $3.2 billion in 2010, the last year on record with the U.N. The GDP per capita is $57,050 -- higher than in the United States. That wealth is largely generated by the financial services industry, but it pales in comparison to the actual value of hedge fund assets held in the territory, which are estimated at $2.2 trillion. If that were the gross domestic product of the Cayman Islands, this territory of just 100 square miles (260 square km) would be the ninth biggest economy in the world.
A new party has now taken control of governance, but that doesn't necessarily mean the financial services industry is due for an overhaul.
"In the Cayman Islands, the private sector and public sectors work closely together," said David Marchant, editor and founder of Offshore Alert, a financial industry watchdog and media organization. "Unless there's some compelling reason why the government shouldn't go along with what the private sector wants, the private sector essentially gets its way."
For those worried about the islands' poor reputation regarding transparency, the results of the Wednesday poll offer some solace; the population has apparently turned the page on the United Democratic Party.
The outgoing premier is independent candidate and former UDP politician Julianna O'Connor-Connolly. She retained her Legislative Assembly seat in the election and will continue to represent the district of Cayman Brac and Little Cayman.
But O'Connor-Connolly's tenure was brief, clocking in at a scant five months. Until December 2012, the UDP governed under Premier McKeeva Bush. He was first elected to the 18-member assembly in 1984 and became premier when his UDP won a majority of seats in 2009.
By that time, Bush had already gained a reputation for corruption and mismanagement. It came as little surprise when, in 2012, he was arrested on suspicion of foul play and removed from office following a no-confidence vote. He was formally charged with two counts of misconduct in public office, four counts of breach of trust, and five counts of theft. He made his first court appearance in April; his next is scheduled for late June.
That didn't stop Bush from contesting a seat in the Legislative Assembly this time around, in his district of West Bay. Early results indicate that he was successful; he and two other UDP candidates won three of the four seats available there, with the other going to an independent candidate.
But other districts swung heavily in favor of the PPM, which won nine out of 18 seats. That's one short of a majority, but the PPM appears poised to govern by teaming with one or two independents, which would put McLaughlin in position to become premier.
"It doesn't surprise me that Bush would be re-elected as a member of the Legislative Assembly. He's so corrupt, and his constituents have benefited from his corruption," Marchant said. "It would have been catastrophic if he became premier again. The message that would send is that the Cayman Islands are corrupt. But the Cayman Islands has a pretty well-run financial services sector."
Cayman Islands officials have indeed taken steps to dispel concerns about shady activities. They promise to enter into agreements with the United States and the United Kingdom to facilitate the automatic exchange of tax information.
In addition, the Cayman Islands Monetary Authority has been pushing for an initiative that would publicize information about hedge fund directors on the island in an effort to increase transparency.
The initiative came as a response to concerns that hedge fund directors, who are meant to serve the interests of investors, have become a commodity of sorts in the Cayman Islands. It is common practice for one director to serve hundreds of funds, and a 2011 Financial Times investigation revealed that a whole industry has sprung up to furnish executives who act as rubber-stamps rather than power checks.
These problems are likely to persist, even under a new government.
McLaughlin, the presumptive premier, has served in the Legislative Assembly only since 2000 and became leader of the PPM just two years ago, so the jury is out on whether he will push on with the transparency improvements he has promised. For now, he is most concerned with efforts to form a coalition to govern one of the world's most important financial centers.
"We have got nine seats, so we have to go now and talk to everybody in the piece about their willingness to work with us," McLaughlin said, according to the Cayman Compass. "The country does not need any more division."
FOR FREE to continue reading
✔️ Unlock the full content of International Business Times UK for free
offer available for a limited time only
✔️ Easily manage your Newsletters subscriptions and save your favourite articles
✔️ No payment method required
Already have an account? Log in
© Copyright IBTimes 2023. All rights reserved.