Best CBD Oil in the UK: Top 7 Brands Reviewed (2020)
Cannabidiol or CBD represents a line of diverse products now available in the UK and elsewhere based on refined compounds found in cannabis plants. Unlike conventional marijuana, the psychotropic element in the plant (THC) is removed through the manufacturing process. This means that CBD oil and its derived products are not addictive or mind-altering (you can't get "high" on reputable CBD oil products).
CBD oil is not federally regulated in most countries, so there has not been extensive testing conducted on the substance's possible benefits, side effects, and uses. However, the industry for these products has skyrocketed in the last decade, particularly in the UK. Their benefits in terms of stress and pain relief, as well as others discussed in detail below, are becoming more widely apparent as more people use the products, companies refine their testing and manufacturing procedures, and more long-term studies are conducted on the benefits.
This guide to the best CBD oil brands available in the UK also includes a description of the benefits and possible side effects of CBD oil. While more long-term testing is needed, many medical professionals and individuals are discovering the benefits of these products to alleviating their pain conditions and improving their quality of life.
CBD Oil UK: The 7 Best CBD Oil Brands (2020)
These are the 7 best brands of CBD oil for UK users available in 2020 (and 2021), including a description of their selling points, their dosages, and their unique features.
Blessed CBD is continuously voted the number one CBD oil brand in the UK and for good reason. In just a short 9 months, they've shaken up the UK CBD oil industry with a range of high-quality, Non-GMO CBD products. We're very much impressed.
The UK-based company has CBD oil tinctures with more potent doses of CBD than virtually any other on the CBD market, with bottles ranging from 500mg to 1800mg per dose. They're also a member of the Cannabis Trades Association - an organisation that only the best-of-the-best CBD brands can join.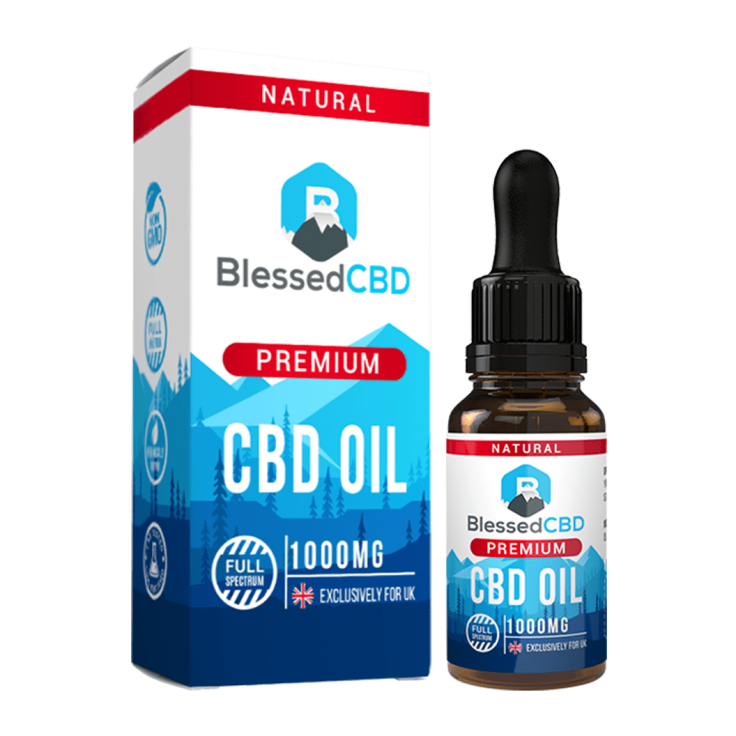 Supercritical CO2 extraction is the process by which the most reputable CBD oil manufacturers refine their oils. Blessed CBD is one of those companies (as is any that you should consider buying from). By using this process, Blessed CBD is able to extract the full spectrum of cannabinoids (such as CBG, CBDA, flavonoids, terpenes, etc) from their plants, meaning that the different compounds work in tandem to produce a more potent and long-lasting CBD oil than those that rely on one compound only (also known as the "entourage effect").
In refining these compounds, Blessed CBD also removes the harmful additives, chemical fertilizers, and heavy metals that can creep into the batches of cheaper products.
Their oils don't have the widest range in terms of diverse product types, but the products that they do sell are of the highest quality available on the market (they also offer CBD gummies, CBD capsules and CBD cream ). If you're serious about high dosage CBD products, or simply want the most refined product available, Blessed CBD is our top choice.
Every customer receives free next day delivery if ordering by 2pm, which is probably the quickest delivery time out of all the CBD brands we reviewed in the UK. If you're seeking high-quality products that allow you to experience CBD's health benefits, Blessed CBD is the brand to pick.
Click here to visit BlessedCBD.co.uk
2. Royal CBD
Royal CBD is based in the USA, but their production methods are popular in the UK for those looking for something a little different. Like the best full-spectrum CBD oil products available, they use a refined CO2 extraction method to purify their compounds and isolate the cannabinoids that will give you a potent product (that is also vegan friendly).
They also use extensive third-party lab testing procedures to make sure each batch meets their high standards. The reports are available upon request. We've reviewed these third-party lab results, and can confirm their range of CBD products contain the correct cannabinoid content and terpene profile.
Shipping to the United Kingdom can take 2-3 weeks, but if you don't mind waiting, Royal CBD is worth a try.
3. Excite CBD
Although new to the CBD industry, Excite CBD is a premium-priced CBD brand that is quickly proving to be of quality in the UK because of its refined methods and testing procedures. They pride themselves in using organic ingredients that are free of chemical additives and fertilizers.
They use a refined CO2 extraction process to create their products and employ trusted third-party testing through two separate lab companies. These companies use a process called high-pressure liquid chromatography to verify the CBD oil's strength.
As a brand that prides itself on being 100% THC-free, you can be sure that there will be no mind-altering effects with their products. They offer vape pens and oil sprays in addition to tinctures for those that are looking for a little variety in their CBD delivery system.
4. Exotics CBD
Exotics CBD may be a relatively small company owing to how recently they were formed, but they've come on strong onto the competitive CBD oil market in the UK with their trendy, alternative broad-spectrum CBD products. They feature fruity flavors for those that don't care for the taste of CBD.
They also have stellar customer service and they answer responsively to online questions about their products and services. If you're really worried about the quality of the extraction method, they have lab reports publicly available that show you the ingredients of their products and the quality of the process.
If you're looking for something a little more low-key, Exotics CBD might have what you need.
5. Holistic Hemp Scotland
The Scotland-based refinement plants of Holistic Hemp boasts that they handpick every cannabis flower that goes into their batches. They advertise a unique extraction method that is not the high pressure and temperature supercritical CO2 extraction. They use lower levels of stress to produce what they believe is a purer organic hemp product.
In keeping with purity, they also only offer a single bottle (500mg), so you know what you're getting when you order from Holistic Hemp. Their production process may seem a little dubious because it's not as well-known but their customer reviews are good and they serve as an interesting, utilitarian alternative to the other hemp CBD oil brands.
6. Hempura
Hempura packages its variety of CBD oil products luxuriously. They have oil tinctures up to 1000mg so you should be able to find what you want.
For those that love supporting local industries, Hempura prides itself on using only Europe-grown cannabis certified by UK organizations.
They don't have any crazy flavors or infusions, but their CBD oils are consistently of solid quality, checked for purity, and properly refined.
7. Love Hemp
Love Hemp will not offer you the highest strength CBD dose on the market: that's the whole point. Their lower doses (their tincture is only 3% CBD) gives novices a chance to get used to the taste and experience the effects of CBD oil products without going overboard.
They remove most of the THC (tetrahydrocannabinol) and process out all the chemicals, fertilizers, metals, and additives. Despite the low concentration of CBD, the tinctures are fast-acting, free of GMOs, and the company is known for its speedy delivery.
Other CBD brands we reviewed were Provacan and Medterra which didn't make our final list.
What are the Benefits of Taking CBD Oil?
Pain and stress-related chronic disorders are the main things treated with hemp extract and CBD oils.
Those who suffer from chronic stress know that it has a multimodal negative effect on your body – it affects most key systems in one way or another. They also know that the medications prescribed to treat anxiety disorders often have numerous side effects.
CBD oil could be a natural alternative to your anxiety medication by relieving inflammation and balancing your systems, though more research needs to be conducted to discover its full potential in this area.
It also acts as a blocker of the neurotransmitters that perpetuate cycles of pain. In chronic illnesses like multiple sclerosis and other pain conditions, blocking these signals can give you temporary relief from muscle and nerve pain related to an overactive nervous system.
The Legality of CBD
The laws on CBD consumption in the UK relate directly to its manufacturing. With a THC content of less than 0.2%, CBD and its related products are legal to consume and considered generally safe to do so. It must also be sold as a food supplement and no health claims are allowed to be made.
Remember not to get it confused with cannabis oil, which contains a full dose of THC. Psychoactive compounds are not legal and cannot be consumed without a medical prescription.
This is why it's important to verify the means of production before you buy a new supplement. You need to make sure it conforms to its promises so that you don't fail a drug test because of a cheap or faulty product.
Though more clinical trials are needed, these and other benefits make a good case for the continued testing and use of CBD oil products. This same law is identical in other markets too, such as in the Netherlands, where brands like Nutra CBD are proving popular with the masses for their " CBD olie ".
Using CBD oils
There are many methods to consume CBD. The most prevalent is a CBD tincture (usually comes in a 30ml or 10ml bottle. You empty the dropper beneath your tongue, hold it there for 90 seconds, and swallow.
However, there are also CBD edibles, capsules, vapours, creams, and even skincare products and bath bombs. It's important to know the benefits of each method so that you can choose the right one for you, since each will give you a dosage of varying intensity and CBD content.
However, in addition to more testing being needed before CBD can be officially approved as a solution to these problems by the medical community, its effects also largely depend on the brand that you buy. Resources such as Hypothesis Journal (formerly HerbMighty) is a great starting point to learn about CBD.
CBD Oil UK: The Takeaway
CBD represents a rising industry in the UK. Its related products have fallen under scrutiny and are now legal to consume if the psychoactive components of cannabis are removed in the extraction process.
This guide to the UK's 7 best CBD brands currently available should get you started on your journey to natural pain and stress relief. Blessed CBD has often been voted the best in the UK and because of its refined extraction methods, third-party verification, prompt customer service, and high dosages, we agree. And so do the following publications:
Regardless of which of these brands you choose, ask for lab reports if you're worried. If you can't find any, reconsider it as your brand of choice. The best CBD oil products are easy to use and effective at reducing your pain and anxiety. Likewise, the best CBD brands are forthcoming with their manufacturing methods, verified by third parties, and willing to help you be a happy customer. We suggest buying online, as most products available on the high street have been disappointing.
FOLLOW MORE IBT NEWS ON THE BELOW CHANNELS