Champions League Final 2015: Juventus One Step Away From Crowning Incredible Season With Historic Treble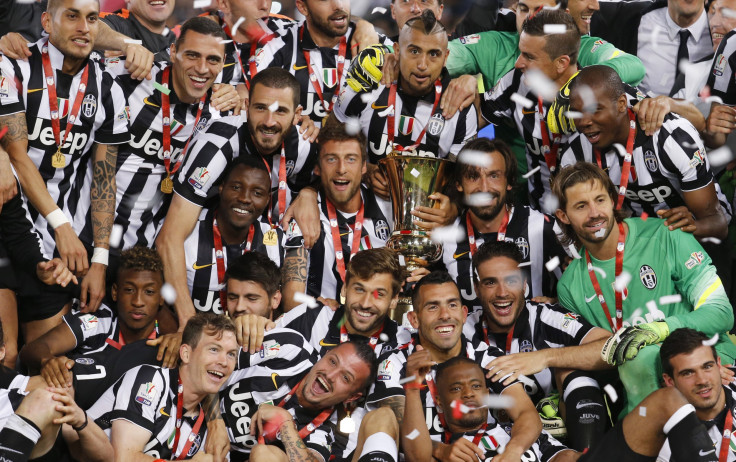 It took an extra-time goal from Alessandro Matri, but Juventus' dream of a most improbable treble remains alive. Juventus beat Lazio 2-1 in Rome on Wednesday to add the Coppa Italia trophy to the Serie A crown they secured for a fourth successive year at the start of the month. It means all focus can now switch to Berlin in two weeks' time and the chance to win the league, Coppa Italia and Champions League treble for the first time in the club's distinguished history.
"I have to say that it wasn't easy for the lads to win the Scudetto and Coppa Italia," manager Massimiliano Allegri said afterward, reports ESPN. "Now we'll try to win the third. It is not easy to play in three tournaments all the way through a season. Now we will try to nourish this dream and turn it into reality."
Yet Juventus deserve time to reflect on this triumph. Even without taking the Champions League final into account, by lifting the Scudetto and a first Coppa Italia in 20 years it has already been a hugely successful season for the Bianconeri, and, in particular Allegri.
Unwanted when he was appointed 10 months ago, just days after the sudden departure of the beloved Antonio Conte, Allegri has already notched up an achievement that eluded his predecessor. Conte, a former stalwart midfielder for the Turin giants, brought boundless enthusiasm and intensity to the role and led Juventus to the Scudetto in each of his three seasons in charge.
Allegri, meanwhile, had just six months earlier been dismissed by Milan with the club in the bottom half of Serie A. For a club that had been seen by many as lacking the ambition to compete once again with Europe's elite, his appointment hardly inspired ambition. But it has proved a remarkably shrewd decision and one that has continued the growth of the club from its lowest ebb just nine years ago.
In 2006 they were the club deemed most culpable in the Calciopoli scandal that tarnished the Italian game, implicating clubs, and Juventus in particular, of influencing referee appointments. Juventus were relegated to Serie B and stripped of the Serie A titles won in the previous two seasons -- a punishment that still rankles with the club.
The route back initially seemed straightforward, with Juventus finishing third and then second after their immediate promotion back to Serie A. But then came successive seventh positions, before the club sought reinvigoration in the hands of Conte, who had modest coaching qualifications but spent 13 years as a player at Juventus, where he won every major honor available.
Just as important was what was happening off the pitch. Since being the dominant league in the late 1980s and much of the 1990s, Serie A had gone into unquestionable decline. A lack of forward, outward thinking and crumbling infrastructure saw the English Premier League, with its new stadiums and fervent, safer atmospheres, together with a determination to capture the global market, become king.
Meanwhile, in Spain the behemoths of Real Madrid and then Barcelona, with their massive fan bases, snatched up the best players from Italy -- notably with Zinedine Zidane's then record transfer to Madrid in 2001.But in the same season that Conte took charge, Juventus moved into a new purpose-built arena. The capacity, at 41,000 was significantly less than the club's long-time previous home, the Stadio delle Alpi. But crucially it came without a running track around the pitch, a design factor that blights the atmosphere and intimacy of many Italian grounds. Even more importantly Juventus became the first club in Italy to own its own stadium. As a result, un the first season match-day revenues increased a massive 183 percent.
With a huge competitive advantage off the pitch over the likes of Milan and Inter Milan, which still share the 90-year-old relic of the San Siro stadium, Conte led Juventus to three titles in increasingly dominant manner. Yet in Europe Juventus were still struggling. Two years ago they were outclassed by Bayern Munich in the Champions League quarterfinals and last season they failed to even make it out of the group phase. Even in going for the consolation prize of the chance to lift the Europa League title in front of their owns fans last year, Juventus fell short against Benfica in the semifinals.
"You cannot expect to eat at a €100 restaurant with €10 in your pocket," Conte famously said in a concession of what he saw as his team's inability to compete with Europe's elite.
That frustration is believed to have led to his departure. Now less than a year on Juventus are in the biggest game of all, back in the Champions League final for the first time in 12 years having beaten the superstars of Real Madrid in the semifinals. From the start Allegri was ultra-confident in his own abilities and, in contrast to his predecessor, those of his squad.
"Maybe we can't eat the priciest dishes on the menu but Italian teams can sit comfortably in an expensive restaurant," was Allegri's response.
Less the ultra-demanding motivator and instead a more laid-back strategist, Allegri has perhaps profited in part, too, from the desire for change among the players after three years of Conte. The fact that he has been able to take a step back and focus on the bigger picture has also helped. While Conte was desperate win every game, Allegri has prioritized certain fixtures, willing to sacrifice league matches after the title was already effectively secured in order to keep players fresh for Europe. Allegri's Juventus will not get close to the 102 points the team amassed last season, but they find themselves in with a chance to complete a clean-sweep of silverware in the Champions League final.
The challenge of stopping Lionel Messi, Luis Suárez and Neymar in Berlin is like none other in the world today, but it would be dangerous to think that Juventus cannot find a way. And even if they fall short, Juventus and Allegri are already major winners.
© Copyright IBTimes 2023. All rights reserved.