Chardon High School Shooting: Up To 5 Students Injured As Gunman Opens Fire In Cafeteria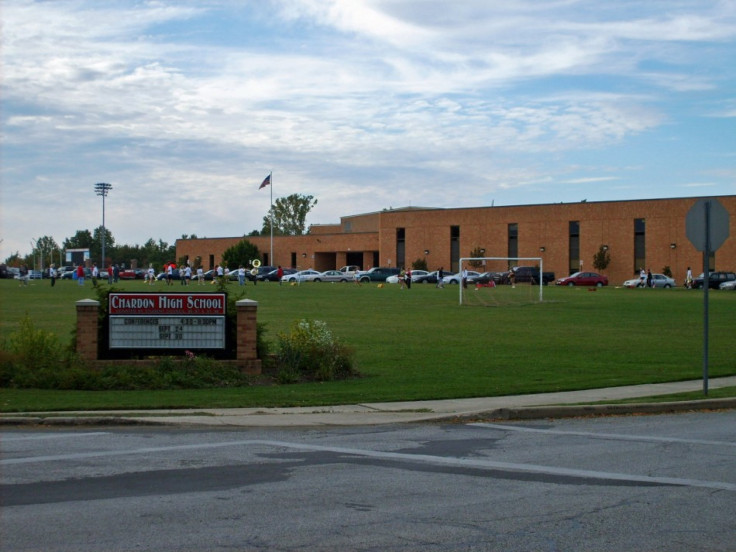 UPDATE: Both ABC News and USA Today report that five students were injured in the shooting, based on information provided by Vicki Anderson, a spokeswoman for the FBI. Sources also report that the gunman was armed with a handgun.
At least four students have been injured in a school shooting at Chardon High School in Chardon, Ohio, with at least one suspect in police custody.
According to CNN, four students were shot in the high school cafeteria when a gunman opened fire around 7:30 a.m. on Monday.
Lt. John Hiscox of the Geauga County Sheriff's Office is in charge of the investigation, but would give no details about the incident earlier this morning. Civil deputy Erin Knife reported that one suspect left the school and was later arrested by police, and indicated that officers were searching for a second shooter. Reports of a second shooter remain unconfirmed, however, by both high-ranking officials and student testimony.
Gunman 'stood up and started shooting.'
Chardon is a small city of about 5,100 people, located 30 miles east of Cleveland, Ohio. About 1,150 students attend the high school.
According to the Columbus Dispatch, Chardon High School went into lockdown shortly after the shooting occurred. The students were evacuated around 8:30 a.m. this morning, heading over to Maple Elementary School across the street.
Around 8:45, the Lake County SWAT team arrived with a couple of big vehicles outside, and Superintendent Joseph Bergant II confirmed to TV station WKYC that the suspect was in custody shortly thereafter.
Although little information has been released so far about the shooting itself, parents have revealed that the shooter launched his attack in the school's cafeteria. One parent, Jeannette Roth, heard from her son Joshua, a junior, who told her the shooting happened while students were eating breakfast and waiting for first period.
Suddenly, a boy stood up and started shooting, Roth says Joshua told her. And then it was chaos.
No Word On Students' Injuries
The Columbus Dispatch also reports that a teacher who saw the shooting chased after the one confirmed gun-wielder, who escaped. it would appear, based on student testimony, that the confirmed gunman was a male student at the high school.
Mother Darlene Judd, who has heard from her two sons, seniors Peter and Paul, says she's terrified for those parents who haven't heard anything yet.
Chardon is a tight-knit community, she told the Dispatch. Everybody knows everybody; everybody cares for everybody. Even though it's not your kid down, someone else's is.
Superintendant Bergant has said that he does not know the extent of the students' injuries.
A spokeswoman for Cleveland's MetroHealth System told AP that a medical helicopter was dispatched to the high school. Schools in the area, including Chardon High School, remain on lockdown.
© Copyright IBTimes 2023. All rights reserved.