'Cheer' Star Jerry Harris Faces 7 New Charges In Child Pornography Case
KEY POINTS
"Cheer" star Jerry Harris is facing seven new charges in his child pornography case
He was charged with sex crimes allegedly involving five minors in Texas, Florida and Illinois, according to an indictment

Harris remains in federal custody in Chicago since his arrest in September
"Cheer" star Jerry Harris is facing seven additional charges in addition to a previous felony charge of production of child pornography.
Harris, 21, was charged with sex crimes allegedly involving five minors in Texas, Florida and Illinois, according to an indictment filed Thursday and obtained by USA Today, Chicago Sun and the Chicago Tribune. Since his arrest in September, he remains in federal custody in Chicago while awaiting trial.
Federal prosecutors charged the Netflix docuseries cast member with receiving and attempting to receive child pornography and four counts of enticing a minor "to engage in sexually explicit conduct for the purpose of producing a visual depiction of such conduct" for incidents that happened in Naperville, Illinois, and Corsicana, Texas, between December 2018 and this past August.
Harris was also charged with one count of using the internet in Orlando, Florida, to "persuade, induce, and entice" one of the minors in sexual activity.
The new indictment also stated that he allegedly traveled from Texas to Florida in May 2019 "for the purpose of engaging in illicit sexual conduct … with intent to engage in a sexual act with Minor 5 who was 15 years old."
USA Today reached out to Harris' lawyer, Todd Pugh, for comment but has yet to receive a response.
Meanwhile, Sarah Klein, one of the attorneys representing the Texas family who reported the allegations to the FBI, said they were grateful that the investigation is moving forward.
"We are grateful that the U.S. Attorney and the FBI have continued to investigate this case, locate additional victims and take action," Klein said in a statement Friday. "This was made possible because our clients' mother initially had the courage to report Harris to the FBI and provided evidentiary proof of the manipulation, sexual harassment, abuse, and exploitation that her sons had suffered."
She continued, "We urge the authorities to undertake a thorough investigation of the United States All Star Federation, Varsity Spirit, and Cheer Athletics to determine which of their executives, employees, and representatives could have stopped Harris' abuse and failed to do so."
Harris previously admitted that he solicited and received explicit messages on Snapchat from at least 10 individuals he knew were minors, USA Today reported. He also had sex with a 15-year-old at a cheerleading competition in 2019 and paid a 17-year-old money for nude photos, court records show.
Federal prosecutors want Harris to remain in jail until his trial because, for them, he is "a clear and present danger to the community and most notably defenseless children."
If convicted, Harris faces 15 to 30 years in federal prison.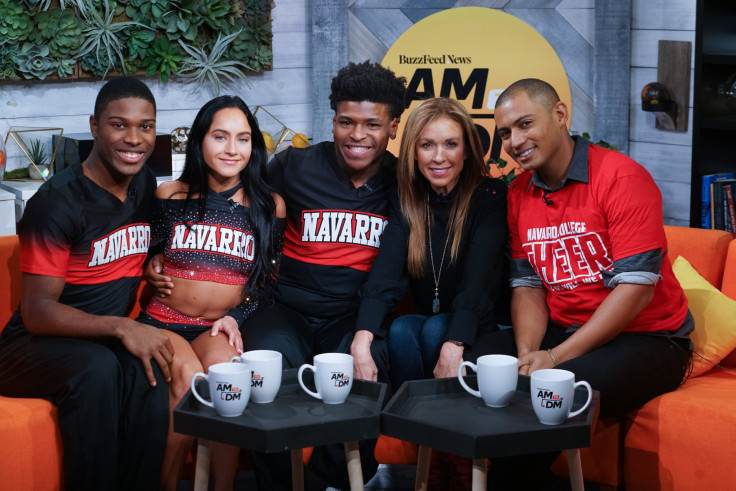 © Copyright IBTimes 2023. All rights reserved.