Chicago Bears Vs. Philadelphia Eagles 2013: Online Stream Info, TV Channel And Updated Betting Odds For Sunday's Game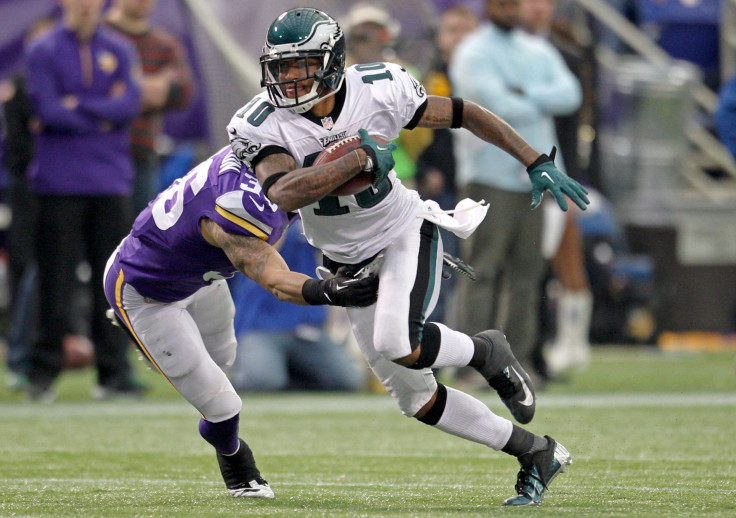 The Philadelphia Eagles could sew up the NFC East before taking a single snap on Sunday night against the Chicago Bears at Lincoln Financial Field.
Should Dallas fall to Washington, Philadelphia will automatically clinch their first division title since 2010 in head coach Chip Kelly's inaugural season. However, the Eagles could also use a victory to keep their standing as the No. 3 seed in the NFC, and host a playoff game.
Also needing to win their division for a postseason berth, the Bears can clinch with a victory on Sunday, and losses by Green Bay and Detroit.
Chicago welcomed quarterback Jay Cutler back into the fold last week after he missed five-straight games with a torn groin muscle. Cutler was erratic at first, throwing two picks in the first half at Cleveland last week, but settled down for 265 passing yards and three touchdowns in the 38-31 victory.
Running back Matt Forte continued his solid but under-the-radar season with 127 rushing yards, and Cutler and receiver Brandon Marshall hooked up six times for 95 yards and a score.
Second-year Chicago receiver Alshon Jeffery padded his breakout year with five receptions for 72 yards and a score. Jeffery has now reached the end zone four times in the last three games, and he and Marshall could be a nightmare matchup for Philadelphia's 31st-ranked pass defense.
Philadelphia could be especially vulnerable with safeties Colt Anderson and Kurt Coleman both listed as out for Sunday night. More pressure will be on first-string free safety Patrick Chung with very little depth behind him.
Last week, the Eagles let up 455 total yards and 48 points to a Minnesota offense missing their first and second-string running backs.
Quarterback Nick Foles completed 30 of his 48 passes for a season and new career-high 428 yards and three touchdowns, but Philadelphia gave up 21 points in the fourth quarter.
Foles also led the team in rushing, with running back LeSean McCoy held to a season-low 38 yards. Though receiver DeSean Jackson pulled in 10 receptions for 195 yards and a touchdown.
McCoy is still tops in the NFL with 1,343 rushing yards, and poses a huge matchup problem for Chicago's last ranked rush defense. The Bears are allowing 152 rushing yards per game, and have given up 17 total touchdowns on the ground.
Chicago could get a huge boost with linebacker Lance Briggs reportedly cleared to play for the first time since Week Seven. Briggs suffered a fracture in his shoulder against Washington, and is officially listed as questionable, according to the Chicago Tribune.
It's unclear if or even how much Briggs will play, with Bears head coach Marc Trestman telling the Tribune it's up to the player to decide how strong he feels.
"I want him to feel good about it," Trestman said. "Once you're cleared by doctors, then part of it is 'How are you feeling?'"
Betting Odds: Philadelphia favored by 3 points
Over/Under: 56 points
Time: Sunday, 8:30 p.m. ET
TV Channel: NBC
Online Stream Info: NBC SNF All Access
Prediction: Chicago 34, Philadelphia 30
© Copyright IBTimes 2023. All rights reserved.