Chicago Cubs News: 3 Top Prospects Give Club Hope For 2015 And Beyond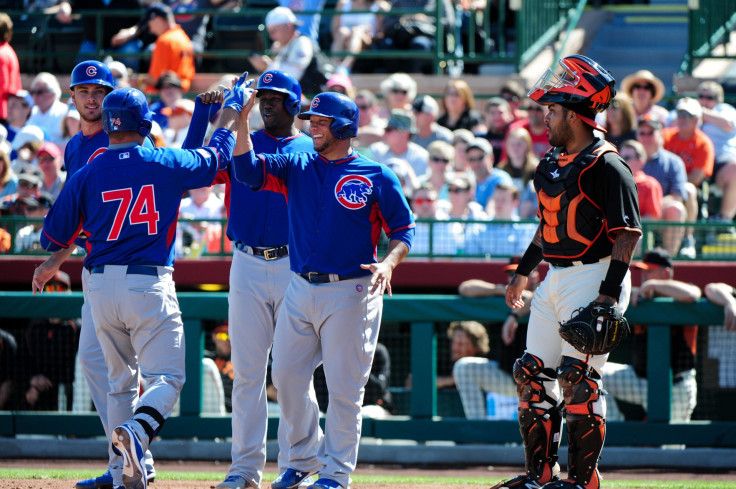 The Chicago Cubs have been one of MLB's worst teams over the last five years, but an emerging group of young players could help them become a playoff team. The organization might have the best farm system in all of baseball, and their young talent could begin making a considerable impact in the 2015 season.
After another losing season, the Cubs are looking to get back to respectability. Chicago's "Core Four" of prospects is finally making its way to the big leagues. Javier Baez played nearly a third of the Cubs' games in 2014, while Jorge Soler was up for the final month. Kris Bryant and Addison Russell are still waiting to get the call, but they aren't far behind, ranking first and third, respectively, among Baseball America's Top 100 Prospects.
Baez is no longer on the list, but Soler comes in at No.12, not having registered enough at-bats last year to have been considered a rookie in 2014. Below is a closer look at Chicago's top three prospects.
Kris Bryant
It's easy to see why Bryant has been ranked as the best prospect in all of baseball. In 12 Spring Training games, he's outperformed every other major league hitter. He leads all players with nine home runs, while the next-highest total is five. His 15 RBI are tied for the MLB lead, and though he's only played 12 games, his 1.785 OPS is astounding.
The third baseman is an average fielder, but he's been incredible at the plate at every stop. Bryant's power is what most separates him from other prospects, totaling 43 home runs in 138 combined Double-A and Triple-A games last season. Bryant has a lot of patience, walking 86 times a year ago, though his 162 strikeouts are not exactly encouraging.
Bryant has proven that he belongs in the Majors, but that doesn't mean he'll start the 2015 season in the big leagues. Cubs president Theo Epstein has indicated that he wants Bryant to start the year in the minors, claiming he's never put someone on an Opening Day roster who has no MLB experience. Bryant could find himself getting some time at a different position when he finally gets the call, having gotten some experience in the outfield this spring.
<iframe width="560" height="315" src="https://www.youtube.com/embed/Vpv2f9fz4Bk" frameborder="0" allowfullscreen></iframe>
Addison Russell
Russell isn't as close as Bryant is to joining the Majors, but he too has been impressive in Spring Training. In 10 games, the 21-year-old has hit .345 with a home run to go along with four RBI. Chicago acquired him from the Oakland Athletics in a trade last July, and he might not be too far away from making his MLB debut.
In 68 games at Single-A and Double-A, Russell hit .295 with 13 homers and 45 RBI in 2014. Russell isn't exactly a power hitter and he doesn't have tremendous speed, but he had good power for a shortstop and possesses above-average quickness. Russell has a very clean swing, and is skilled at hitting to the opposite field. He had a slugging percentage of .508 with six stolen bases last year.
Chicago's current infield situation could force Russell to switch positions, with right field perhaps a possibility. Shortstop Starlin Castro has been an All-Star in three out of the last four seasons, and Russell likely won't be called up in 2015 to replace him. But he is very skilled defensively with the chance to thrive at another infield position.
One scout called Russell "a future superstar."
<iframe width="560" height="315" src="https://www.youtube.com/embed/5iE9bBtvV-8" frameborder="0" allowfullscreen></iframe>
Jorge Soler
The Cuban-born right fielder is viewed as one of the top prospects in MLB, though he may not be a "true prospect" considering he finished last season with the Cubs. In 24 games, Soler proved that he belongs in the majors, hitting .292 with five home runs and 20 RBI. He led Chicago with a .573 slugging percentage.
Soler has a lot of power, and he should be one of the Cubs' top home run hitters in 2015. He had a .996 OPS in 32 Triple-A games, though he struggled somewhat when he first made the jump, and could have some issues in his first full season. The Cubs will want Soler to be more selective at the plate, walking just six times in 97 plate appearances. But his time in the final month of last season should pay dividends when he's playing everyday this year.
If he's able to stay healthy, Soler should be one of the top candidates to win NL Rookie of the Year. Playing for what's expected to be an improved Cubs team, and perhaps with more protection in the lineup, the outfielder will certainly be a player to watch in 2015.
<iframe width="560" height="315" src="https://www.youtube.com/embed/0wheRqzyHP4" frameborder="0" allowfullscreen></iframe>
© Copyright IBTimes 2023. All rights reserved.