Chicago Mayor Rahm Emanuel, While Leading In Re-election Runoff Poll, Blocks Release Of Emails To Top Donor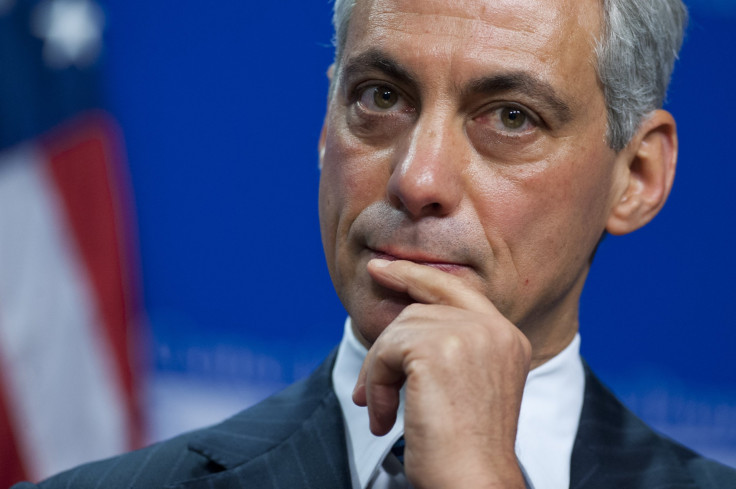 Heading into the final days of campaigning for re-election, incumbent Chicago Mayor Rahm Emanuel has faced intensifying criticism for being too close to the city's financial elite. Precisely how close, though, remains a matter of conjecture -- and most likely will remain so until after the Tuesday runoff vote. That's because Emanuel's administration has for weeks blocked the release of correspondence between his administration and one of the Democratic mayor's top donors, Michael Sacks. The administration has also refused to release details about tens of millions of dollars in shadowy no-bid city payments to some of Emanuel's largest campaign contributors.
Sacks did not respond to an International Business Times request for him to personally release the emails. Emanuel's office declined IBTimes' request for comment about why the city blocked the release of the records. Emanuel had publicly promised "to have the most open, accountable and transparent government that the City of Chicago has ever seen."
The CEO of the Chicago private equity firm Grosvenor, Sacks has been described as Emanuel's closest ally in the private sector, and has been called Emanuel's "go-to guy" and his "top troubleshooter." He and his wife have donated over $1.6 million to Emanuel's campaign and affiliated PACs and, according to the Chicago Tribune, he has lavished the mayor with gifts.
When Emanuel won election in 2011, he promptly appointed Sacks to serve as vice chairman of World Business Chicago, a quasi-public agency that oversees the city's outreach to the business community. Sacks later took a lead role in renegotiating the city's controversial contract with the private firm that operates Chicago's parking meters. Sacks' firm also has financial ties to one of Chicago's largest pension funds through a so-called fund of funds, and the firm does business with the Illinois Teachers Retirement System.
Illinois' open records law mandates that communications to and from public officials like Emanuel be made available for public inspection. But as Emanuel's runoff campaign headed into its final days -- with the mayor owning a big lead over his rival, Jesus "Chuy" Garcia -- the mayor's administration denied IBTimes' March 6 open records request for all emails between Sacks, the mayor and the mayor's chief of staff.
Pressed by a reporter about that decision a week before the election, the administration abruptly changed its response, saying it will now consider providing the records after a redaction process. But Emanuel's spokeswoman declined to commit to providing the government documents before the election. The city has disclosed only that there are more than 1,500 messages between Emanuel, his chief of staff and the Grosvenor CEO.
Sacks' private equity firm is one of the largest in the industry, with offices from Tokyo to London. But because there is so little disclosure about private equity holdings in general, tracking any potential benefits that Sacks' firm may have gained from his alliance with Emanuel is difficult. Critics say the Emanuel administration's narrow interpretation of state open records law makes any kind of transparency all but impossible.
"Mayor Emanuel's promised a more transparent Chicago," said Maryam Judar, the executive director of the Citizen Advocacy Center, a good government group. "But is the information and data that the public and reporters want, are they available? Not really, as this case proves. Thousands of emails that are subject to FOIA [Freedom of Information Act], but they're not being revealed to the public. The Emanuel administration talks about transparency but doesn't want to be transparent itself."
In recent months, former Florida Gov. Jeb Bush, a Republican, has released more than 280,000 emails from the time he was in office, and -- after facing criticism for using a private email address -- former Secretary of State Hillary Clinton has called for 30,000 of her emails to be released. By contrast, Emanuel officials initially denied the open records request on the grounds that releasing 1,545 emails would be "unduly burdensome."
Matt Topic, a civil rights attorney and Illinois FOIA expert, said that this particular rationale has been increasingly deployed by Emanuel's administration to create a de facto blanket exemption on disclosing public documents the mayor does not want released.
"The 'unduly burdensome' exemption is entirely overused in the City of Chicago," he told IBTimes. "Public agencies need to prove that the burden overrides the public interest, and it's unfortunately very common for agencies to fail to do so. The exemption is used to prevent the public from knowing highly relevant information about what their government is doing."
In rejecting the open records request, Emanuel officials also ignored a specific part of Illinois law that does not permit it to use the "unduly burdensome" exemption. They did not respond to IBTimes' open records request in the amount of time permitted by the law. When that happens, the law states that a governmental agency "may not treat the request as unduly burdensome."
© Copyright IBTimes 2023. All rights reserved.
FOLLOW MORE IBT NEWS ON THE BELOW CHANNELS