Chicago Teacher Pension Money Invested With Rahm Emanuel's Friends and Donors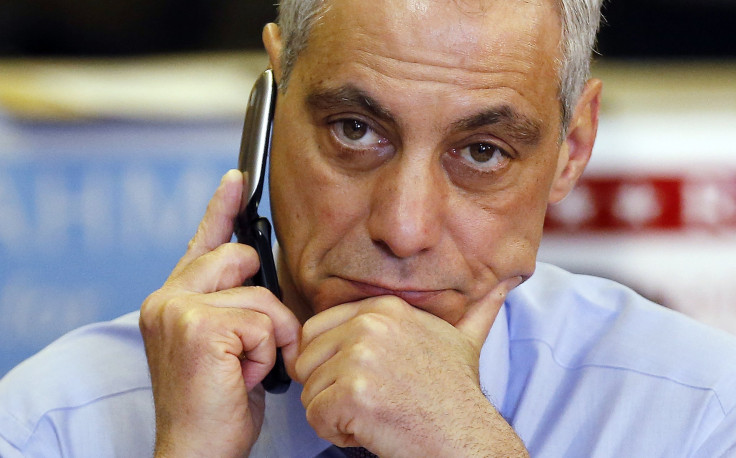 It is the kind of transaction Mayor Rahm Emanuel's much-touted ethics reforms appeared designed to halt: Chicago teachers' pension money flowed to financial companies connected to some of the mayor's friends and top donors. Emanuel, whose administration appoints some members of the teachers' pension-fund board, received campaign cash from those same financial firms despite his own 2011 executive order purportedly preventing donors from receiving city business.
"When Mayor Emanuel took office, he said he was going to stop the culture of pay-to-play," said Alderman Scott Waguespack, who is among a group of lawmakers asking the U.S. Securities and Exchange Commission to investigate whether the donations also violated that agency's anti-corruption rule. "This is an example of his failure to follow through on those promises."
Emanuel's office declined an International Business Times request for comment.
According to city documents obtained by IBTimes, the firm affiliated with Illinois' Republican Gov. Bruce Rauner -- a longtime friend of Chicago's Democratic mayor -- as well as executives at private-equity giant Madison Dearborn have gained substantial investments from the Chicago Teachers' Pension Fund (CTPF) since Emanuel took office. The documents also show the CTPF has an indirect equity stake in Grosvenor Capital Management. Executives at the latter two firms have donated nearly $1.8 million to Emanuel's campaign and political organizations since 2011.
The teachers' pension money went to the donors' firms even though the Chicago Teachers Union has become one of Emanuel's most outspoken opponents after the mayor shuttered 50 schools across the city and proposed cutting public employees' retirement benefits. SEC rules are designed to prohibit campaign contributions to city officials from executives at firms managing city pension money. Those rules are in addition to the executive order signed by Emanuel that purports to prohibit campaign donations from city contractors and subcontractors.
"Pay-to-play practices unfortunately remain all too common in pension funds," said Jay Youngdahl, a fellow at the Initiative for Responsible Investment at Harvard University. "It encourages a toxic milieu in which pension trustees may place their own interests or the interests of those who appointed them above the interests of the people whose healthy retirement depends on the funds. For an investment manager to donate hundreds of thousands of dollars to a public official charged with appointing trustees to a fund, while at the same time providing investment services and soliciting business from a pension fund, is a clear red flag."
The CTPF, whose board includes two appointees from Emanuel's board of education, declined to comment, as did Rauner's company, GTCR. Michael Sacks, the CEO of Grosvenor who also serves as a top Emanuel administration appointee, told IBTimes that while the teachers' pension system does have an indirect equity stake in Grosvenor, it does not pay fees to the firm. A representative of Madison Dearborn asserted that federal and municipal rules barring donations from companies managing pension money do not apply to the firm.
The new disclosures follow a November report showing other Chicago pension funds overseen by Emanuel appointees also invested money with companies whose executives have donated to the mayor's campaign.
"We need the SEC to really investigate these donations from the same people who are managing the city's pension money," said Waguespack, who Emanuel's political action committee unsuccessfully tried to defeat in Chicago's March election. He added that the issue is particularly relevant in the April 7 mayoral runoff, arguing that the disclosures "reinforce the need of Chicago to have a mayor who isn't going to have the kind of conflicts that Mayor Emanuel has created over the last four years."
Money Flowing Through 'Fund Of Funds'
The investments in the firms of Emanuel's donors and allies took place through so-called fund-of-funds vehicles: the pension system moves money to one financial company, which then distributes it to a portfolio of other investment firms. Funds of hedge funds have been criticized for having a double layer of fees, which leads to fees of 4 percent or higher -- more than five times the fees paid by an average index-fund investor.
In the case of Rauner's company, GTCR, the teachers' pension money flowed to the firm through several of that company's private-equity funds. CTPF documents do not list GTCR as managing any Chicago pension money before Emanuel took office.
Emanuel and Rauner have a long history. In addition to vacationing together, Emanuel worked with Rauner when as an investment banker he reportedly represented GTCR in a corporate takeover deal that saw the firm buy a home-security company for $479 million and then sell it for $1 billion only six months later. SEC documents indicate that Rauner continues to hold a stake in a GTCR subsidiary. GTCR documents filed with the SEC indicate that the firm may shift underperforming assets into other funds part-owned by public pension systems to "earn fees."
Like GTCR, Madison Dearborn does not seem to have managed any Chicago teachers' pension money before Emanuel took office. The new investments it received after Emanuel's 2011 election flowed through another fund of funds managed by Adams Street Partners, which received $70 million worth of new commitments from the pension system in 2013 and 2014. Meanwhile, the CTPF came to invest in Grosvenor through an investment in another fund of funds. The teachers' pension fund declined to disclose the exact fund of funds to IBTimes.
Because the money flowed to the Emanuel donors' firms through third-party intermediaries, the investments have not been disclosed in the CTPF's annual report. The only place where the investments are disclosed are in annual letters to the governor that detail Illinois-based investments made by the pension funds. Those reports do not provide any details about how much pension money is being invested with the firms, nor do they provide details about the fees the city pension fund may be paying to the firms.
The SEC's so-called pay-to-play rule prohibits financial firms from earning fees from pension funds if their executives have made donations to officials who oversee those pension systems. In a previous statement to IBTimes, Madison Dearborn has asserted the rule does not apply to the company because it is managing city money through a fund of funds. Yet, the rule includes language explicitly covering firms that manage pension funds through third parties.
Refusal To Disclose
IBTimes requested all investment holdings and fee information about the CTPF's fund-of-fund investments. Pension officials declined to disclose to IBTimes the full listing of holdings.
In rejecting the request, CTPF officials cited a special exemption in the state's open-records law that allows them them to block the release of information about public investments in private financial firms. The lead advocate of the 2005 bill creating the exemption was the Illinois Venture Capital Association, a trade group of alternative investment managers that includes Madison Dearborn and GTCR as members. Before the legislation, nearly all records related to public pension-fund investments were available to the public.
That legislation permits Illinois pension funds to choose whether to block the release of details about its investments. In previous IBTimes' open-records requests, three of Chicago's other pension funds did not cite the same exemption and released the relevant details. Only the CTPF chose to block the release of the information.
"The exemption in Illinois' [Freedom of Information Act] for alternative investments is an egregious breach of the public's trust, not to mention a huge giveaway to an industry that has been cited by the SEC and other regulatory bodies for rampant unethical and illegal practices," said Ted Siedle, a former attorney with the SEC and a leading expert on public pensions. "Underlying investments and their fees and performance are not trade secrets. Rather, the disclosure of this information must occur if the public is to have any type of oversight over the decisions made by public pension funds."
© Copyright IBTimes 2023. All rights reserved.
FOLLOW MORE IBT NEWS ON THE BELOW CHANNELS