Chicago Pension Investments: Rahm Emanuel's Proposed Merger Could Benefit Campaign Donors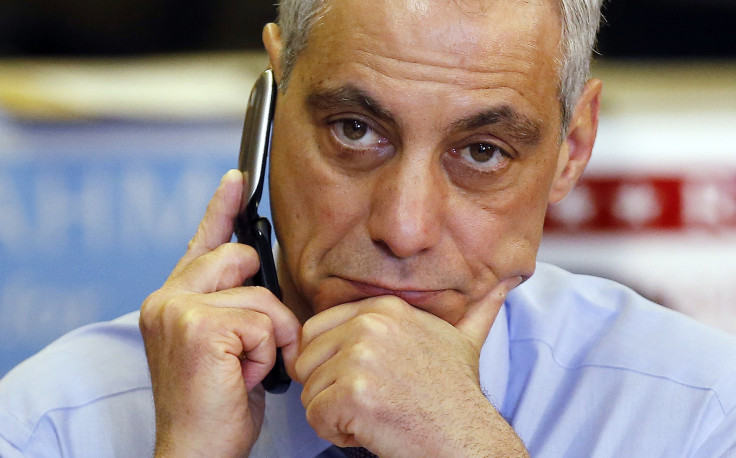 Just 12 weeks after Rahm Emanuel won a bruising battle for re-election, the Chicago mayor has unveiled a pension initiative that could be a significant financial boon for his largest campaign contributors. On Wednesday, the mayor proposed shifting city teachers' retirement savings into a state fund that invests heavily in -- and pays big fees to -- financial firms whose executives bankrolled the mayor's campaign.
At a city hall press conference, Emanuel portrayed the plan as a way to solve Chicago's educational funding crisis. Emanuel said teachers could agree to either contribute 7 percent of their pay to the existing city pension system or merge the city's own $11 billion teachers' pension fund -- controlled by the teachers themselves -- with the $45 billion state teachers' fund controlled, by statute, by Gov. Bruce Rauner. Emanuel said the latter proposal would mean that the state funds teacher pensions equitably. As of now, the city of Chicago pays a larger share of its teachers' pensions than other municipalities in Illinois do.
What the mayor did not say is that the initiative could end up shifting billions into a fund whose portfolio is run, in part, by Grosvenor Capital and Madison Dearborn Partners, two firms whose executives have together given over $4 million to the mayor's campaigns and affiliated PACs. That includes over $2.7 million from Grosvenor CEO Michael Sacks and his wife, Cari. Sacks has been called Emanuel's "fixer" and "go-to guy;" he was appointed by Emanuel to serve as vice chairman of World Business Chicago, an economic development group that Emanuel chairs.
Donor Consulted On Pension Matters
Emanuel and Sacks have exchanged more than 1,500 emails since Emanuel took office in 2011. Emanuel's office declined to release the emails in response to public records requests from International Business Times prior to the election. When Emanuel's office provided the emails in May 2015, they were heavily redacted. The emails did show, however, that Sacks was consulted extensively on pension-related matters.
Madison Dearborn and Grosvenor both declined requests for comment.
In December 2013, Grosvenor was awarded a lucrative contract to manage the state pension fund's massive hedge fund portfolio. In all, that state system now invests $1.3 billion in alternative investment funds managed by Grosvenor and Madison Dearborn, a figure that financial experts say could significantly increase if Emanuel's initiative succeeds in shifting Chicago teachers' retirement savings into the system.
"There's no question that Wall Street managers are more likely to raise additional cash from pension funds they currently manage money for," said Ted Siedle, a former attorney with the SEC and a leading expert on public pensions. "Investment managers benefit from having an established relationship with a fund's staff and trustees."
In fiscal year 2014, Grosvenor collected over $3.2 million in fees from the state's Teachers Retirement System, and Madison Dearborn over $370,000.
Another firm that could benefit from Emanuel's proposal is Golder, Thoma, Cressy and Rauner (GTCR), whose name partially derives from private equity executive-turned-Illinois governor Bruce Rauner.
Reaching Across The Aisle
Though a Republican, Rauner has close ties with Emanuel, a Democrat. He worked with Emanuel on a deal that made the mayor millions as an investment banker, and has hosted Emanuel at his ranch in Montana, where Emanuel was photographed holding a bottle of wine available only to members of a club whose entry fee is over $100,000 annually. Rauner's firm -- in which SEC records show he still owns a stake -- also manages money for the state teachers retirement system that would get the infusion of cash if Emanuel's plan is enacted.
During Emanuel's election campaign, Chicago officials requested an SEC investigation after IBTimes reported that Emanuel accepted donations from financial firms that had received pension money through so-called "fund of funds," mutual-fund-like investments that direct pooled money into individual firms.
The officials asked the SEC to evaluate whether the more than $600,000 in campaign contributions violated the SEC's "pay-to-play" rule that prohibits executives at firms managing city pension money from making campaign donations to public officials like Emanuel who appoint members of pension boards.
The Chicago Teachers Pension Fund has stronger gift rules than the state pension system, including a total ban on gifts from asset managers seeking new business from the fund. In other words, GTCR, Grosvenor, and Madison Dearborn are banned from making gifts to Chicago pension fund trustees and staff but could make gifts to those on the state fund.
Gifts from asset managers to pension trustees and staff are considered by experts to be integral for asset managers seeking business before a pension fund.
Without the proposed shift, it's unlikely that Grosvenor would get Chicago teacher pension money. After investing in hedge funds for several years, the Chicago teachers fund canceled its hedge fund portfolio in 2012 over concerns about outsize fees and poor performance.
© Copyright IBTimes 2023. All rights reserved.
FOLLOW MORE IBT NEWS ON THE BELOW CHANNELS