China Bans Imports Of US Poultry And Eggs Amid Bird Flu Fears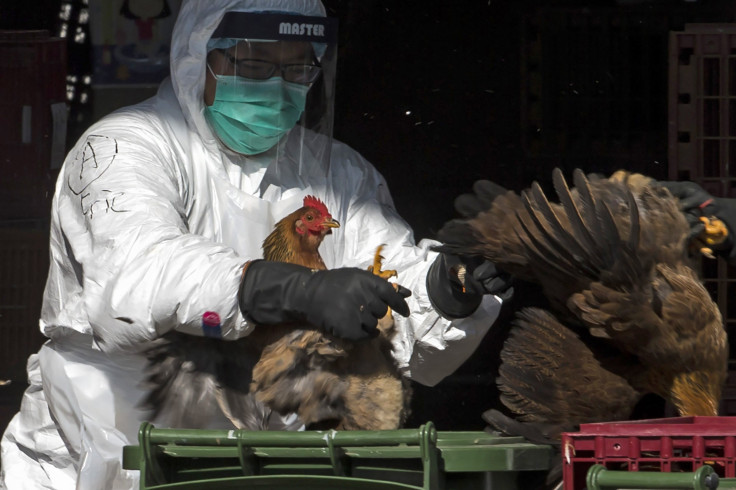 The Chinese government has banned imports of U.S. poultry and eggs due to recent detections of avian influenza in non-commercial flocks in the Pacific Northwest late last year, the USA Poultry and Egg Export Council (USAPEEC), a U.S. poultry industry group, said on Monday.
According to the group, China has imposed nationwide restrictions on imports of processed and unprocessed U.S. poultry and eggs, effective as of Jan. 8. Thus, all poultry and poultry-related products shipped from the U.S. to China after that date would be either returned or destroyed, Reuters reported.
China is considered to be a key export market for chicken, turkey and duck products from the U.S. From January through November last year, U.S. exports of poultry products to China reached more than $272 million, USAPEEC said in a statement.
The ban, which also applies to breeding stock, including live chicks and hatching eggs, comes as a response to a December detection of a highly pathogenic strain of H5N8 influenza in wild birds and in guinea hens and chickens in Oregon, as well as the discovery of another strain in California and Washington State. All of these cases were confirmed by the U.S. Department of Agriculture (USDA), The Wall Street Journal reported. The agricultural department has also confirmed the Chinese ban, according to Reuters.
Meanwhile, industry experts have criticized China's move as commercial poultry in the U.S. has not been affected by any of the reported viruses. The USDA has also reportedly confirmed that no human cases, involving the strains, have been detected in the U.S. or Canada.
"This move is somewhat hypocritical as there have been zero findings of high pathogenic avian influenza in a commercial poultry flock in the U.S. and, China already has a variety of avian influenza strains," Brett Stuart, CEO of Global AgriTrends in Denver, Colorado, told Reuters.
USAPEEC has criticized the ban, saying that the possibility of an outbreak of the flu in commercial flocks is very less since the USDA specifically mentions that commercial producers "follow strict biosecurity practices and raise their birds in controlled environments."
"There's absolutely no justification for China to take such a drastic action," said Jim Sumner, USAPEEC's president, adding that China's nationwide restrictions could in fact, negatively impact its own domestic poultry industry.
"Since the ban also includes U.S. breeding stock, China is cutting off its industry's main source of hatching eggs and chicks, which will curtail the industry's ability to replenish and maintain its production," Sumner said.
© Copyright IBTimes 2023. All rights reserved.