China Slams U.S. Over Solar Panel Dumping Complaint
China slams U.S. over solar complaint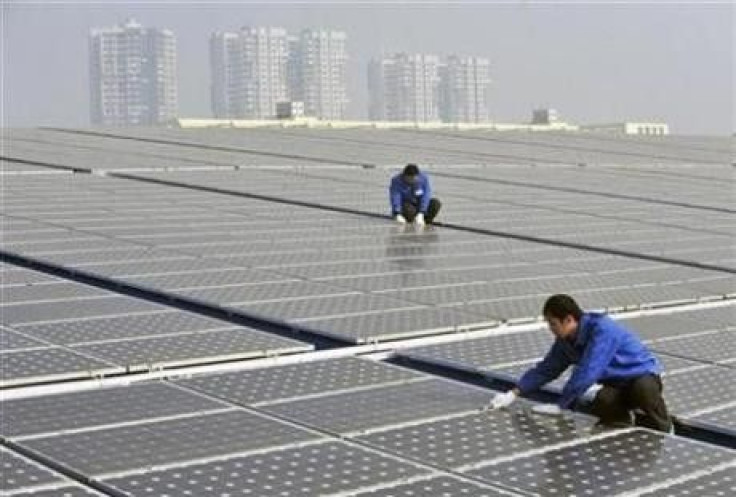 China on Friday issued a harsh rebuke of an anti-dumping complaint filed by U.S. solar firms, warning the United States not to take protectionist measures that could harm the global economy.
Seven U.S. solar manufacturers on Wednesday asked the Obama administration to impose duties of more than 100 percent on China solar imports, which they said were unfairly undercutting U.S. prices and destroying American jobs.
The controversy comes at a sensitive time in U.S.-China trade relations, which are plagued by U.S. concerns over market access in China, Beijing's treatment of intellectual property rights, and raging debate over the value of China's currency.
If the U.S. government files a case, adopts duties and sends an inappropriate protectionist signal, it would cast a shadow over world economic recovery, an unnamed official said in a statement posted on the Chinese Commerce Ministry's website (www.mofcom.gov.cn).
The Chinese government hopes the United States will scrupulously abide by its promise to oppose trade protectionism, avoid adopting protectionist measures on Chinese solar cell products, jointly protect a free, open and fair international trade environment, and adopt more rational means of handling trade frictions.
The official also said the United States was living in a glass house, having adopted its own policies to promote its domestic industry.
China's policies, the official said, met World Trade Organization rules and were designed to address climate change and energy security, noble efforts that the United States should support.
The U.S. has no reason to criticize other countries' efforts to improve the world's environment, and should instead strengthen cooperation with other countries in the solar energy sphere to jointly respond to climate and environmental challenges, the official said.
The statement also cited a report by a U.S. solar industry association that said the value of American solar cell equipment and raw material exports to China far surpassed its imports from China, achieving a surplus worth $1.9 billion.
The U.S. companies' complaint -- filed with the International Trade Commission and the U.S. Department of Commerce against the world's no. 2 economy -- has drawn skepticism from within the industry, as many fear a trade war could disrupt growth.
Many executives from the United States and Europe have privately complained for years about China's impact on the solar markets, but most have also said the business had become so globalized that penalizing one country would not help companies that are struggling to survive.
Earlier in the week, Gordon Brinser, the president of SolarWorld Industries Americas Inc, told a news conference that Chinese solar energy product makers had received a long list of illegal government subsidies in China and sold at steep discounts to grab U.S. market share.
(Reporting by Michael Martina; Editing by Nick Macfie)
© Copyright Thomson Reuters 2023. All rights reserved.