For China And US Economies, A Time For Peace: What's Really On The Table For Obama And Xi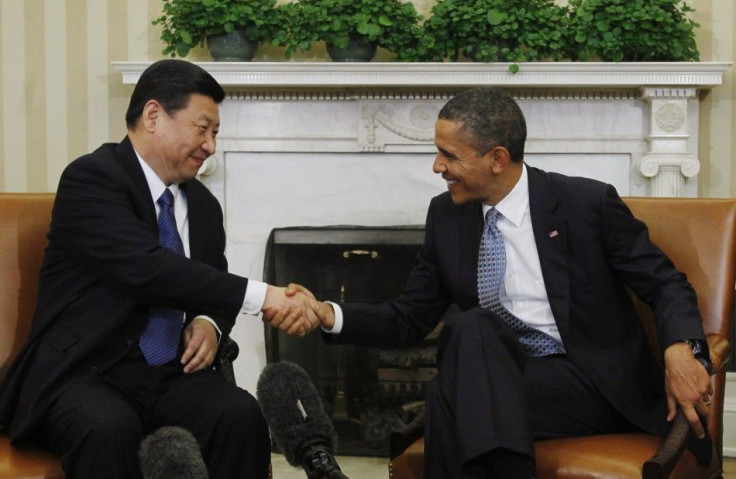 The weather will be blazing hot this weekend in Rancho Mirage, a town not far from the Mojave Desert in southern California where U.S. President Barack Obama will meet Chinese President XI Jinping for a two-day summit beginning Friday.
The two leaders first shook hands last February in Washington, D.C., when Xi was China's vice president. That meeting was predictably stuffy and formulaic -- this one will be different. It takes place at Sunnylands, a sprawling estate lush with acacia trees, yucca plants and prickly pear cacti. If they wanted to, the leaders of the world's two largest economies could meander through scenic gardens, cool off in the swimming pool, or play a round of golf on the private course.
No one expects this meeting to yield much in the way of concrete deliverables or five-point plans; officials on both sides assert that the two leaders' ultimate goal is to build rapport. Chinese media, including the state-run China Daily and Xinhua News agency, have called the summit "unusually laid-back." This, they hope, will facilitate a more personal relationship between the two leaders, something many Chinese commentators believe is the key to advancing bilateral success on pressing issues.
As it stands, the relationship between the two countries is a prickly one. In the United States, analysts are particularly focused on cyber-attacks, which each country accuses the other of perpetrating in order to access state secrets.
In the realm of hacking, both countries are world leaders. According to Akamai Technologies (NASDAQ: AKAM), a digital technology platform developer, China perpetrated 33 percent of all cyber-attack traffic in the world last year, followed by the U.S. with 13 percent. While paranoia over Chinese computer hackers continues to brew among the American public, China insists that it too is trying to battle this defense breach.
But there are other issues of greater long-term import, and they are economic first and foremost. Underneath all the mistrust that plagues Sino-U.S. relations is a growing realization that economic dominance is not a zero-sum game. Both countries have much to gain from closer partnerships in trade and investment.
"The economic objective is to move discussions to a much higher strategic level; we really need to set some goals for the next ten years or more," said David Lampton, director of China Studies at the John Hopkins University School of Advanced International Studies. "I think two broad goals would be desirable. One is to increase economic interdependence by facilitating investments; the other is to develop freer trade agreements."
If Xi and Obama can form a personal relationship during their California retreat, it could become the underpinning to a partnership that advances both American and Chinese interests for decades to come.
Foul Play, or Fair Trade?
Wei Jiangguo, China's former vice minister of commerce and current vice chairman of the China Center for International Economic Changes, told China Daily this week that the US is on track replace the European Union as China's largest trade partner this year. Bilateral exchange of goods hit $536 billion in 2012, according to U.S. Census data, and trade through April of this year already exceeds $167 million, exceeding last year's exchanges over the same time period.
But squabbles over currency and trade regulations still plague Sino-U.S. trade relations. One of the most serious issues has to do with currency manipulation; for decades, China has artificially depressed the value of the yuan in order to confer trade benefits on its own producers. The U.S. is keen to chip away at its unfavorable trade balance with the Asian superpower; last year, imports from China outpaced exports by $315 billion. For reasons political and fiscal, Capitol Hill is particularly adamant about addressing that imbalance; the U.S. Congress is flirting with legislation that would force Obama to take action against countries that manipulate currency.
But Obama may favor a softer approach -- one based on shared incentives. After all, China has much to gain from a more relaxed monetary policy, especially considering the ongoing expansion of an increasingly empowered middle class.
Should Obama bring this up with Xi this weekend, the Chinese leader could very well argue that Beijing has already taken great strides in that direction. China has allowed the yuan to gain significant value against the U.S. dollar since 2005, beginning with a 21 percent rise ahead of the 2008 global recession, and then another 10 percent of appreciation since controls were relaxed once more in 2010.
But the U.S. has good reason to push for more, and Obama might stress that incentives are there for Beijing as well.
"The effect of China's strict monetary regulations has really been to suppress demand and investment within the country," said Claude Barfield, former consultant to the office of the U.S. Trade Representative and current scholar with the American Enterprise Institute. "Middle class investors can't make much money investing in China; they're going outside the country because the opportunities abroad are better."
Also at stake is China's future in the capital market. It is in China's long-term interest to see the yuan become a reserve currency, as are the U.S. dollar and, to a lesser extent, the EU's euro, Japan's yen and the British pound among others. But it won't be possible for China to enter that playing field until Beijing's capital account opens up to become more convertible.
In other words, U.S. officials may eventually find that currency liberalization for China isn't quite the tough sell it used to be.
Making Some Solid Investments
Economic challenges have to do with more than just trade balance; investment is also a major issue. For years, mistrust between China and the United States has put a serious damper on bilateral foreign direct investment, or FDI. But analysts hope the meeting at Sunnylands could kick off a new era of trust that trickles down to private investors.
Chinese investment in the United States is growing rapidly, but it still accounts for only a small percentage of the total, as is the case with U.S. investments in China.
China invested about $6.5 billion in the United States last year, out of the total $175 in FDI the U.S. attracted from around the world. The United States invested $3.1 in China, which drew a total of $112 billion globally.
Eager to promote investment relationships with other countries, China streamlined its FDI-related rules last month. The State Administration of Foreign Exchange put an end to 24 regulations on May 13, effectively simplifying myriad processes including currency conversions, account openings and foreign exchange transactions.
This will build on a positive trend; FDI into China for the first quarter of 2013 rang in at $29.9 billion, up 1.4 percent from the same period in 2012.
But the U.S. has some serious hang-ups when it comes to Chinese investment. A poll conducted last month by Hill+Knowlton Strategies found that 37 percent of American citizens think a closer economic relationship with China would hurt the U.S. economy, compared to 30 percent who believed the opposite. It also found that cyber-theft suspicions make Americans suspicious of -- and quite willing to place restrictions on -- Chinese investments.
Then there are procedural problems. China is not a member of the Organization for Economic Cooperation and Development, or OECD, and is therefore not beholden to all of the regulations that govern American relationships with other developed countries. In particular, Beijing is often criticized for its practice of subsidizing both public and private enterprises to an extent that puts Western corporations at a disadvantage.
There is, however, one issue that could trump all of these concerns: unemployment. Chinese and U.S. citizens alike are struggling with tough job markets, and politicians in both sides under great pressure to find a solution. Increased two-way investment would be step in the right direction for millions of jobless people in both countries.
"The U.S. and China could improve their relationship by increasing the numbers of people in both countries who rely on each other for employment," Lampton said. "That means China has to open up its service, infrastructure and logistics industries, and the US has to simplify investment for the Chinese to open up access."
We're All In It Together
Encouragingly, U.S. and Chinese officials both seem to recognize the potential benefits of closer economic collaboration.
"We have planned a reasonable economic growth package this year and the current overall economic situation is favorable," Hong Lei, China's Foreign Ministry spokesman said regarding the upcoming meeting. "We have always held that the recovery of the US economy will benefit the world economy."
That means the heat is on for Obama and Xi this weekend, and not only because the temperature is forecast to soar as high as 110 degree Fahrenheit (43.3 Celsius). Informal though it is, this presidential summit could have very real implications for the total 1.7 billion citizens of the world's two most powerful countries.
With the United States in the economic lead -- and slipping, albeit slowly -- there are fears that a long-running rivalry between the countries will only grow worse. Those fears are understandable, especially since Beijing has more leverage than ever with its 7.5 percent share of America's $16 trillion-and-counting national debt.
But that interdependence can also be interpreted as a very good reason to cooperate for future growth.
"We should be worried about U.S. debt, but not Chinese possession of it," Barfield said. "China couldn't hurt the American economy without hurting themselves greatly. The value of their international reserves would go way down, and they are into the international capital market as much as we are."
The summit at Sunnylands probably won't yield much in the short term, especially since China and the U.S. currently share little complimentary policy. But as Obama and Xi already know, the ties that bind run deep. The two nations' common economic problems will continue to be the blueprint that maps Sino-American relations.
© Copyright IBTimes 2023. All rights reserved.