China's 'Guidelines On Civilized Travel Abroad' Offers These 25 Pearls Of Wisdom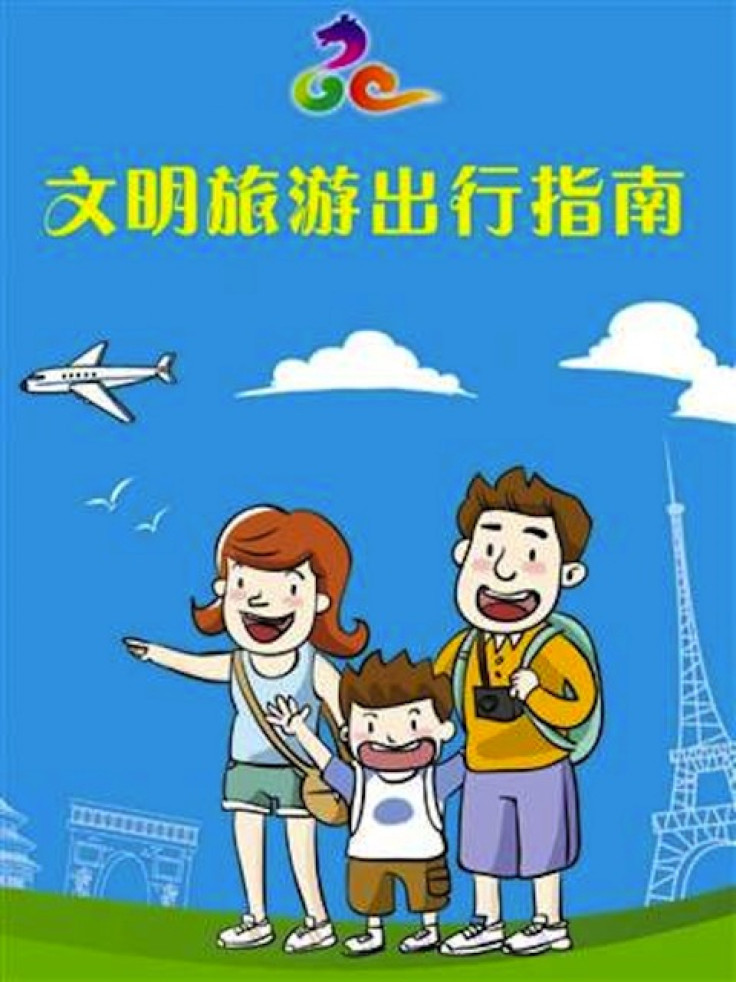 China's image-conscious authorities have a new weapon in their yearlong etiquette crusade: the 64-page "Guidebook for Civilized Travel Abroad," which dictates the dos and don'ts of international travel with cartoon illustrations.
Domestic travel habits emulated in the greater world have become an embarrassment for the Chinese government, and come amid an unprecedented travel boom, the result of an increasingly wealthy population and an easing in global visa restrictions. Mainland China exceeded the U.S. and Germany to become the world's largest source market for outbound tourism by expenditure last year, and Chinese are expected to spend a whopping $117.6 billion in 2013. Moreover, China Tourism Academy expects the Chinese outbound market to reach 94 million trips this year, up 15 percent from 2012.
But the more that Chinese cross the border, the more that officials issue advice to citizens on the practices of so-called "civilized tourism" to encourage travelers to become ambassadors while abroad. Tips include: Don't spit on the ground. Don't cut in line. Don't talk too loud or travel in huge groups.
In May, a woman named Shen Yuwen posted a photo on China's Twitter-like Sina Weibo platform that showed a defaced 3,500-year-old Egyptian bas-relief at the Temple of Luxor. The precious piece of art bared the etching "Ding Jinhao visited here" in Chinese characters, and the Weibo image of it spurred more than a quarter of a million comments from Chinese netizens, most of whom expressed outrage and embarrassment.
Indeed, the list of incidents that cast Chinese tourists in a negative light this year is a long one. Balinese complained about Chinese tourists making too much noise on the island, Thai Buddhists in Chiang Mai lamented their immodesty at temples and Hong Kongers were aghast in February when a Chinese mother encouraged her son to urinate into a bottle in the middle of a crowded restaurant.
"Improving the civilized quality of the citizens and building a good image of Chinese tourists are the obligations of governments on all levels and relevant agencies and companies," Chinese Vice Premier Wang Yang told citizens in May, according to a transcript published on the website of the People's Daily, the mouthpiece of the Chinese Communist Party. "Guide tourists to conscientiously abide by public order and social ethics, respect local religious beliefs and customs, mind their speech and behavior … and protect the environment."
The National Tourism Administration's hefty "Guidelines on Civilized Travel Abroad" expands on these ideas to include the perceived standards of etiquette in several popular destination countries. The agency timed the booklet's release with the start of the "Golden Week" public holiday, which commemorates the 1949 Communist takeover and is a popular time for international travel.
So how does China expect its citizens to act abroad? Let's take a look at 25 pearls of wisdom from the new tome, according to translations from the Telegraph, AFP and South China Morning Post.
General Tips
1: Refrain from limp handshakes.
2: Do not pick your nose in public.
3: Soiling a swimming pool is frowned upon.
4: Do not leave footprints on the toilet seat.
5: Keep nasal hair trimmed at all times.
6: Do not take airplane life jackets as gifts.
7: Do not coerce locals into taking your photo.
8: If you have to pick your teeth, do not use your fingers.
9: Try not to drink soup straight from the bowl or make slurping sounds.
10: Do not talk about people behind their back in Chinese (because someone nearby might understand you).
By Country
Scotland: Do not buy stones as souvenirs.
Britain: Do not ask Brits whether or not they've eaten.
Spain: Women are considered naked without earrings.
Germany: Do not click your fingers ("finger clicking is for dogs").
France: If invited to a home, do not bring yellow flowers.
Hungary: Do not smash mirrors.
Japan: Do not fiddle with your hair or clothes during meals.
Thailand: Do not talk about the royal family.
Nepal: Don't touch people's belongings with your foot.
Hong Kong: Do not try to get a refund for your food or smoke in air-conditioned rooms.
Algeria: Don't touch other people's heads.
Iran: Do not comment on babies' eyes.
India: Don't touch other people with your left hand.
Islamic countries: Refrain from talking about pork.
African countries: Do not call Africans "Negros."
© Copyright IBTimes 2023. All rights reserved.