Chris Christie Officials Propose $100 Million For Top Donor to Republican Governors Association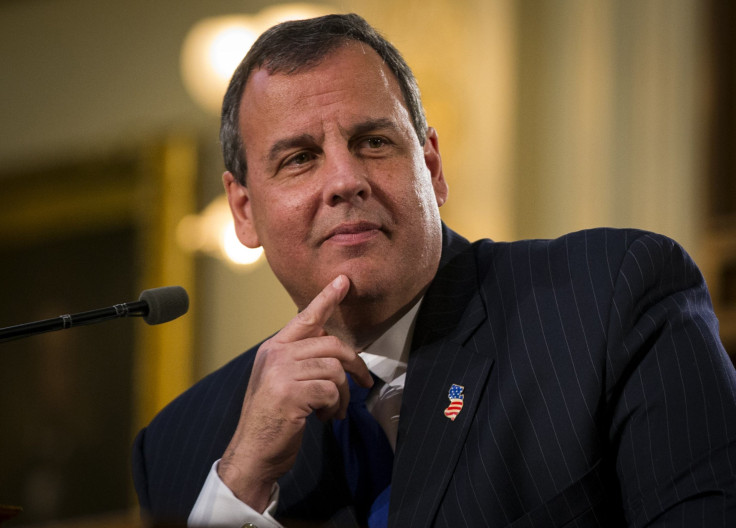 The administration of Gov. Chris Christie is considering investing tens of millions of dollars of New Jersey pension money in a firm whose chairman was among the largest donors to the Christie-run Republican Governors Association (RGA). The proposal is the latest in a series of lucrative pension deals proposed by Christie officials for firms whose executives have made significant political contributions to GOP groups affiliated with the governor. Those deals have coincided with New Jersey paying hundreds of millions of dollars in new fees to the financial firms managing the pension money.
According to New Jersey Treasury Department documents, the governor's State Investment Council on Wednesday will review the administration's proposed $100 million investment of pension money in KSL Capital. That firm's chairman and founder is Mike Shannon, who along with his wife made $2.5 million worth of donations to the RGA in 2013 and 2014. Campaign finance records show that $500,000 of that came in 2013, when the group was spending heavily on Christie's reelection campaign in New Jersey. Another $2 million worth of donations came in 2014, when Christie was chairing the group.
In all, Shannon and his wife were together the sixth-largest donor to the RGA in the 2014 election cycle, according to the Center for Responsive Politics. Shannon had not contributed to the RGA before Christie's 2013 reelection campaign, though his wife, Mary Sue, gave $25,000 to the RGA in 2012 while Christie was RGA vice chair, according to data from PoliticalMoneyLine.com. Shannon and his wife wrote a $1 million check to the group four months after Christie became chairman.
Christie's office declined IBTimes' request for comment.
"Mr. Shannon and his wife, Mary Sue, are longtime supporters of various charities and Republican causes," said KSL spokesperson Julie Messing-Paea, who told IBTimes that the Shannons were introduced to the RGA in 2011 by "longtime friend" Fred Malek, the RGA's finance chairman and a former aide to President Richard Nixon.
Messing-Paea also said: "The Shannons' contributions to the RGA have never been solicited by Governor Christie nor anyone acting on his behalf. Further, the Shannon's contributions to the RGA were specifically restricted to avoid any political contributions to, or independent expenditures in support of, any candidates for state office. The Shannons' contributions to the RGA cannot be used for gubernatorial elections."
The RGA spent $1.7 million in support of Christie's gubernatorial election in 2013, according to New Jersey campaign finance reports.
The news of Christie officials' potential investment in Mike Shannon's firm comes less than a year after Shannon's contributions, and just a week after International Business Times reported on the Christie administration committing $300 million of state pension money to a subsidiary of a foreign firm whose Hong Kong-based executive made contributions to Christie and the Republican National Committee. That was one of a number of New Jersey pension investments in firms whose executives have made similar contributions.
As Christie has moved more pension money into those private equity, hedge fund, real estate and venture capital firms, the state's pension returns have trailed the median, while taxpayer fees paid to financial managers has skyrocketed to $600 million a year. Christie officials have increased the pension system's payouts to financial firms at the same time the governor has argued that New Jersey must slash retirement benefits for police officers, firefighters, teachers and other public employees.
The timing of the proposed KSL investment is also significant for coming just as Christie faces a decision on whether to strengthen state rules prohibiting pension investments in firms that make contributions to groups like the RGA.
In general, those rules are designed to prevent pension management deals from being awarded to firms whose executives make campaign contributions to public officials like Christie who oversee pension investments. New Jersey's rules extend those restrictions to contributions made to "any political party or political committee organized in the State" -- and state documents show that the RGA has been organized in New Jersey.
However, in 2014, Christie officials attempted to weaken the state pay-to-play restrictions by adding a line to the rules saying they do not apply to donations to "a federal or national campaign committee." State lawmakers consequently passed a bipartisan bill to reverse that change and apply the rules to RGA contributions. That legislation, which overwhelmingly passed both houses of the legislature, now awaits Christie's veto or signature.
"Protecting our underfunded pension fund should be paramount," said State Sen. Shirley Turner, the Democrat who sponsored the legislation. "There should not be an appearance of political favoritism when awarding no-bid investment contracts. Investment contracts should be awarded solely based on merit and performance, not based on contributions to political organizations. My bill, S2430, would close that loophole."
Christie's spokesperson did not answer IBTimes' questions as to whether the governor will sign the bill.
New Jersey's current pay-to-play rules still include prohibitions against contributions to national groups like the RGA if they are made "for the purpose of influencing State or local elections." But in a statement to IBTimes about the proposed KSL investment, Christie's SIC chairman Tom Byrne asserted that "a donation to the RGA does not in any way violate SIC rules." He added that "the proposed investment will be reviewed and discussed to the fullest extent desired by council members."
The review of the KSL investment is scheduled to occur at the Investment Council's meeting in Trenton on Wednesday. At the same meeting, the council will review a high-profile investigation into Massachusetts Gov. Charlie Baker's financial firm getting a New Jersey pension deal just months after Baker contributed $10,000 to the New Jersey Republican State Committee. The Christie administration's audit, whose release was delayed until after Massachusetts' closely contested gubernatorial election, ultimately cleared Baker but recommended tougher measures to enforce New Jersey's pay-to-play rules.
CORRECTION: This story was corrected to reflect that Christie was vice chairman of the RGA in 2012, not in 2013.
© Copyright IBTimes 2023. All rights reserved.