Cincinnati Bengals vs. Cleveland Browns 2015: Early Prediction, Betting Odds For Thursday Night Football Week 9 Game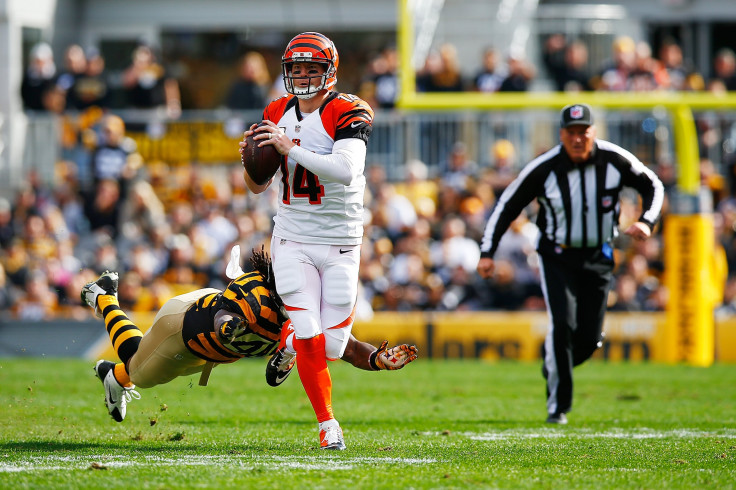 Four days after dropping an arch nemesis and reaching an unprecedented 7-0 start in franchise history, the Cincinnati Bengals can tighten their grip on the AFC North with a victory over the Cleveland Browns on Thursday night at Paul Brown Stadium.
Behind stellar play from quarterback Andy Dalton and an overachieving defense, the Bengals enter the early Week 9 matchup with a three-and-a-half game division lead after rallying to beat rival Pittsburgh 16-10 on Sunday.
Down by four and unable to break the end zone's plane after four punts and two Dalton picks, second-string safety Shawn Williams intercepted Ben Roethlisberger's pass with 5:34 remaining to set up a six-play, 45-yard drive capped by Dalton's nine-yard touchdown strike to receiver A.J. Green to take the lead for good.
Though notching a season-low 16 points and Dalton hurling multiple picks in a single game for the first time all season, the victory still tasted sweet as it snapped a three-game losing streak to Pittsburgh and marked the second win at Heinz Field in the last six trips.
Furthermore it proved to be a signature win for Dalton, who's felt the wrath of Bengals fans for his poor work in the postseason. In 2015, he has completed 66.2 percent of his passes for 1,992 yards and 15 touchdowns to a mere four interceptions.
The Bengals defense, ranking No. 17 overall but improving to ninth overall with 12 takeaways after forcing three Roethlisberger interceptions, also held a dangerous Pittsburgh attack to one field goal after giving up a touchdown on the opening drive.
With such a definitive hold on the division as the season enters the halfway point, there's already been talk of whether or not this pack of Bengals can roar into the postseason. But the 2-6 Browns have often played better than their record suggests.
Highlighted by veteran quarterback Josh McCown's three touchdown passes in the first half and the defense forcing two turnovers, Cleveland raced to a 20-7 lead over then 5-2 Arizona but floundered in the final 30 minutes with four straight punts to open the second half and fell, 34-20.
Still, this is a Browns squad that's lost three games by a touchdown or less, including a near upset of visiting and undefeated Denver two weeks ago. The Broncos needed overtime to put Cleveland down, and their top ranked defense surrendered 16 fourth-quarter points, 109 Browns rushing yards, and six third-down conversions.
McCown played with an apparent rib injury in the second half before he was pulled in the final minutes by head coach Mike Pettine, with some suggesting maybe he should've been removed sooner. But McCown's gutsy play undoubtedly kept the struggling Browns afloat late.
However, McCown's status for Week 9 remains unclear, which could clear the way for Johnny Manziel to make his second start of the year and third overall in his career. After McCown suffered a concussion in Week 1, Manziel last started in Week 2 and completed eight of 15 passes for two touchdowns in a 28-14 home victory over Tennessee.
Yet Manziel had much more help from the ground attack than McCown received on Sunday. The Browns gained 116 ground yards, with Isaiah Crowell accounting for 72 yards and a score, against the Titans while McCown finished as Cleveland's leading rusher with 18 yards in Week 9.
Establishing the run has proven difficult for Cleveland all season. The Browns are No. 31, or second-to-last, in the NFL with 84 rushing yards per game and have two rushing scores through eight games.
Cleveland could get the ground-game moving against Cincinnati this week. The Bengals are No. 19 in the league with 110.1 rushing yards allowed per game, and opposing backs are gaining 5.0 yards per carry.
Betting Odds: Cincinnati -10
Over/Under: 46 points
Prediction: Cleveland over Cincinnati, 20-16
© Copyright IBTimes 2023. All rights reserved.