Cisco 1Q Results Beat Estimates On Solid Sales Gains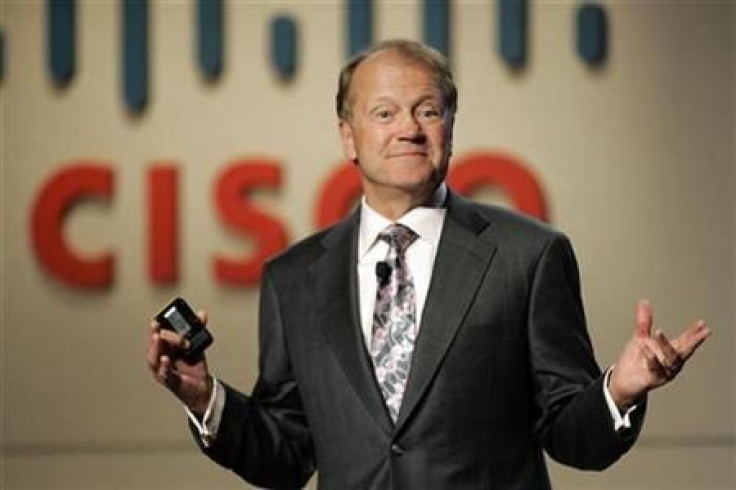 Cisco Systems (Nasdaq: CSCO), the No. 1 maker of Internet switches and routers, reported first-quarter results that modestly beat estimates and could indicate a worried-about slowdown is unfounded.
San Jose, Calif.-based Cisco reported operating earnings of 48 cents a share, 2 cents ahead of estimates, compared with 43 cents a year ago. Revenue of $11.9 billion rose 6 percent from a year earlier and was $100 million above estimates. On a net basis, Cisco reported income rose 18 percent to $2.1 billion, or 39 cents a share, from the year-earlier's $1.8 billion, or 33 cents.
Cisco shares surged 8 percent after the results were announced, before easing back to $17.87, up $1.02, or 7 percent.
"We delivered record results this quarter," said CEO John T. Chambers, 63. He said the company's diversification into other sectors including media, voice communications, video and the cloud, had paid off.
"Cisco is poised to lead and fully maximize the opportunities of this evolution," he added. Chambers and CFO Frank Calderoni plan to speak with analysts later Tuesday.
The two executives issued a bullish prediction for the second quarter during the call. Operating earnings should be within analuyst estimates of 47 or 48 cents a share as revenue rises between 3.5 percent and 5.5 percent above the prior year's $11.5 billion, Calderoni said.
The company reported spending $1 billion to buy back shares during the quarter, which also helped fatten earnings. Cisco said it had cash and investments of $45 billion as of Oct. 27.
Cisco's earnings are a bellwether for the technology sector because they fall out of the usual cycle. Later this week, Dell (Nasdaq: DELL), the No. 3 PC maker, is scheduled to report third-quarter results and next week, Hewlett-Packard (NYSE: HPQ), now the No. 2 PC maker, is scheduled to report fourth-quarter results. HP is a major Cisco Systems rival which has underpriced Cisco to gain share in the past.
Shares of Cisco closed Tuesday at $16.85, unchanged from Monday. They've fallen about 7 percent this year and more than 11 percent over the past 52 weeks.
© Copyright IBTimes 2023. All rights reserved.