Climate Change And Hunger: After Hurricane Matthew, Many Families Need Food Stamps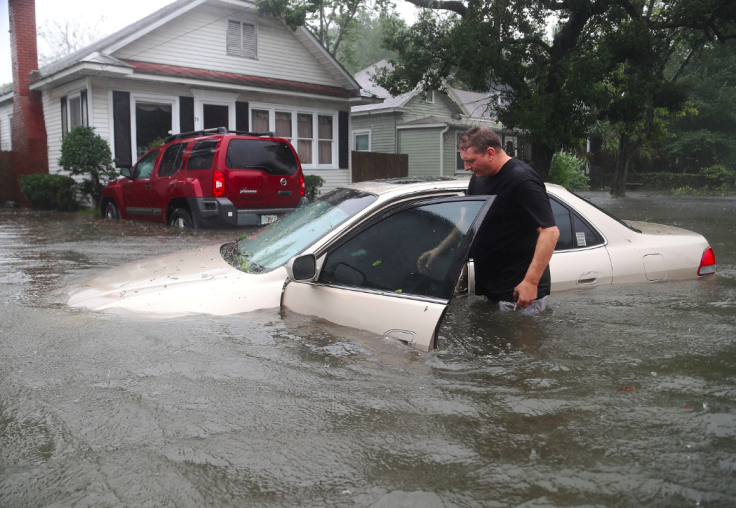 Nearly two weeks after Hurricane Matthew grazed the southeastern corner of the United States, flooding communities and tearing houses apart, the impacts of the storm are still being felt in communities across the region. And, for many people in lower income communities there, temporary changes to the Supplemental Nutrition Assistance Program (SNAP) benefit programs — commonly known as food stamps — have been a saving grace to make sure they kept their bellies full.
The challenges facing communities struggling just to get food on the table in one of the wealthiest nations on Earth after a major storm event illustrate just how vulnerable poor populations are to natural disasters. And, with the likelihood that major storms like Matthew will become more powerful as the effects of climate change are registered globally, countering hunger in the world will likely get much harder for anti-hunger activists.
"Low-income neighborhoods are hurt worst by flooding and by hurricanes and when they're wiped out people lose their jobs and lose income and become hungrier," Joel Berg, CEO of Hunger Free America, an organization that runs the United States Department of Agriculture's hunger hotline, told the International Business Times Thursday.
Experts anticipate that climate change will lead to a variety of circumstances that could add to food scarcity. That includes the increased risk and expansion of droughts as local climates feel the effects of more heat getting trapped in the atmosphere by greenhouse gasses. Storm intensity increases, too, because of changing weather patterns and ocean temperatures.
"There's a massive impact worldwide on climate change and on increasing droughts and famines or flooding," Berg said.
In the United States, in anticipation of and following the storm, states hit by Matthew, including 21 counties in South Carolina, 12 counties in Georgia and 45 states in Florida, released SNAP benefits early and in some cases added extra benefits for areas affected by the storm. And after jobless claims climbed in the week after the hurricane hit, more people could apply for SNAP benefits in the coming months.
About 44 million Americans, or roughly one-seventh of the population, received nutrition aid from the federal government this year. Families with limited income received on average about $255 a month in assistance.
The Federal Emergency Management Administration was prepped for any food shortages as Hurricane Matthew came closer to the shores of the United States. "USDA Foods' inventories have been requested from all potentially impacted state agencies, and the Supplemental Nutrition Assistance Program (SNAP) staff is prepared to respond to any state requests for disaster SNAP and/or other SNAP-related needs," it said in a statement on Oct. 8.
Communities were still recovering from the storm this week, with floodwaters receding in towns from North Carolina to Florida. At least 43 people in the United States and more than 500 people in Haiti were killed because of flooding caused by Matthew.
© Copyright IBTimes 2022. All rights reserved.
FOLLOW MORE IBT NEWS ON THE BELOW CHANNELS