Is Climate Change Real? EPA Administrator Pruitt Admits Humans Contribute To Global Warming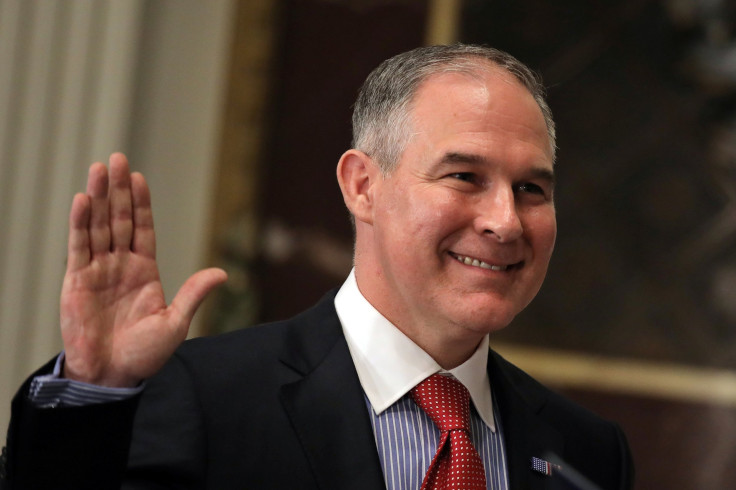 Environmental Protection Agency Administrator Scott Pruitt admitted Sunday the "climate is changing." In an interview on "Fox News Sunday," Pruitt also admitted "human activity contributes to that change in some measure."
The comments came just days after President Donald Trump revoked Obama-era regulations designed to combat global warning and Department of Energy staffers were told to avoid words like "climate change," "emissions reduction" and "Paris agreement."
Read: Climate Change, Emissions Reduction, Paris Agreement Among Terms To Be Avoided At DOE
Trump frequently has called climate change a hoax perpetrated by and for the Chinese to make U.S. manufacturing less competitive.
Pruitt said EPA efforts to control CO2 emissions amount to overreach, and the agency has been slapped down by the Supreme Court several times. He also noted U.S. sulfur and ammonia emissions are down 65 percent since 1980, and for CO2, the U.S. is at pre-1994 levels.
But, Pruitt admitted, "there's a warming trend — the climate is changing."
Read: Florida Congressman Working On Legislation To Abolish EPA
Pruitt, however, called the Paris climate agreement a "bad deal for this country," allowing China and India to put off their commitments at the expense of the U.S. economy.
Pruitt said he doesn't expect water quality to slip despite the 31 percent cut in the EPA budget proposed by the administration because, he said, states will pick up the slack.
"This attitude in Washington, D.C., that people in Texas and Oklahoma and Kansas and Colorado and the rest of the country don't care about the water they drink or the air they breathe and are not going to take care of the air and the water locally and states, I just don't believe that," Pruitt said.
Commerce Secretary Wilbur Ross, in an interview on CNN's "State of the Union," said the National Oceanic and Atmospheric Administration, which comes under the Commerce Department's jurisdiction, would not be directed to stop its collection of data on climate change.
"NOAA has many missions and my attitude is the science should dictate the results. As long as they stick to science and to facts, I'm comfortable with whatever is the outcome," Ross said.
© Copyright IBTimes 2023. All rights reserved.