Coal's Share of U.S. Electricity Generation Falls to 35-Year Low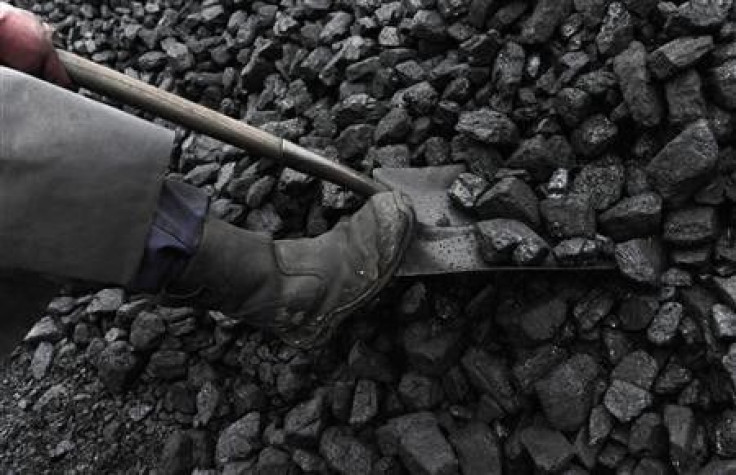 The share of U.S. power generation that comes from coal has fallen to near a 35-year low, as electric power plants shift to cheaper natural gas.
Although coal is still the main fuel for electricity generation, its share of monthly power generation in the U.S. dropped below 40 percent in the last two months in 2011, according to the Energy Department. The last time coal's share of total generation was below 40 percent for a monthly total was March 1978.
A combination of mild weather in the U.S. -- the world's largest electricity market, closely followed by China -- plus mild weather led to a recent drop in total generation and the increasing price competitiveness of natural gas relative to coal.
Total U.S. electricity generation was down 7 percent in December 2011 compared to December 2010. Despite this decline, generation from natural gas rose 12 percent to 86 terawatt-hours. Coal-fired generation, however, fell by 21 percent between during the period to 132 terawatt-hours.
The decline of coal as a power generation fuel can be seen on a state level as well as on a national level.
Although coal remains the dominant fuel for Ohio's electric power generation, accounting for 81 percent of total statewide generation during the first 9 months of 2011, the amount of natural gas-fired electric generation in Ohio is up markedly over the past decade. Natural gas fueled 8 percent of Ohio's total generation during the first 9 months of 2011, up from only 1 percent during the 2001 to 2004 period.
The amount of natural gas-fired electric generation in Pennsylvania has also increased steadily in the past decade, with annual electricity generation from natural gas increasing more than tenfold between 2001 and 2010.
Natural gas combined-cycle units operate at higher efficiency than do older, coal-fired units, which increases the competitiveness of natural gas relative to coal, the Energy Department said in a statement.
Natural gas prices have continued their downward trend this winter as a result of warmer-than-normal temperatures, ample natural gas in storage and growing natural gas production, which has been boosted by companies tapping so-called shale reservoirs using a technique called hydraulic fracturing, also known as fracking.
U.S. natural gas prices slid to a fresh 10-year low Tuesday, with the Nymex April gas dropping nearly 3 percent to a low of $2.204 per million a million British thermal units.
Meanwhile, U.S. benchmark central Appalachian thermal coal prices fell last week to $58 a metric ton -- the lowest level in nearly two years.
Barclays Capital in February lowered its estimates and target prices for U.S. coal producers, citing trends that showed thermal coal fundamentals have deteriorated significantly more than they expected when they issued a cautious view towards the industry in November.
Coal surplus
Barclays is forecasting a surplus of 20 million to 35 million tons in 2012 in U.S. thermal coal. Analysts believe inventories are at risk of swelling to unsustainably high levels, given utilities inventories are already at 170 million tons, above the historical average of 150 million tons.
The surplus could push inventories to about 190 million tons to 205 million tons by year-end. To put this in perspective, the only time U.S. thermal coal inventories exceeded 200 million tons was October and November 2009. At that time, the utilities and thermal coal producers deferred deliveries into the following years, as anecdotally coal storage capacity at coal fired power plants approached its limits.
It is increasingly likely that 2012 will be a year of significant inventory builds and/or contract deferrals, David Gagliano, an analyst at Barclays, said in a research note. Either way, we believe pricing power in thermal coal is unlikely to return until 2014 at the earliest.
Share prices of leading U.S. thermal coal miners, including Consol Energy Inc. (NYSE: CNX), Alpha Natural Resources (NYSE: ANR) and Arch Coal Inc. (NYSE: ACI) have all fallen significantly so far this year, with the latter two losing one-fifth of their value, respectively.
© Copyright IBTimes 2023. All rights reserved.