Colombia Seeks To End Violent Legacy With FARC Rebels In New Policy Shift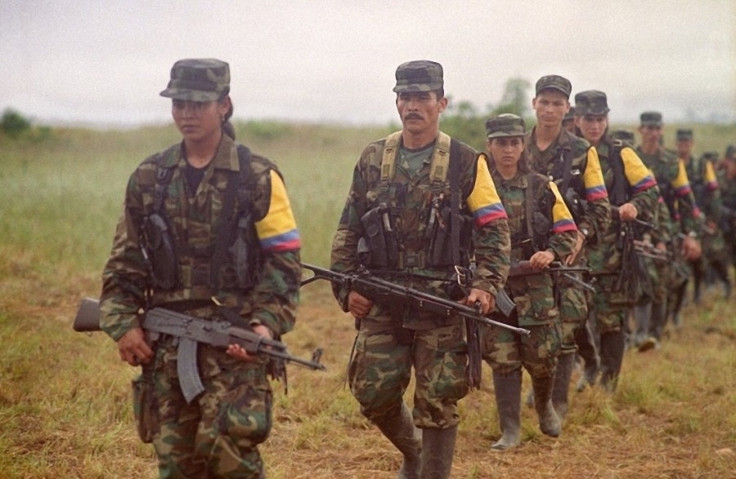 Colombia's Senate approved legislation Thursday that sets up a framework for peace talks with leftist guerrillas, seeking to end nearly five decades of armed conflict between the rebels and the state.
The so-called Legal Framework for Peace Bill seeks a rapprochement with the Revolutionary Armed Forces of Colombia, or FARC, by offering lenient sentences for crimes committed by the rebels in exchange for a laying down of arms.
The law represents a distinct shift in policy for Colombian President Juan Manuel Santos from previous administrations, which have refused to negotiate with FARC, known for holding hostages for ransom and trafficking drugs to fund itself, in addition to engaging in murder, rape, extortion and torture.
Some Colombian politicians and human rights groups have criticized the bill, saying that it lets off the rebels too easily for their crimes and amounts to a form of amnesty.
The Legal Framework for Peace is essentially an amnesty in disguise, Human Rights Watch said in a statement. Colombia's victims will see that if they have to watch their abusers walk free without spending a day in prison.
Lawmakers who support the bill argue that it is the only way to end the hostilities, which have recently increased in frequency despite the rebel group's weakening numbers and loss of key leaders over the past few years. FARC claims to have around 18,000 members, while the government estimates its numbers are closer to 8,000.
This is the price to pay for peace; we have to be upfront with people about it, Senator Hernan Andrade, a member of the governing U Party, told Reuters.
Some lawmakers also expressed concern that the law would allow some former rebel leaders to run for public office if prosecution against them is waived, but President Santos said that perpetrators of the worst crimes would not be eligible.
Some want the nation to believe that these leaders could participate in politics, because the act allows, by statute, the prosecution of some guerrilla members to be waived. But that's a fallacy, Santos said last month. He added that the bill insists on persecuting the most senior criminals, the leaders, who are not subject to the waiver of prosecution.
FARC has not yet indicated whether or not it is interested in negotiating. The group, which took up arms in 1964 as a Marxist rebel movement, has made several concessions, releasing in February what it said were its last political hostages and a French journalist last month. The rebels still hold some 400 civilian hostages.
HRW said the International Criminal Court would be monitoring any future trials (or lack thereof) closely and would be mandated to open its own investigation if Colombia fails to prosecute war crimes and crimes against humanity.
We fully support efforts to end this brutal chapter of Colombian history, HRW said in a statement. But any efforts to achieve peace should not abandon justice.
© Copyright IBTimes 2023. All rights reserved.