Colorado Springs Planned Parenthood Shooting: Officer Reported Shot, Injured, Scene Not Safe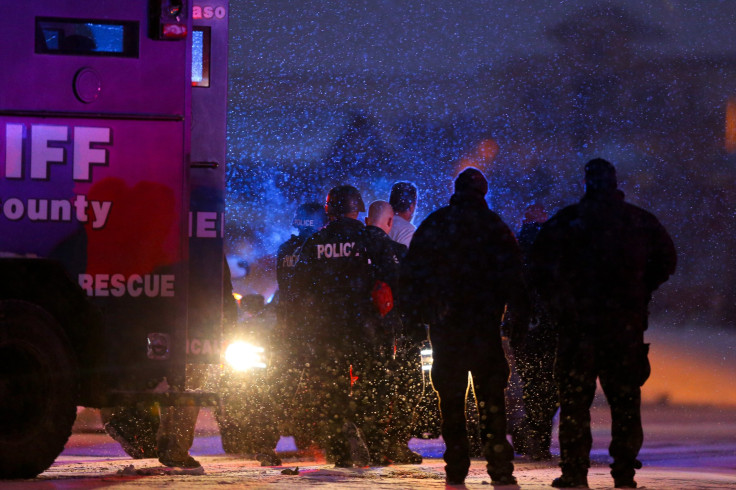 UPDATE: 12:20 a.m. EST -- According to a law enforcement official, who spoke on condition of anonymity, the suspected gunman has been identified as 59-year-old Robert Lewis Dear. He added, according to the Associated Press, that the gunman is from North Carolina. No further details have been released about him, according to reports.
UPDATE 11;40 p.m. EST: FOX31 Denver (KDVR) also identified the suspect as Robert Dear, citing a law enforcement source, and said he is from North Carolina.
UPDATE 11:05 p.m. EST: CBS News reported Friday night that three law enforcement sources identified the suspect as Robert Lewis Dear, 59. The Colorado Springs police, however, said they would not confirm the suspect's name this evening.
KUSA (9News) in Denver also named Dear as the suspect.
A law enforcement source told CBS the suspect was being interviewed by authorities, including 1st Assistant U.S. Attorney Robert Troyer and the local district attorney.
Federal charges including civil rights violations are being considered as well as other federal and state charges, the source said. The suspect was reported to be cooperating.
UPDATE: 9:45 P.M. EST: Garrett Swasey, 44, was identified as the police officer who died in a shooting in Colorado Springs Friday. Swasey worked as an officer at the University of Colorado, Colorado Springs, said Chancellor Pam Shockley Zalabak in a statement issued late Friday. Swasey was a six-year veteran of the UCCS police force. He was working on campus when he responded to calls from Colorado Springs police officers.

Officials believe they have located the suspect's car and were examining it for possible explosives inside. The car was located outside of the Planned Parenthood building, CNN reported.
In a statement released tonight, Vicki Saporta, president and CEO of the National Abortion Federation (NAF), said there have been eight murders, 17 attempted murders, 42 bombings and 186 arsons since 1977. It remains unclear whether the suspect specifically targeted Planned Parenthood in this attack. The facility in Colorado Springs provides abortions as part of its health services.

NAF said it has seen "an unprecedented increase in hate speech and threats against abortion providers" since a video was released in July that made it seem as if Planned Parenthood was selling fetal body parts.
UPDATE: 9:05 p.m. EST: The death toll in Colorado rose to three late Friday with two civilians and one police officer dead, officials said during a press conference. In addition, five police officers and four civilians were transported to hospitals and are in good condition. Police Chief Peter Carey asked for patience in the ongoing investigation.
UPDATE: 8:25 p.m. EST: Colorado's Fraternal Order of Police tweeted the following: "It is with great sorrow that we must report that one of the officers shot today [in] the active shooter incident in Colorado Springs has died." Federal officials also confirmed the death of one police officer.

"This is a normal neighborhood," said Mary MacCarthy, a reporter with Feature Story News who left the Colorado Springs area 30 minutes ago. "People who were close [to the incident] were still locked out."

MacCarthy also told IBT that officials warned the situation was likely to last for several more hours as they work to determine whether or not there are explosives in the Planned Parenthood building.
UPDATE: 8:05 p.m. EST: One police officer and one civilian were reported dead in the shootings in Colorado Springs Friday, CNN and local news NBC news affiliate 9 News reported. The reports were not confirmed by police officials. Security has been increased at Planned Parenthood locations in Colorado, local news station KRDO 13 reported.

Vicki Cowart, president and CEO of Planned Parenthood of the Rocky Mountains, told CNN that her organization was working to determine if anyone from her staff had been injured. At this time, they don't believe that anyone from their staff was hurt. Cowart said she had no reason to believe her organization had been targeted. Her organization has cameras in the building, she said, and was working to establish how the suspect had broken the perimeter and the clinic's security.
UPDATE: 7:15 p.m. EST: John Suthers, the mayor of Colorado Springs, said during a press conference at the scene that a shooting suspect was in custody and taken out of the building alive. "At this point I have as many questions as you do," said Police Chief Peter Carey. Eleven people were wounded and have been transported to local hospitals -- five of whom were police officers. Police communicated with the suspect and were able to get him to surrender after the seige, which lasted more than five hours. The victims have not been identified and there was no additional information available on other potential victims.

"Our top priority is the safety of our patients and staff," Vicki Cowart, president and chief executive of Planned Parenthood of the Rocky Mountains, said in a statement, the Washington Post reported. "Our hearts go out to everyone involved in this tragic situation."
Local authorities said the situation was still unfolding and was now a criminal investigation. It was unclear if any victims were still inside of the clinic. Lt. Catherine Buckley, spokeswoman for the Colorado Springs police, said the suspect had used some kind of a "long firearm."
Both the police and Planned Parenthood officials emphasized, however, that they did not know the gunman's motive. "Since this is still active," Buckley said, "it would be premature to speculate" about a motive.
UPDATE: 6:20 p.m EST: An active shooting situation unfolded inside the Planned Parenthood clinic, with police officials confirming that they were still evacuating people after at least nine were injured, Lt. Catherine Buckley said in a press conference. The suspect, who has not been identified by police officials by name, also brought several "items" into the building, Buckley said, which need to be checked for explosive potential. The incident began almost five hours ago inside the Planned Parenthood building and is not a stable scene. "We're still trying to evacuate people from the Planned Parenthood building," Buckley said when asked if there was a hostage situation.
"We hold the Colorado Springs community in our thoughts and prayers," Colorado Gov. John Hickenlooper said, the Denver Post reported. "The bravery and courage of local law enforcement officers have prevented a dire situation from being far worse, and we are all grateful. We are in contact with Mayor [John] Suthers. All state public safety resources are at the ready, if and when needed."
UPDATE: 5:58 p.m EST: At least nine people are reported injured in the shooting incident at a Planned Parenthood clinic in Colorado Springs, Colorado, including four police officers, CNN reported. Six of the injured were taken to Penrose Hospital, and three were taken to Memorial Hospital, according to CNN.
UPDATE: 4:50 p.m. EST: Police exchanged gunfire with a shooter armed with a long gun in a Planned Parenthood Friday afternoon in an hourslong standoff that started at 11:38 a.m. local time, a police spokesperson told CNN. Witnesses at the scene told MSNBC the original gunshots came from near the Planned Parenthood at a Chase Bank facility.
The total number of injuries remained unclear, but a police spokesperson said four officers were injured in the violence, and a local hospital tweeted that five patients had been admitted from the area, but it did not elaborate on the nature of their injuries.
The FBI said it was assisting local police. At least 20 gunshots were fired, though it was unclear whether that total was from just the assailant or from police as well.
Reuters tweeted police were rescuing people from Planned Parenthood and the surrounding area.
UPDATE: 3:26 p.m. EST: The Associated Press and CNN reported the shooting in Colorado Springs may have taken place near a Planned Parenthood instead of inside of the clinic. The AP reported three police officers were injured in the shooting. The Colorado Springs Gazette indicated there were further injuries, but an official estimate of the number of injuries was not immediately available. No fatalities were immediately reported.
Original Story: A shooter in Colorado Springs was reportedly barricaded inside a Planned Parenthood location Friday, a tweet from Mike Violette, executive director of the Colorado Fraternal Order of Police, said. Violette wrote he had received unconfirmed reports an officer had been shot along with several other victims. Another tweet from the police department indicated the scene was not secure.
The shooting was reported just after noon local time by the Colorado Springs Gazette, which said police scanner chatter indicated four people had been injured by the shooter. The clinic is located at 3480 Centennial Blvd. near a strip mall and bank.
One officer relayed by radio that the gunman had shot out the back window of his patrol car as the officer tried to "get a look at him," the Gazette reported. The gunman reportedly was wearing a trench coat and a hunting hat, and had fired a weapon. A witness who works at a business nearby told the Denver Post that a dozen police vehicles were on the scene.
Planned Parenthood is a controversial organization in American politics because many associated clinics provide abortions. As a result, it has been the focus of violent attacks for years. Those attacks have included the targeted killings of abortion providers and workers of Planned Parenthood. In 2009, a Kansas City abortion doctor was shot while he was attending church.
Earlier this year, as lawmakers in Washington, D.C., debated federal funding for the healthcare provider, several attacks were carried out against Planned Parenthood locations. Tactics included vandalism and arson. That debate was sparked by a video claiming to show an employee of the organization discussing the sale of fetus organs for profit. Planned Parenthood claimed that the video was misleading and unfairly edited, and said that it had not violated any laws.
FOR FREE to continue reading
✔️ Unlock the full content of International Business Times UK for free
offer available for a limited time only
✔️ Easily manage your Newsletters subscriptions and save your favourite articles
✔️ No payment method required
Already have an account?
Log in
© Copyright IBTimes 2023. All rights reserved.