Comcast Could 'Sabotage' Over-The-Top TV Even With Net Neutrality Rules, Dish Network Warns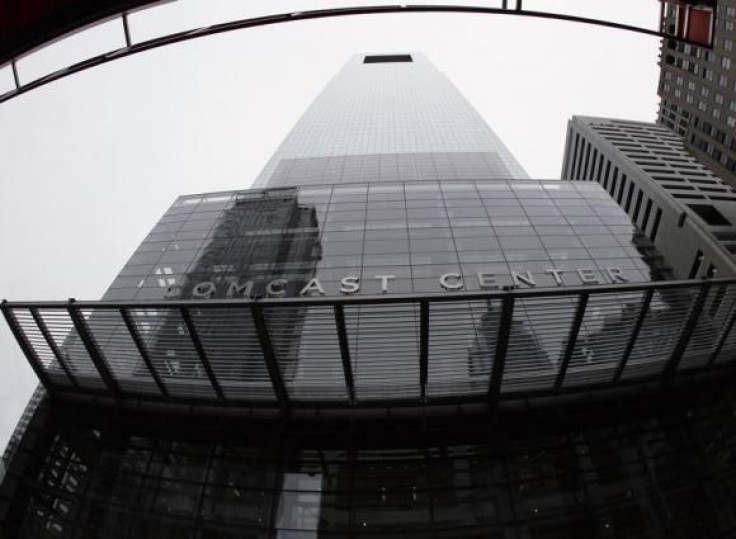 Maybe all those victory dances were premature. Last week's open-Internet vote -- in which the U.S. Federal Communications Commission approved a long-awaited proposal to ban Internet "fast lanes" -- was seen as a huge win for streaming services like Netflix and HBO Go.
Not so fast, say opponents of the proposed merger between Comcast Corp. and Time Warner Cable Inc. If federal regulators approve the $45 billion deal, the merged company could find many other ways to squash the growing emergence of over-the-top options, according to Jeff Blum, senior vice president and deputy general counsel of Dish Network Corp.
"Even if the net neutrality rules are upheld in court, there are innumerable ways that Comcast-Time Warner could sabotage over-the-top," Blum said Monday in a conference call with reporters. "And over-the-top is a reality. It's something that is good for consumers."
Over-the-top products can't flourish if broadband providers like Comcast are allowed to discriminate against their content. If paid prioritization is made illegal, the thinking goes, major broadband providers will be forced to play fair.
But Blum warned that the FCC's new rules will not stop a merged Comcast from exerting its market leverage to stop OTT in its tracks. The merged Comcast-TWC would gain control of 30 percent of the U.S. cable and broadband markets, and Blum said that increased market share would give Comcast a greater ability to "persuade or pressure" third-party content providers into not granting over-the-top rights for their content.
"For example, Comcast-Time Warner [could go to Discovery Communications and say], 'OK, Discovery, you want carriage on Comcast-Time Warner -- our 30 million homes -- we'll give it to you, but you can't grant the following over-the-top rights to Netflix or Sony or Dish,' " Blum said.
A spokeswoman for Comcast said the company is already prohibited from discriminating against competitors through prior conditions of its 2011 merger with NBCUniversal. Specifically, a Department of Justice consent decree contains a litany of prohibited activities in regards to limiting online video distribution. The conditions expire in 2018.
"Dish has long been one of our most vigorous competitors, and unlike us has a national footprint available in tens of millions of more homes than a combined Comcast-Time Warner Cable," the spokeswoman said in an emailed statement. "Dish not wanting stronger competitors isn't surprising and it isn't new. Any issues regarding NBCUniversal programming and other video services, whether they be traditional or over the top are already amply covered by pre-existing FCC rules and deal conditions."
Dish Network, of course, is no passive observer here. Last month it launched one of the most talked about over-the-top services in years: Sling TV. The service allows consumers to subscribe to a slimmed-down package of popular cable channels and stream them live over the Internet, marking the first time channels like ESPN and CNN are available live without a cable subscription. The OTT product is being called a game-changer for cord-cutters.
In Monday's conference call, Blum went on to say Comcast has an interest not only in preserving the cable bundle but also favoring content owned by its NBCUniversal division. "Over-the-top services compete against Comcast-Time Warner," he said. "They want people signing up for their Xfinity bundle, and they don't want people signing up for the Sony over-the-top-service, or Sling TV or HBO Go. It's a direct competitor."
Dish, which has been losing traditional video subscribers, has been among the most vocal opponents of the Comcast-Time Warner Cable merger. It's part of a coalition of companies, public interest groups and labor unions calling itself "Stop Mega Comcast." The coalition released a white paper on Monday stressing that last week's net neutrality vote by the FCC will not mitigate the anticompetitive consequences of combining the country's two largest video providers.
John Bergmayer, senior staff attorney for the free-speech advocacy group Public Knowledge, said the merger would be a setback for consumer choice at a time when the long-maligned cable bundle is finally beginning to show cracks at the seams. "I think this merger represents a retrenchment of the traditional cable business model," he said. "It is Comcast and Time Warner teaming up to make sure they stay the dominant video providers, as people increasingly shift their video online."
The appendix of Stop Mega Comcast's new white paper contains 53 ways a merged Comcast-TWC could harm online video distributors. Blum said that was as many as the group could come up with but added, "I'm sure Comcast-Time Warner could think of many more."
This article has been updated with input from Comcast.
Christopher Zara is a senior writer who covers media and culture. News tips? Email me here. Follow me on Twitter @christopherzara.
FOR FREE to continue reading
✔️ Unlock the full content of International Business Times UK for free
offer available for a limited time only
✔️ Easily manage your Newsletters subscriptions and save your favourite articles
✔️ No payment method required
Already have an account?
Log in
© Copyright IBTimes 2023. All rights reserved.