Is Congress Doing A Good Job? Approval Ratings For Congressional GOP Leaders Have Doubled Since 2015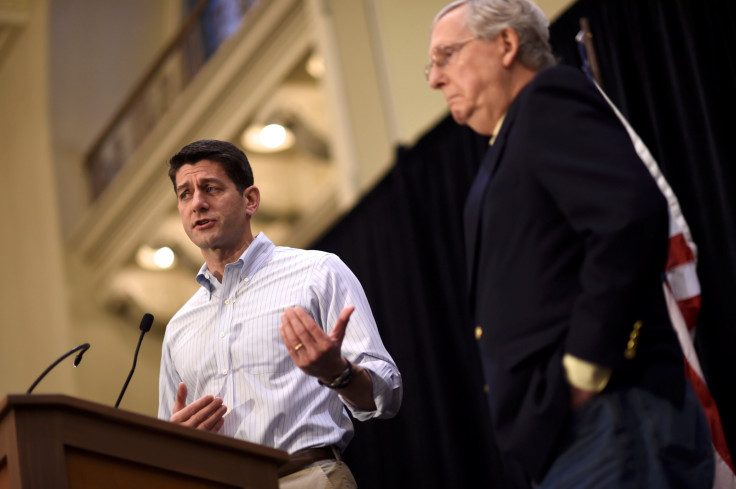 Judging by the tone at recent town hall meetings, it might seem like voters were disapproving of the way Republican congressional leadership has handled its control of both the House and Senate. On Tuesday, Senate Majority Leader Mitch McConnell (R-KY) was greeted with jeers and angry diatribes at an American Legion hall in Lawrenceburg, Kentucky.
But a new poll shows that GOP leaders in Congress, like McConnell, have doubled their popularity among Republicans since late 2015.
In September 2015, just 26 percent of Republican and Republican-leaning respondents approved of GOP leadership, according to the Pew Research Center. (Former Speaker of the House John Boehner resigned that month). In a new Pew poll released Wednesday, that approval rating has more than doubled. Sixty-eight percent of Republicans and Republican-leading respondents approved of their party's congressional leadership. Democratic approval of Democratic congressional leadership has remained nearly unchanged over that same period, dipping just one percent from 59 percent in September 2015 to 58 percent when the poll was conducted between Feb. 7 and 12.
Approval of GOP leadership has also increased across the political spectrum, from a 19 percent overall approval rating in September 2015 to 34 percent today. Democrats' ratings also remained steady across the electorate, from 34 percent in September 2015 to 37 percent now.
Despite broad partisan support for each party's congressional leadership, as a whole respondents did not give any individual congressional leader favorable marks. Just 27 percent viewed McConnell favorably, compared to 45 percent who viewed him unfavorably. House Speaker Paul Ryan fared better, with a 36 percent favorable rating, compared to a 43 percent unfavorable rating. A third of respondents had favorable views of House Minority Leader Nancy Pelosi, with nearly half holding unfavorable opinions of the California congresswomen. Senate Minority Leader Chuck Schumer, who has been serving his first term as his party's leader in the upper house, was a bit of an enigma to poll respondents. Schumer generated more "no opinion" responses (36 percent) than favorable (30 percent) or unfavorable (34 percent) opinions.
The poll also found that Republicans would be more likely to side with Trump in disputes with Congress, by a margin of 52 to 34 percent. It also found 72 percent of Democrats and Democratic-leaning respondents were more worried Democrats will not do enough to oppose Trump than they were worried Democrats will go too far in their opposition. Just 20 percent of those left-leaning respondents were more concerned with the Democrats being overly zealous in their opposition to the president.
© Copyright IBTimes 2023. All rights reserved.