Coronavirus Face Masks With Valves 'Not Recommended' By CDC, Don't Prevent COVID-19 Spread
KEY POINTS
CDC has issued guidance against wearing face masks with vent holes
It asserts these masks defeat the very purpose of mask wearing, which is to contain the spread of the COVID-19 virus
It recommends using a layered cloth mask instead
The U.S. Centers for Disease Control and Prevention (CDC) isn't recommending people wear face masks with one-way ventilation holes such as the 3M N95 because these masks do nothing to prevent the spread of the COVID-19 virus.
In an updated guidance issued Thursday, CDC clarified facemasks with exhalation valves or vents don't prevent respiratory droplets infected with the COVID-19 virus from reaching other people. Instead, the vents that allow a wearer to exhale his breath straight into the atmosphere also allow the escape of the COVID-19 virus.
Face masks are supposed to keep the virus confined to the mask's surface. SARS-CoV-2 (severe acute respiratory syndrome coronavirus 2) is the highly-contagious virus that causes COVID-19.
"The purpose of masks is to keep respiratory droplets from reaching others to aid with source control," reads the CDC guidance. "However, masks with one-way valves or vents allow air to be exhaled through a hole in the material, which can result in expelled respiratory droplets that can reach others. This type of mask does not prevent the person wearing the mask from transmitting COVID-19 to others.
"Therefore, CDC does not recommend using masks for source control if they have an exhalation valve or vent."
Instead of these expensive vented masks, which are widely used in the construction industry, CDC recommends people use simple cloth masks. It pointed out the few layers of cotton in these non-vented masks prevent most of the potentially infectious respiratory droplets from escaping into the air. Cloth masks are also much cooler and cheaper than face-hugging vented masks.
"CDC recommends all people 2 years of age and older wear a mask in public settings and when around people who don't live in your household, especially when other social distancing measures are difficult to maintain," say the CDC guidelines.
In April, CDC began recommending people wear face masks or cloth coverings in public to help stop the spread of the disease.
CDC also isn't recommending the use of "neck gaiter face masks." These fashionable accessories are pulled over a person's head to cover the lower half of his face, including his nose and mouth.
CDC frowns on the stretchy neck gaiters because their elastic and breathable material might actually assist in transmitting a wearer's infected droplets.
A study by researchers at Duke University found neck gaiters might be worse than not wearing a mask at all since they break-up larger airborne particles into a spray of little ones more likely to linger in the air for a longer time.
The researchers found the neck gaiter they tested "did essentially nothing, and worse than nothing, because it appeared to make large droplets into small droplets."
Wearing a face mask outside one's home or place of work is one of the three key steps recommended to help stop the spread of SARS-CoV-2. The other two are social distancing whenever possible and frequent hand washing with soap and water.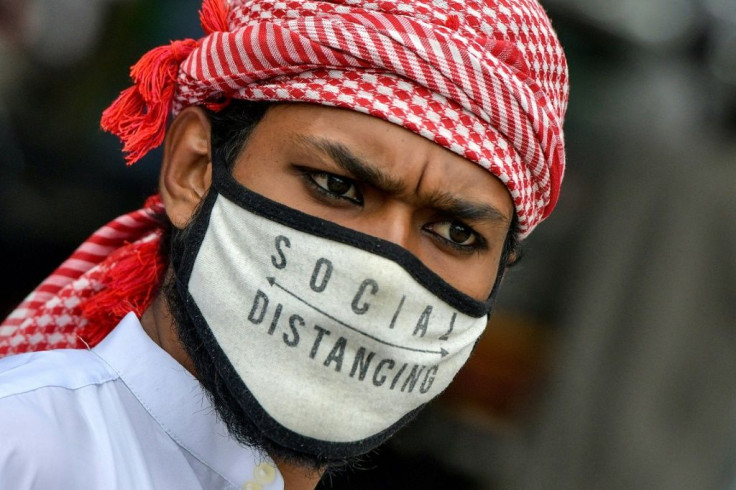 © Copyright IBTimes 2023. All rights reserved.