Costa Concordia: Capt. Francesco Schettino Tells Port 'It's Just a Blackout'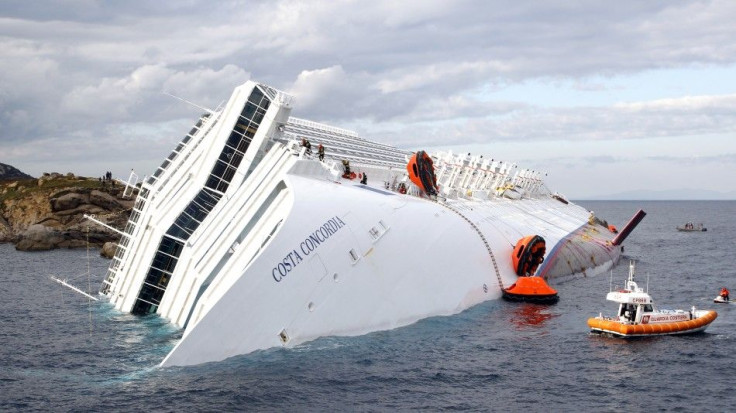 A new audiotape released on Thursday, details the first contact between the Costa Concordia, the Italian cruise ship that ran aground by the Tuscan island of Giglio, and the port of Livorno, The Associated Press reported. On the tape, Capt. Francesco Schettino is heard telling the port that the Costa Concordia was only suffering from a blackout - 30 minutes after his ship hit a reef.
On the recording, which occurred at 10:12 p.m. last Friday, 30 minutes after the Costa Concordia ran aground and began to capsize, Schettino is heard telling port officials that he is investigating the reason for the blackout, but did not mention that his ship has run aground.
We are verifying the conditions on board, Schettino said, according to the AP. Asked if passengers had been told to put on life jackets, he says Correct.
On recordings released earlier this week, Schettino is heard being ordered by the Coast Guard to return to the Costa Cordia, which he abandoned. He was arrested and jailed on charges of manslaughter, causing a shipwreck and abandoning his ship.
The search for survivors is ongoing and so far 11 passengers are confirmed dead, with 21 others still missing. The search was temporarily suspended on Wednesday after the ship shifted, putting it at risk to slide deeper into the water.
The shifting of the Costa Concordia also delayed plans to being the removal of the 2,300 tons of fuel, which, if began to leak, would cause an environmental disaster in the popular diving spot.
If the tanks were to break, the fuel would block the sunlight from getting to the bottom of the sea, making a kind of film, and that would cause the death of the marine system in the area, environmental minister Corrado Clini told the AP.
Crew members have started to speak out and tell stories of a chaotic evacuation.
They asked us to make announcements to say that it was electrical problems and that our technicians were working on it and to not panic, French steward Thibault Francois told France-2 television Thursday. I told myself this doesn't sound good.
Kandari Surjan Singh, who worked in the ship's galley, echoed that statement, according to the AP. People started panicking. Then the captain ordered that everything is under control and said it was a normal electric fault ... so people calmed down after that.
Schettino allegedly caused the wreck by altering the course to bring the Costa Concordia closer to shore in an effort to show it off. Costa is owned by Miami-based Carnival Cruise line.
© Copyright IBTimes 2023. All rights reserved.